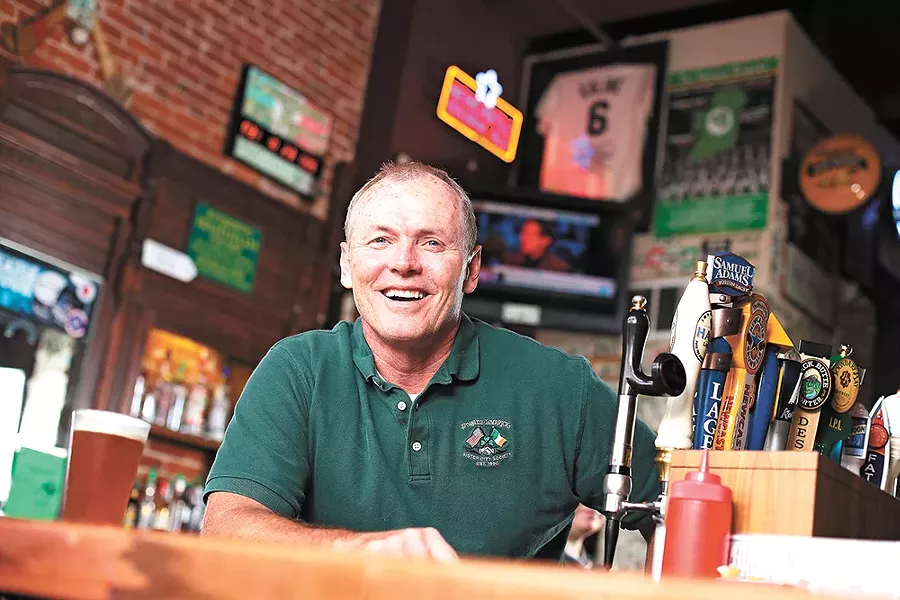 Young Kwak
O'Doherty's caps a week of celebration Friday.
O'DOHERTY'S IRISH CELEBRATION
If your hope is to celebrate with the pomp and circumstance of swigging green beer and doing a jig, look no further than O'Doherty's Irish Grille. The longtime Irish pub in Spokane is capping off a week-long celebration with a full day of music, dancing, beer and food. Celtic folk music begins as doors open at 10 am, and an assortment of bagpipers are set to play throughout the afternoon and evening. Also order from a menu of classics, including the ubiquitous corned beef and cabbage. The event is 21+ all day, with a $5 cover after 3 pm. Fri, March 17 from 10 am to close; O'Doherty's Irish Grille, 525 W. Spokane Falls Blvd. facebook.com/odohertys
GARLAND DISTRICT PUB CRAWL
If a cavalcade is more your type of celebration, join in on the first-ever Garland District St. Patrick's Day Pub Crawl. Taking place at the numerous bars along the historic Garland Avenue strip — Bon Bon, the Garland Pub, the Brown Derby and Rick's Ringside, among others — the crawl features Fireball and Pabst Blue Ribbon drink specials, a T-shirt, prizes and live music at Beerocracy. The 21+ event is $5 with registration, offered at both the participating bars or online at garlandpubcrawl.brownpapertickets.com. Fri, March 17 from 7-10 pm; Garland Business District.
PILSNER RELEASE + GRANGE HALL BAKED POTATO FUNDRAISER
Wear your viridescence out in Green Bluff for two St. Patrick's Day events this weekend. Big Barn Brewing releases their St. Patty's Pilsner for $3/pint, and hosts a food truck on site. The event (March 17, 5-9 pm) is $10 in advance, $12 the day of. Then check out the Green Bluff Grange's baked potato bar fundraiser. The community event (March 17, 5:30-8 pm) offers all the toppings you could want, as well as a talent show, band and Irish dancers. Tickets are $8 for ages 14+, and $5 for kids. Big Barn Brewing, 16005 N. Applewood Ln., Mead; Green Bluff Grange, 9808 E. Greenbluff Rd., Colbert. (979-2607)
ST. PADDY'S IN PALOUSE
The Palouse Arts Council hosts its 14th annual St. Patrick's Day event with plenty of food and celebration. Enjoy traditional Irish music and dancing, along with soda bread and Cougar Gold cheese for snacking, and a beer and wine bar. Hearth of the Dragon wood-fired pizza will be sold in the parking lot. Cost is $5 for anyone over the age of 10. Fri, March 17 at 6 pm, Palouse Community Center, 220 E. Main St., Palouse.
IRISH WHISKEY DINNER
To enjoy some of Ireland's finer food and beverage offerings, join Beverly's in Coeur d'Alene for a special Irish Whiskey Dinner. The six-course meal features traditional Irish cuisine — Scotch egg, Irish stew, beef tenderloin — paired with Bushmills Irish whiskey and a pre-dinner tasting. Social hour begins at 6:30 followed by dinner. Reservations are $85 per person; call 855-379-5478. Sat, March 18 from 6:30-9:30 pm; Beverly's, 115 S. Second, Coeur d'Alene. Menu at ow.ly/ZPAT3092PVN.