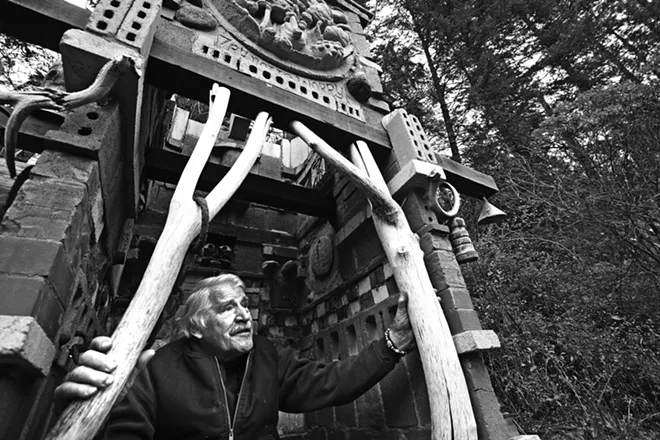 Inlander Photo, 2008 / Young Kwak
Harold Balazs inside one of his creations in the yard of his Mead studio.
Peirone Family Photo
Joe Peirone, with his new truck at his parents' house in Garden Springs, circa 1938.
Keith And Dorothy Stoffel Photo
Mt. St. Helens begins to erupt on May 18, 1980; note the Cessna's wing in the upper right corner of the photograph.
Inlander Photo / Amy Sinisterra
Walt Worthy in 2001, with renovations and reconstruction of the Davenport underway.
Gonzaga University Special Collections Photo
Traveling from Sicily to the wilds of the Rocky Mountains, Fr. Joseph Cataldo built a mission in the Inland Northwest.
Chicago Academy Of Science Photo
The famed Field Museum mammoth came from a farm in Latah, Washington, in 1876.
Gonzaga University Crosby Collection photo
Spokane's own Bing Crosby redefined the holiday season with his song, "White Christmas."
Spokane Symphony Photo / Hamilton Studio
The restored Martin Woldson Theater at the Fox, with the resident Spokane Symphony on stage.
Grayce Schade Harris Family Photo
Bernhardt Schade (straddling the barrel) with his team of German beermen.
Inlander Cover Illustration / Ivan Munk
The Crescent Department store, circa 1952.
Inlander Photo, 2008 / Young Kwak