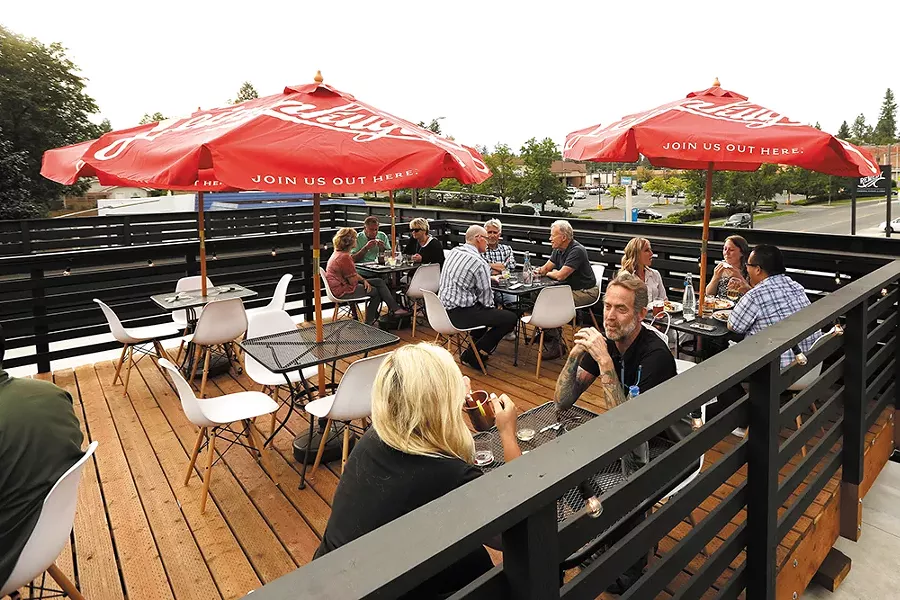 Young Kwak
A rooftop patio is a draw for South Hill newcomer Remedy.
Eager to eat out someplace new, but can't seem to remember that place you've been meaning to try? Here are seven newcomers that should be on your must-try list:
Cascadia Public House
With a fairly diverse lineup to choose from — including a brewpub, stone-fired pizza, sushi, burgers and plenty of fast food — folks who live near or frequent Spokane's Five Mile Shopping Center can now add a Northwest-inspired gastropub to the tally of neighborhood eats. Cascadia Public House opened in May 2017 in a spot previously occupied by a bar and a taco place. Its menu features a range of Pacific Northwest-style fare, with all ingredients sourced as locally as possible, a trait that's also representative of its namesake: the Cascadia bioregion of Washington and Oregon. The signature Cascadia burger features beef from a ranch in Brewster, Washington, and a fried egg from in-state Wilcox Farms. With vegan, vegetarian (try the bean and beet burger) and gluten-free options, plus many shareable appetizers, a kids' menu and an array of regional wine, craft beers and cocktails, Cascadia offers something for everyone. In warm weather, the patio featuring custom-built tabletop fireplaces is a must. 6314 N. Ash St., Spokane • 321-7051
Remedy
From the folks behind Boiler Room at Five Mile, Fast Eddie's downtown and the Backyard in West Central, Remedy on Spokane's South Hill offers a casual atmosphere, with refined cuisine. Located in a historic building that many neighbors may remember most recently as a dry cleaning shop, the building now sports a rooftop bar offering sweeping views of the upper South Hill. Since opening in late summer of 2016, Remedy has become a go-to spot for warm-weather dining and drinks. Its extensive cocktail menu boasts five signature mules, and a popular weekend brunch offers the temptation of bottomless mimosas. Beer lovers can choose from 24 taps, a few of which are devoted to the popular and non-alcoholic health elixir kombucha. During the day, Remedy offers a quick, grab-and-go style menu of acai and rice bowls. Dinner offers a hearty lineup of handhelds, plated entrées — the chile verde has an avid local following — salads and shareables, including Creole shrimp, drunken clams and wood-fired wings. 3809 S. Grand Blvd., Spokane • 443-3730
1898 Public House
When the Kalispel Tribe bought the former Spokane Country Club, they tapped Executive Chef Tyler Schwenk (former of Beverly's at the Coeur d'Alene Resort) to create a menu that captured an upscale gastropub feel, but that was also family-friendly. The result is a widely varying menu featuring Schwenk's take on youthful foods and traditional classics alike, like the lobster corn dog appetizer, or the honey-stung fried chicken entrée. With sweeping views of the golf course below, a cozy bar and sizable patio that offers spectacular sunset views through the trees, 1898 is a place for both special occasions and post-golf refreshments. Daily happy hours from 4-6 pm offer downsized versions of many of Schwenk's regular menu mainstays, and Tuesday night hosts "Burgers and Brews," where diners can choose between two featured burgers that come with a 20-ounce pint of beer, all for the cool price of $15. Portions at 1898 are hearty, and with so many options, no matter your reason for stopping in, you'll find more than enough to sate your hunger and slake your thirst. 2010 W. Waikiki Rd., Spokane • 466-9813
Jennifer DeBarros
The Chicken BLTA at Cascadia Public House.
Craft & Gather
Craft & Gather fills a desire for residents of south Spokane Valley neighborhoods surrounding it to have convenient access to what can be described as a casual yet refined gastropub dining experience, of which there isn't really much of in that part of town. Owned by two restaurant industry vets, Craft & Gather offers classic pub burgers and handhelds, including a lamb burger, fancy grilled cheese, and fried chicken sandwich. Executive Chef Steve Jensen, who has previously worked stints at several other well-known local eateries, regularly creates fresh sheet items using seasonal ingredients that are regularly advertised on the restaurant's Facebook page. A patio installed not long after Craft & Gather's spring opening offers a relaxing spot to enjoy a meal and drinks, as the restaurant overlooks a green on the former Painted Hills Golf Course. Bordered by a small stream and shaded by the nearby hills, Craft & Gather's location makes you feel much farther from the city core than you really are. 4403 S. Dishman-Mica Rd., Spokane Valley • 795-1825
Midtown Bluebird
In the heart of Coeur d'Alene, Viljo and Autumn Basso's Midtown Bluebird, which opened in mid-2016, offers refined but accessible cuisine to locals and tourists looking to sample the city's culinary array. For dinner, under the "briny, raw and crunchy" menu heading, choose from a pickle plate, tater tot poutine, baked clams, a charred octopus salad and many other starters that offer a creative melding of flavors. A dinner staple of Muscovy duck is cooked confit-style and served with Brussels sprouts, cauliflower and bacon. The Bassos are known in the region for opening Syringa Japanese Cafe & Sushi Bar, which they still own. (Next door to Syringa, the couple founded but no longer owns the Garnet Cafe, a popular local breakfast spot.) With an old Western saloon-themed interior in the space, a relic of previous tenants, the Midtown Bluebird's owners embraced the quirky and eclectic atmosphere, which complements their ultra-varied menu offerings. 816 N. Fourth St., Coeur d'Alene, Idaho • 208-665-3777
Hector Aizon
Craft & Gather's co-owner, Keith Sprague (left), with Executive Chef Steve Jensen (center) and co-owner Darrin Sander.
Tortilla Union
When you realize that Tortilla Union, on the first floor of River Park Square, is the first offshoot brand for the Spokane-based Twigs Martini Bar & Bistro chain, it makes sense. Not that the two spaces look identical (Tortilla Union is a bit more rustic), but rather in the classy-meets-casual vibe that has made Twigs a massive and still-growing success. On the menu, you'll find items that would be at home in a Mexican restaurant, as well as many that wouldn't. The price point for entrées is around $13-$16, with salads under $10 and appetizers that range from chips and three different salsas at $5 to bacon-wrapped prawns at $13. Again, the menu is a collection of items you may not have seen on a menu together. There is a burrito, there are tortas, six different kinds of tacos, enchiladas and other options, but you can also get a burger with jalapeños, cast-iron chicken, spicy mac and cheese and chipotle-flavored ribs. 808 W. Main Ave., Spokane • 381-5162
Paper & Cup
The newest stop-in spot to get your fill of pastries, coffee and a quick sandwich to go is literally located inside the Inlander's front door. Paper & Cup debuted early this summer in the front corner of the Inlander's Kendall Yards headquarters, bringing the delicious scratch-made offerings of Celeste Shaw and Gina Garcia's Chaps Diner and Cake bakery, located just west of downtown, to the heart of the growing Kendall Yards development along the banks of the Spokane River. With a perfectly timed summer opening, the café (open Tuesday through Sunday) has been bustling, with groups of all ages stopping by for coffee and a treat, and filling the outdoor tables that are pleasantly shaded during the heat of midday. Whether you need a quick ham-and-cheese breakfast croissant and coffee to get you going in the morning, or just feel the urge to treat yourself to a cookie, slice of cake or pastry, Paper & Cup has you covered. Make sure to grab the latest Inlander before you go. 1227 W. Summit Pkwy., Spokane • 624-4182 n