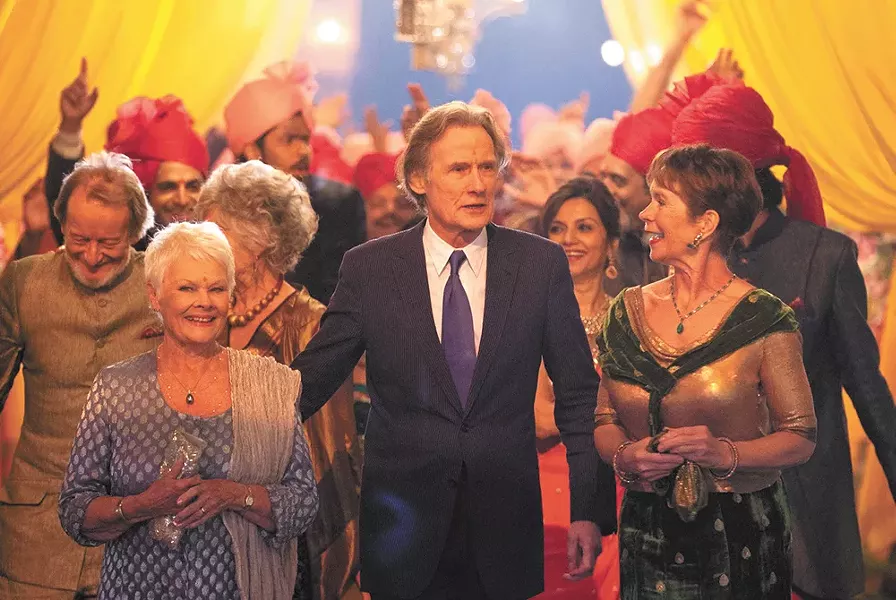 The seasoned, accomplished cast of Marigold Hotel.
The Second Best Exotic Marigold Hotel is proof, if any were necessary, that sequelitis is rampant even among those rare films aimed at an elder demographic. It's a shame, really, since 2012's The Best Exotic Marigold Hotel is an invigorating and smart little gem of a film featuring just a handful of actors under the age of 50 and a really watchable cast headlined by the finest golden-age talent in the business — not least among them Dames Judi Dench and Maggie Smith. This follow-up plays like a hastily written hash of meandering story lines and dark alleys that never resolve themselves into anything approaching the light beyond the dark at the end of the tunnel of Marigold the First.
Having resettled to India from their native UK and managed to turn what was once a ramshackle hotel into a functional destination location for the older set, Muriel (Smith), Evelyn (Dench), Douglas (Bill Nighy), Norman (Ronald Pickup) and the rest continue to contend with the business of living, loving and squabbling. It sounds trite because, as penned by returning screenwriter Ol Parker, it is. No matter how charming Nighy is — and in his own cadaverous, halting way, he defines the word — his tiptoeing up to the inevitable romance with Dench's newly empowered Evelyn just drags. The background subplot about the premarital insecurities of young hotel manager Sonny (Dev Patel) provides a decent counterpoint to the equally chaotic personal lives of his guests, but the appearance of Richard Gere as a new guest whom everybody assumes is a plant from the multinational hotel chain that Muriel and Sonny have been wooing is straight out of the "Hotel Inspectors" episode of Fawlty Towers. Where's John Cleese when you really need him?
While it benefits from Ben Smithard's colorful cinematography and returning director Madden's assured hand — not to mention some expectedly fine performances from the leads — there's no getting around the fact that, like a franchised hotelier gamely struggling to keep one too many balls aloft at the same time, The Second Best Exotic Marigold Hotel incorporates too much of everything. Compared to the adventurously life-affirming and death-acknowledging honesty of its heartfelt predecessor, this film literally comes in second in every regard. ♦