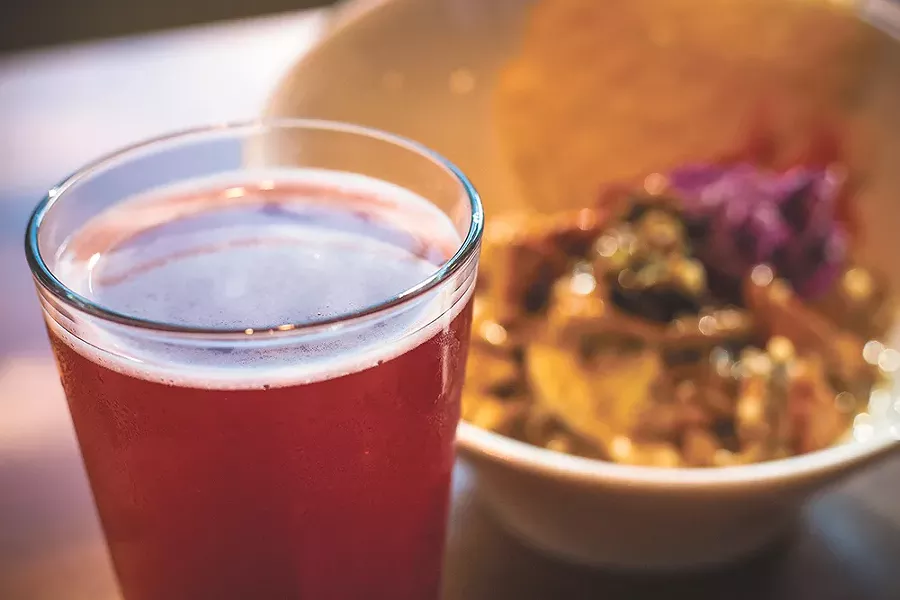 Dan Couillard
One Tree's cranberry cider is made from local apples.
From the lightest of pales to the chewiest of stouts, craft beer has moved into the mainstream, not only due to the growing interest of home brewers and connoisseurs, but also chefs, many of whom now pay as much attention to their beer menu as their wine offerings. Ditto for beer-pairing dinners and collaborations with brewers, further expanding beer-drinking culture to the benefit of all involved. The best part? Many of the beers (and ciders) on local restaurants' menus — including the following — also showcase two of the Inland Northwest's best-known agricultural crops: grains and hops.
MickDuff's NOHO Double IPA
$4.50, Trinity at City Beach, 58 Bridge St., Sandpoint, trinityatcitybeach.com
"The NOHO pulls out some of the sweeter flavors from our dishes," says Trinity at City Beach owner Justin Dick, who recommends pairing it with hearty dishes such as their herb-brined, roasted half-chicken, smothered in caramelized shallots ($19).
With what MickDuff's describes as NOHO's "tropical, fruity notes of grapefruit," the beer also complements the inherent saltiness, spicy chorizo and garlic in Trinity's Portuguese clams finished in white wine and cream ($13.50).
NOHO is an American-style imperial IPA, coming in at 8 percent alcohol by volume, and features a blend of Columbus, Crystal, Cascade, Simcoe and Citra hops; all are varieties cultivated by farmers in the Pacific Northwest.
One Tree Cranberry Cider
$6, Seasons Fresh Grill, 209 Lakeside Ave., Coeur d'Alene, seasonsofcda.com
Seasons currently rotates through the offerings of two local cider purveyors: Spokane Valley's One Tree Hard Cider and Coeur d'Alene's Summit Cider. While the restaurant serves One Tree's lemon basil year-round, it's most popular during summer; meanwhile, fall brings the cidery's seasonal cranberry and pumpkin ciders.
Summit Cider's two most popular restaurant ciders, says co-owner Davon Sjostrom, are the Uncrushable Apricot and Sundance, which like all Summit ciders are sourced from Northwest apples — more than half from the Columbia Valley.
Looking for another wild forest mushroom dish (see page 8)? Seasons has two, and both pair superbly with ciders, reports Chef Scott Miller: the spicy quesadilla and the creamy risotto with arugula pistachio gremolata both feature regional forest mushrooms, currently lobster and chanterelle.
No-Li Born & Raised IPA
$6.50 (20-oz.), Table 13, 333 W. Spokane Falls Blvd., davenporthotelcollection.com
Recently promoted to chef and kitchen manager for the Davenport Grand Hotel's Table 13 and the Grand Restaurant & Lounge, Evan Tewel is excited to offer a pairing of his 12-hour smoked brisket with No-Li's Born & Raised IPA made with Cascade, Columbus and Chinook hops, grown in the Yakima Valley.
"Pairing this beer, I want to bring a bit of fattiness to play off the significant bittering hops employed in the brew and dry-hopping. I also want to bring a bit of heat to play off of the strong, malty flavor of this IPA," Chef Tewel says.
He recommends Born & Raised with the Smoked Beef Brisket Street Tacos ($13), served on local De Leon white corn tortillas with Cotija cheese, charred tomato salsa, lime crema and fresh cilantro.
"The fresh finish to these tacos brings out more of the herbal notes in the beer," Tewel notes. ♦