Rachel Murphy

When I was a kid, we would always have family reunions and all go to Florida with my aunts and uncles and cousins. I loved playing on the beach, just hanging out. Especially when you were out of school as a kid you didn't have any obligations so it was like a free-for-all on the beach.


---
Colin Martin
Last summer my wife and I moved out to Spokane from St. Paul, Minnesota, and we took a two-week road trip through Denver, Kansas City and Salt Lake City and camped in some national parks along the way. ... We didn't have any work and we were moving, but all of our stuff was packed up, it was a great summer.
---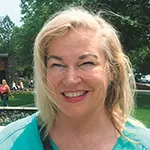 Nancy Wolfe
Whenever I was on the water outside, on a lake. I like to kayak on Horseshoe Lake, which has a beautiful waterfall leading into it. I'm from Montana but I love the lakes around here.



---
Greg Ramos
Playing Little League Baseball in the All-Star game in Wellpinit on the Spokane Reservation.
What position did you play?
I was the pitcher.
---
Sydney Gratama
Probably just hanging out by the lake with my family. I loved the whole idea of not worrying about anything.




---
INTERVIEWS BY SEAN PRICE
6/06/2018, RIVERFRONT PARK