Kristen Black
The scene at last year's Terrain, which returns to the Washington Cracker Building on Friday night.
1900 / Gestalt Studio
114 W. Pacific
à réinventer | Individual works in various media by Jim Oxford, Danny Hill and Collista Krebs give form to the human ability to reinvent. Oct. 7, 5-9 pm; Oct. 8, 11 am-5 pm
Avenue West Gallery
907 W. Boone
Living Near Nature | Landscape and wildlife paintings of Eastern Washington by Ladd Bjorneby. Oct. 7, 11 am-8:30 pm; Oct. 8, 11 am-5 pm
Barrister Winery
1213 W. Railroad
Abstract Topophilia | Spokane artist Ben Joyce's mixed-media paintings depict regional places from an aerial perspective. Oct. 7, noon-10 pm; Oct. 8-9, noon-5 pm
Chase Gallery
808 W. Spokane Falls Blvd.
Pauline Haas Collected | A show highlighting the late Whitworth University professor's career, also with work by her former students. Oct. 7, 5-8 pm
Craftsman Cellars
1194 W. Summit Pkwy.
Katie Staib | With live music by the Brad Keeler Trio on Friday from 6-8 pm. Oct. 7-9, 2-10 pm
Decorum
126 N. Washington
Northwest Pop Culture | Travis Chapman's acrylic paintings meld pop culture, Northwest landscapes and classic masterpieces. Oct. 7, 10 am-9 pm; Oct. 8, 10 am-6 pm; Oct. 9, 11 am-4 pm
Dodson's Jewelers
516 W. Riverside
Natural Connections: Mark Making & Storytelling | Montana-based artists Sheri Trepina and Shelle Lindholm's artwork shares themes of nature and uses unlikely materials. Oct. 7, 5-8 pm; Oct. 8, 10 am-5 pm
Hatch
9612 E. Sprague
RRAFA Annual Art Show | Members of the River Ridge Association of Fine Arts display their original artwork. Oct. 7, 5-9 pm
An enamel by Sheila Evans at the Iron Goat.
Iron Goat Brewing Co.
1302 W. Second
Goat Grrls: Art by the Women of Iron Goat | You know that the folks at Iron Goat know their way around crafting tasty beverages, but it turns out that's just the beginning of their creativity. This show features the artistic pursuits of several of the ladies who work at the brewery, including owners Sheila Evans (painting) and Heather Brandt (photography) and mixed-media works from sales manager Beth McRae, Latin folk-inspired mixed-media from bar manager Rita Vigil, photography from bartender Sherrece Scott and a "surprise" display by bartender Tasha Rogalski Wood. Sipping a beer while you view the Goat Grrls' work is pretty much a given. (DAN NAILEN) Oct. 7-9, 11 am-11 pm
Jundt Art Museum
200 E. Desmet
"Roman Myths and Mythmaking" | Daily objects that explore how ancient Romans perceived the past and religion within their daily lives. Oct. 7, 10 am-9 pm; Oct. 8, 10 am-4 pm; gallery walk-through Oct. 8, 11 am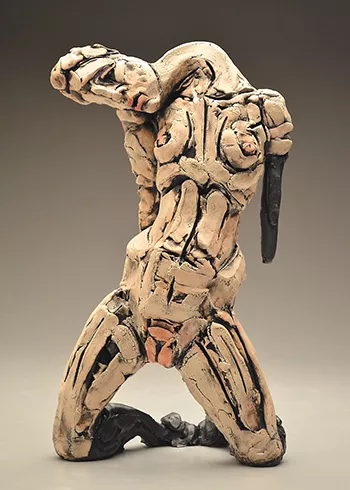 Chris Ricardo's "Janky Neck" in the Archie Bray show.
Kolva-Sullivan Gallery
115 S. Adams
Archie Bray Resident Show | The Archie Bray Foundation in Helena, Montana, is home to an incredibly eclectic collection of work from emerging contemporary ceramic artists, and this month, several highlights of that collection drop by Spokane. This show highlights nearly 30 artists' pieces in one place; as diverse as the work is, it's not surprising to learn the artists come from all over the globe, including China, Serbia, South Korea, Germany and Canada, in addition to the United States. (DAN NAILEN) Oct. 7, 5-9 pm; Oct. 8, noon-4 pm
Kress Gallery / River Park Square
808 W. Main, third floor
Todd Mires | Solo show by Todd Mires, a visual artist. The Rogers and Lewis and Clark choirs perform Friday from 5-7 pm in the food court. Oct. 7, 5-8 pm; Oct. 8, 10 am-8 pm; Oct. 9, 11 am-6 pm
LeftBank Wine Bar
108 N. Washington, Suite 105
Tom Norton | Paintings and drawings by the Spokane artist. Oct. 7-8, 4-11 pm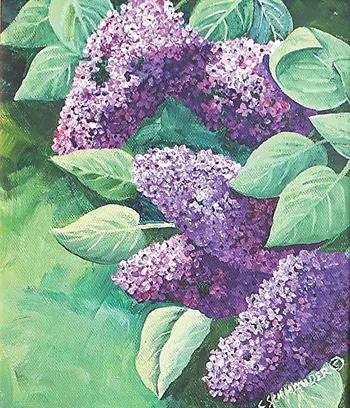 "Gifts from the Lilac City" by Carol Schmauder, at the Liberty.
Liberty Building
203 N. Washington
Flootie at the Liberty | Maximize your Fall Arts Tour experience by exploring multiple floors of the historic Liberty Building, which this month showcases art by more than 20 Spokane artists who are also members of Flootie.com, a locally owned arts marketing website that helps artists connect with their fans and potential clients. While you're sure to experience a wide variety of styles and media at this massive show of local art all-stars, some notable names to watch for include Elsie Stewart, Tom Quinn, Vicki West and Nicholas Sironka. (CHEY SCOTT) Oct. 7, 5-10 pm; Oct. 8, 9 am-9 pm; Oct. 9, 11 am-6 pm
Liberty Ciderworks
164 S. Washington
A Mini-Retrospective | Wendy Franklund Miller's work combines handmade paper with layered encaustic (wax pigment) painting. Oct. 7-8, 4-9 pm; Oct. 9, 1-6 pm
Little Dog Art Gallery
903 ½ W. Garland
Origins of Fear | A curated show of Spokane-area artists' work conveying their individual interpretations of fear. Oct. 7, 11 am-9 pm; Oct. 8-9, 11 am-5 pm
Lucky Leaf Co.
1111 W. First
Until I See You Again | Oversized flowers in acrylic by Spokane artist Audreana Camm. Oct. 7-8, 9 am-11 pm; Oct. 9, 9 am-10 pm
Marmot Art Space
1206 W. Summit Pkwy.
Annual Manual | See submissions from photographers whose work was entered into a contest to be featured in the Inlander's Annual Manual. Oct. 7, 4:30-9:30 pm; Oct. 8, 5-9 pm
Missing Piece Tattoo
410 W. Sprague
"Brony" | A show celebrating male fans of the My Little Pony franchise. Oct. 7-8, noon-8 pm
Northwest Museum of Arts & Culture
2316 W. First
"Lost Egypt: Ancient Secrets, Modern Science" | Featuring a human mummy, along with paintings by Linda Hyatt Cancel in "The Rising." (These shows continue through January.) Also showing is the Spokane Watercolor Society's annual juried art show, featuring 45 artists and on display through the month. Oct. 7-9, 10 am-5 pm
Pottery Place Plus
203 N. Washington
Pics/Poems/Pinions | Neil Clemons' photography is shown alongside leatherwork pieces by Joanne Wissink. Oct. 7-8, 10 am-9 pm; Oct. 9, 11 am-6 pm
The Observatory
15 S. Howard
Life Cycle Series | Artist Steven A. Scroggins explores the movement and interplay of time and the human heartbeat. Oct. 7-9, 3 pm-2 am
Richmond Gallery
228 W. Sprague #4
Rac-on-teur | A showcase by Richmond Art Collective members Chris Bolduc, Michaelanne Foster, Mallory Ware and Don and Julia Derosier. Oct. 7, 5:30-8:30 pm; Oct. 8, 11 am-10 pm
Saranac Art Projects
25 W. Main
Blanket Statements / Four Plus One | Ann Porter, Casey Page and Megan Atwood Cherry explore familial ties in "Blanket Statements," alongside four drawings and one mixed-media piece by Bradd Skubinna. Oct. 7, 5-9 pm; Oct. 8, noon-8 pm
Spokane Art School
811 W. Garland
The City is My Canvas | A celebration of new public art across Spokane, highlighting the work of Todd and Cain Benson, Tiffany Patterson and Ellen Picken. Oct. 7, 5-9 pm; Oct. 8, 10 am-4 pm
Spokane Public Library
906 W. Main
Creative Class | A showcase of work by art teachers from Spokane-area high schools; students' work is also exhibited. Oct. 7, 5-8 pm
Steam Plant
159 S. Lincoln
Steampunk at the Steam Plant | A showcase of local artists whose work is themed in the fictional sci-fi/industrial genre. Oct. 7-8, 3-8 pm
Trackside Studio Ceramic Gallery
115 S. Adams
KILN Works | New ceramics, stoneware and porcelain forms by Chris Kelsey, Mark Moore and Gina Freuen. Oct. 7, 5-9 pm; Oct. 8, noon-4 pm
Washington Cracker Co. Building
304 W. Pacific
Terrain 9 | A week before the free, all-ages community art show kicks off, co-founder Luke Baumgarten says he and his Terrain team feel ahead of the game. Now moving into the ninth year of the show, it makes sense they have the process down, even if they're still scrambling to find space for everything. "This is our largest by quite a bit, too," Baumgarten says. "The crazy thing about this year is way more artists than ever submitted — 120 more than last year."
This year's show features 341 pieces of art by 200 artists. Along with the usual film displays, literary readings and hilarity from local comedians, the event adds dance performances to the roster, including everything from modern to krump styles. Headlining the music stage is Seattle hip-hop trio Brothers From Another, who previously showed off their boy-band dance moves and sunshine-like raps at this year's Volume. Rounding out the music lineup are Techtax, Powerbleeder, Local Pavlov, Griffey, Forest Fires and DJ JG. (LAURA JOHNSON) Oct. 7, 5 pm-midnight
Window Dressing
501 W. First; 515 W. First; 1011 W. First; 605 W. Spokane Falls Blvd.; 808 W. Main, Suite 251; 818 W. Riverside; 1916 E. Sprague

"Untitled" by Leslie Barlow at Whitworth
Installations
| The Spokane nonprofit fills vacant storefronts with local artists' work; most locations are viewable at any time from the street level.
Whitworth University
300 W. Hawthorne
Leslie Barlow | Work by this fall's artist-in-residence at Whitworth consists primarily of large-scale figurative oil paintings that explore issues related to multiculturalism, "otherness" and identity. Some of her current work examines what it's like to grow up as a multicultural female in the Midwest. Past and recurring themes in her work include challenging and dissecting society, social constructs and gender roles. Barlow lives in Minneapolis, and has a BFA from the University of Wisconsin-Stout and an MFA from the Minneapolis College of Art and Design. (EMILY GOODELL) Oct. 7, 8 am-9 pm; Oct. 8, 10 am-2 pm ♦