ROW Adventures leads a trip down Idaho's Middle Fork of the Salmon River.
Coeur d'Alene Canoe and Kayak Club This group offers a wide variety of trips: after-work paddles, long distance excursions, overnighters, to fishing trips. Founded in 2005, they have an educational focus and "something for everyone." Coeur d'Alene, Idaho • cdacanoekayakclub.org
Coeur d'Alene Paddle Board Company Coeur d'Alene's Kym Murdoch opened her paddleboard company after discovering the sport on a Maui vacation from her taxing road crew job. The rest is history, and the company is now booming, just like the sport. Rent a board on your own, join a group paddle, try a SUP yoga class, or hop on Supsquatch — the new eight-person paddleboard. 512 E. Sherman Ave. Coeur d'Alene, Idaho • 208-292-4156 • cdapaddleboard.com/
EPIC Adventures EWU If you just want to rent a paddleboard to take to your lake of choice, EWU's EPIC Adventures center rents them for $11 per day to students and $22 per day to community members. 150 University Recreation Center, EWU Cheney, Wash. • 359-4014 • ewu.edu/epic/rentals
FLOW Adventures Adrenaline junkies will appreciate FLOW's whitewater adventures on the Spokane and Salmon rivers. For those who seek a more serene experience on the water, sign up for one of their touring kayak classes or float the Spokane River with some friends. FLOW coordinates river floats all summer. For $20, you get the tube, a PFD and a shuttle ride back to your car. An additional $10 gets you a floating cooler for your journey. 2807 W. Euclid Ave. Spokane, Wash. • 509-242-8699 • flow-adventures.com
Kayak Coeur d'Alene New to kayaking or think you want to jump on the SUP craze? Kayak Coeur d'Alene has rental gear and classes to get you started. Kayak and standup paddleboard rentals are available seven days a week, May through September. Rentals include complimentary delivery and pickup on the north shore of the lake. Venture out on your own or take one of three weekly paddleboarding classes. 307 E. Locust Ave. Coeur d'Alene, Idaho • 208-676-1533 • kayakcoeurdalene.com
Mountain Gear If you want to try out a variety of canoes, kayaks or paddleboards before you buy, sign up for one of Mountain Gear's many demos held every summer. Check out their schedule online, or call or stop into their retail store for a calendar of events. 2002 N. Division St. Spokane, Wash. • 325-9000 • mountaingear.com
Northwest Whitewater Association This club wants to bring river runners together to promote whitewater rafting, safety and conservation. Connect with other enthusiasts for floats and excursions, or sign up for one of their classes or presentations. This group has a packed calendar year-round. Even snow doesn't stop the annual Fools Float. Spokane, Wash. • 994-2609 • northwestwhitewater.org
Pangaea River Rafting Pangaea's motto is to "leave boring behind." They've gone about doing so by creating a series of unique adventures that move beyond the traditional whitewater rafting trips to include river wine floats, geocaching trips, wildlife watching floats and team building adventures called W.E.T. (Working Efficiently Together). 11111 Mullan Rd. E. Superior, Mont. • 877-239-2392 • leaveboringbehind.com
REI REI's summer paddling basics class covers what you need to know to get started canoeing, kayaking or paddleboarding. The store also sells and rents paddling gear. 1125 N. Monroe St. Spokane, Wash. • 328-9900 • rei.com/stores/24
ROW Adventure Center If you're into big, raft-smashing waves, join ROW for a wild ride down the Lochsa River or a thrill ride on the Clark Fork. For a more serene experiencie, look for their sunset or wildlife kayak tours on Lake Coeur d'Alene. This experienced, award-laden outfitter is known for its exceptional adventures, both in the Inland Northwest and around the globe. Like many others, ROW is also riding the SUP trend with rentals, classes, tours and even a race series on Lake Coeur d'Alene. If beer is your favorite recovery drink, you'll appreciate their Paddle-n-Brew adventures ($60 and up) that start and end at Spokane's No-Li Brewhouse. 202 Sherman Ave. Coeur d'Alene, Idaho • 208-770-2517 • rowadventurecenter.com • 209 S. Washington St. Spokane, Wash. • 822-7332 •
Spokane Canoe and Kayak Club This good-natured club promotes paddling of all kinds — canoes, kayaks, rafts and paddleboards. Join them for monthly meetings, or better yet, a Wednesday whitewater paddle or their Thursday flatwater paddle. Summer clinics help paddlers learn or refine their skills. Dues are $25 annually. Spokane, Wash. • sckc.ws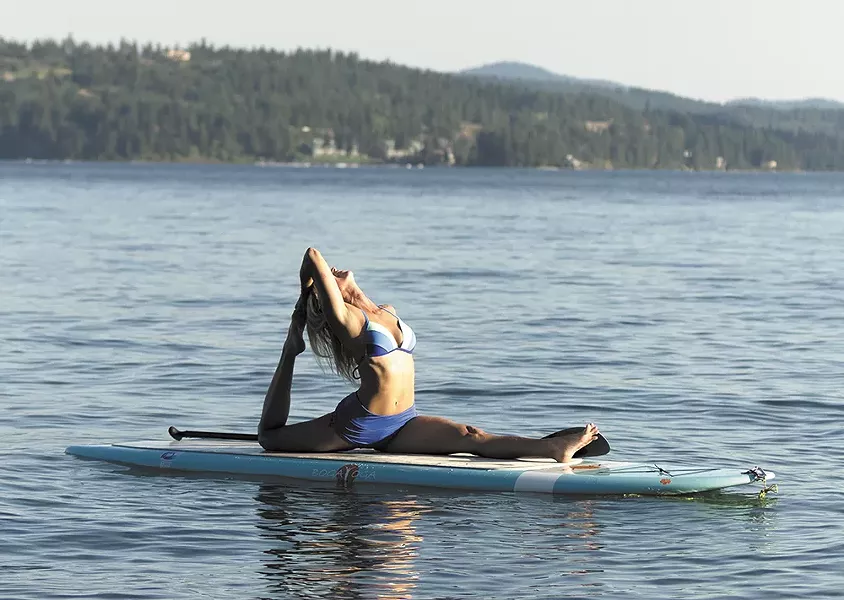 Young Kwak
Coeur d'Alene Paddle Board instructor Kim Sherwood doing yoga.
Spokane Parks and Recreation The city of Spokane collaborates with local guide companies to bring you on one-day trips, clinics and classes on local rivers and lakes for very reasonable prices. Rafters and kayakers will appreciate the shuttle service for paddlers on the little Spokane River each summer. For only $8, Parks and Rec will provide you and your canoe or kayak transportation from the 9 Mile takeout of the Little Spokane River to put in at St. George's. Shuttles run Saturdays from 10 to 4 pm, July through the end of August. 809 W. Spokane Falls Blvd., Fifth Floor Spokane, Wash. • 755-2489 • spokanecity.org/parksrec
Spokane River Rowing Association Crew isn't just for college students. SRRA brings together rowers of all ages and skill levels for training and racing on local waters, including a beautiful glassy stretch of the Spokane River near Minnehaha. Each spring the group hosts a Learn to Row program to introduce beginners to the fundamentals of rowing. Spokane, Wash. • 755-2490 • spokanerowing.org
Tri-State Outfitters Tri-State Outfitters has a robust calendar of classes to help the aspiring kayaker or paddleboarder understand what to look for in a boat or board. You can also demo or rent gear from their all of their shops in in Moscow, Moses Lake, Coeur d'Alene and Lewiston. 6275 Sunshine St. Coeur d'Alene, Idaho • 208-772-0613 • t-state.com • 1104 Pullman Rd. Moscow, • 208-882-4555 • 120 Thain Rd. Lewiston, • 208-746-5307 • 1224 Pioneer Way Moses Lake, Wash. • 509-765-9338
Wiley E. Waters Wiley E. Waters can take you down the Class III and IV rapids on the Clark Fork or send you floating down the Spokane River with a full wine glass and some gourmet appetizers in hand. You can even book a little team-building adventure to work on communication and leadership skills. Your choice. 1701 W. Water Ave. Nine Mile Falls, Wash. • 998-1120 • riverrafting.net