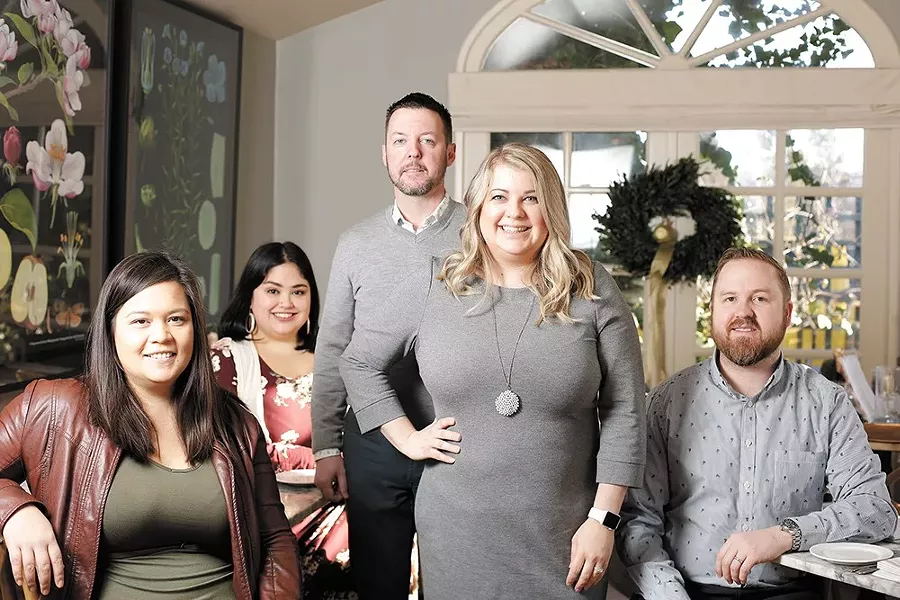 Young Kwak
Members of the Spokane Culinary Arts Guild.
H
ospitality industry professionals from
around the Inland Northwest convened last night in Spokane Valley for the inaugural
Spokane Culinary Arts Guild Awards
. After keynote talks by chef
Jeremy Hansen
and local cocktail expert
Renee Cebula
, plus a buffet of small bites by MAX at Mirabeau, ranging from Cougar Gold mac and cheese and a seafood bar to tandoori chicken and smoked brisket, winners in several of the guild's awards categories were recognized on stage with the presentation of awards. Below is a list of the 2018 nominees for each category, with the winners in each highlighted in bold.
INDIVIDUAL AWARDS

Best Chef

Adam Hegsted - Eat Good Group
Travis Dickinson - Cochinito
Chad White - Zona Blanca
Joe Morris - Luna
Jeremy Hansen - Sante Restaurant Group

Philip Stanton - Park Lodge
Anna Vogel - Italia Trattoria
Charlie Connor - Wild Sage
Best Bartender

Cody Winfrey - Luna
Simon Moorby - Inland Pacific Kitchen and Hogwash Whiskey Den

Erin Fasbender - Hogwash Whiskey Den
Ben Poffenroth - Durkin's
Greysen Bjork - Wild Sage
Best Food Writing

Sarah Carleton - Gather and Savor
Chey Scott -
Inlander
Adriana Janovich - The Spokesman Review

Chandler Baird - Spokane Eats
Kris Kilduff -
Spokane Coeur d'Alene Living Magazine
Best Food Event
Food and Wine Festival - The Coeur d'Alene Resort

Crave Northwest - Adam Hegsted, Tom Stebbins and Karen Stebbins
Mac and Cheese Festival - Coeur d'Alene Downtown Association
Pig Out in the Park
Restaurateur of the Year

Naomi Boutz - Vine and Olive
Jeremy Hansen - Sante Restaurant Group
Adam Hegsted - Eat Good Group
Justin Curtis and Travis Dickinson - Cochinito Taqueria
Bethe Bowman and Anna Vogel - Italia Trattoria
Tony Brown - Ruins

RESTAURANT AWARDS

Best Fine Dining

Clover
Santé
Inland Pacific Kitchen
Park Lodge (also Best New Restaurant - Fine Dining)

Luna
Fleur de Sel
Wild Sage
Italia Trattoria
Masselow's
Best Upscale Casual

Hay J's
Scratch
Satay Bistro
Santé
Steam Plant Kitchen
Steelhead
The Wandering Table
Wiley's Downtown Bistro
Vine and Olive

Central Food
Best Casual Dining

Gilded Unicorn
The Observatory
Ruins
Honey Eatery and Social Club
The Blackbird
Midtown Bluebird
Twigs
Best Fast Casual
Cochinito Taqueria (Also Best New Restaurant - Casual)

Zona Blanca
IncrediBurger and Eggs
Fisherman's Market
King of Ramen
Meltz
Best Gastropub

NoLi Brewhouse
Paragon Brewing
Manito Tap House
Post Street Ale House
Crafted
Palouse Bar and Grill
Remedy
Prohibition Gastropub

Westwood Brewing Company
Poole's Public House
Republic Kitchen and Taphouse
Tamarack Public House
The Flying Goat
The Two Seven
Timber Gastropub
Spokane Legend

Fery's Catering
The Onion
The Davenport Hotel
Queen of Sheba
Clinkerdagger
Waddell's
Luna
Best Bar

Lost Boys Garage
Baby Bar
Hogwash Whiskey Den

Peacock Lounge
Epic
Oval Office
Prospectors Bar and Grill
The Viking Bar and Grill
Zola
Heritage Bar and Kitchen
SPECIALTY FOOD AWARDS

Best Ice Cream

The Scoop
Brain Freeze Creamery
Sweet Peaks
Street Treat
Sweet Annie's Artisan Creamery
Mary Lou's Milk Bottle
Abi's Artisan Ice Cream
Panhandle Coffee and Cone
Best Coffee

1st Avenue Coffee
Ladder Coffee and Toast
Atticus Coffee
Indaba Coffee Roasters

The Well
Vault Coffee (People's Choice)
Woops (People's Choice)
Evans Brothers
Strada
Coeur d'Alene Coffee Company
Calypsos
Union Roasters
Terre Coffee
Best Burgers
Messy's (People's Choice)

IncrediBurger and Eggs
J&T Food Bunker
Prohibition Gastropub
Durkin's Liquor Bar

Paragon Brewing
Manito Tap House
Wisconsinburger
Churchill's
Best Sushi

Raw Dead Fish
QQ Sushi
Izumi Sushi

Toro Sushi
Syringa
Ginger Asian Bistro
Sushi Sakai
Fisherman's Market
Sushi.com
Sushiwa Teriyaki
The Wave
Wasabi Bistro
Umi Sushi
Best Juice and Smoothies

Liberty Lake Juice
The Well
Method Juice Cafe
The Wellness Bar

Ephata Cafe
Fusion Juice
Beet It Up
Best Barbecue

Austin's Live Fire Barbecue
JJ's Tap & Smokehouse
Junior's Barbecue

Famous Willie's
Smokin' Mike's
Drummin' Up BBQ
The Relic Smokehouse
The Blackbird
Best Southern Style Food
Chicken N More
Fresh Soul
Ten/6
Casper Fry
Best Sandwiches

Garland Sandwich Shoppe
Domini Sandwiches
Smacky's On Broadway

Phillycious
Caruso's
High Nooner

Meltz (People's Choice)
Best Pizza

Fire Artisan Pizza
Bennidito's Pizza
Iron Goat Brewing
Geno's
Veraci

McClain's Pizzeria
DiNardi's Pizza and Pasta
Republic Pi

The Flying Goat (People's Choice)
The Boiler Room
Best Doughnuts

Casual Friday Doughnuts
Hello Sugar

Retro Donuts
Amy's Donuts
Scrumdiddlyumptious Donuts
Best Tacos

Borracho
Cochinito Taqueria
Neato Burrito
DeLeon Foods
Choo Choo Tortas
Best Steaks

Churchill's
Wolf Lodge

Spencer's
Hay J's
Clinkerdagger
Masselow's
Best Seafood

Anthony's
Zona Blanca
Tony's by the Lake
Bardenay
Hay J's

Poke Express
Best Vegan Options

Allie's Vegan Pizzeria and Cafe
Beet and Basil
Biscuit Wizard
Neato Burrito
Cascadia Public House
Mizuna
Best Destination Dining
1898 Public House

Beverly's
Candle in the Woods
Dockside
Cedars Floating Restaurant
Best Craft Cocktails

Luna
Bistango
Ruins
Cochinito
Baby Bar
Butcher Block
Hogwash Whiskey Den
Clover
Best Neighborhood Dining

Ambrosia
Backyard Public House
Barlows
Casper Fry
Central Food
Latah Bistro
Craft and Gather
Elliotts, an Urban Kitchen

Ephata Cafe
Italian Kitchen
Maple Street Bistro
Logan Tavern
Saranac Public House
Satay Bistro
Best Hotel Dining

Beverly's
MAX at Mirabeau
Palm Court Grill
Safari Room
Table 13

Spencer's
Best Food Truck

Crate
Raw Dead Fish

Mixed Plate
Crack of Dawn Foods
Skewers
Left Coast Fusion
The Compass Breakfast Wagon
Best Family Dining

Mamma Mia's
MAX at Mirabeau
The Onion
Tomato Street
Central Food

Ferrante's Marketplace Cafe
Best Market

Huckleberry's Natural Market
Pilgrim's Market
My Fresh Basket
Rosauers
Rocket Market
Main Market

Foods In Season
Best Ethnic Dining

Azar's
Atilano's
Bangkok Thai
Chef Lu's Asian Bistro
D'Bali Asian Bistro

Das Stein Haus
Taste of India
Thai Bamboo
Tecate Grill
Ding How
The Great Taj
De Leon Foods
El Que
Gordy's Sichuan Cafe
Haha's Teriyaki Grill
I Love Tofu
Kim's Korean
Mangrove Cafe
Kabob House
Linnie's Thai
Vien Dong
Luigi's Italian
Marrakesh
Phonthip Thai
Pho Van
Queen of Sheba
Sukiyaki Inn
Tortilla Union
Best Takeout
King of Ramen

Mac Daddy's Pub & Grill
Nudo Ramen House
Three Sisters
Neato Burrito
Fleur de Sel Artisan Crêperie
Best Bakery

Boots Bakery
Batch Bakeshop
Lilac City Bakery
Common Crumb Bakery
The Grain Shed

Rocket Bakery
Rockwood Bakery
Sparkles Bakeshop
Sweet Frostings
Best Breakfast

Yards Bruncheon
Dueling Irons
Bruncheonette
Garnet Cafe
Luna
Petit Chat Bakery
Chaps
Best Cafe

Dolly's Cafe
Frank's Diner
Knight's Diner
Madeleine's Cafe

Maple Street Bistro
Satellite Diner
Best Quick Lunch

Clark's Fork
Biscuit Wizard
Cosmic Cowboy
Thai Kitchen
Taste Cafe and Fine Art
Wild Dawgs
Soulful Soups and Spirits