Clockwise from top left: KuroNekoCon, Create Spokane, Knights of Badassdom, Modern Theater, Spokane Mural Project, Terrain, Z Nation, Spokane Arts Awards, The Big Dipper.
KNIGHTS OF BADASSDOM FINALLY HITS THEATERS
January
The prospect of anyone ever seeing this sci-fi film was starting to become more of a fantasy than its otherworldly story line, but the winter of 2014 finally delivered the made-in-Spokane flick Knights of Badassdom. Filmed in Spokane, the film features stars including Peter Dinklage and Steve Zahn as live action role players (LARPers) whose interest in medieval fantasy battle gets a little more intense when the hapless goofballs accidentally summon a succubus into reality. The film opened to a pair of sold-out shows at the AMC theaters in River Park Square, then had a steady run at the independent Magic Lantern Theatre, an extra reward for all the locals who'd worked on the film four years ago. (MIKE BOOKEY)
THE BIG DIPPER REOPENS AS AN ALL-AGES MUSIC VENUE
April
A two-year silence for one of Spokane's most iconic downtown music venues ended this year after it reopened under new ownership with its name and focus as an all-ages venue intact. The Big Dipper has since hosted dozens of shows, numerous album releases, touring acts and two nights of Volume, the Inlander's annual music festival. Behind its revival is Spokane native Dan Hoerner, with his wife, Dawson. Hoerner is remembered as the lead guitarist of the influential Seattle emo band Sunny Day Real Estate. Music hasn't been the Dipper's entire focus — it's also hosted film, literary and arts events throughout the year. Even so, the path to success hasn't been paved with gold. The venue still hasn't installed a much-needed fire suppression system that would roughly double its occupancy, and the Hoerners' original business partners became estranged from the venture after a publicized falling-out in September. (CHEY SCOTT)
Z NATION FLOODS SPOKANE WITH ZOMBIES
April-December
When news came in the spring that the Syfy network was going to shoot a zombie-themed television show in Spokane, people got pumped. Not because of the economic impact a television production would bring, or maybe some increased recognition in the industry, but due to the fact that producers put out an open casting call for zombie extras. Apparently, getting your gored-up face on TV is a big deal for some folks. Z Nation debuted in September, and while it's no The Walking Dead, it garnered a cult following who lapped up its blood, guts and campy acting. As the series aired, there were no shortage of chances to catch glimpses of Spokane landmarks that had been post-apocalypsed. The first season wrapped up in December, but even before that, North by Northwest, the local production company working on the project, announced that Z Nation had been picked up for a second season. The lesson: people really, really loved zombies in 2014. (MB)
EXPO TURNS 40
May
The framework of Expo '74 is still very much visible throughout Spokane, especially downtown, and residents have not forgotten the biggest thing ever to come to our not-so-big city. In May, the city celebrated the 40th anniversary of Spokane's hallmark event that drew 5.2 million people to town for an environmentally themed celebration that would shape Spokane's future. The anniversary festivities included an exhibit at City Hall's Chase Gallery featuring the colorful, very 1970s artwork that accompanied Expo. The anniversary also came months before voters passed a measure to fund improvements to Riverfront Park, the Expo site. (MB)
WE GO CRAZY FOR CONVENTIONS
May, October
After eight successful years taking over Spokane Community College's student Lair for one day each spring, Spokane Comicon has both a new name — Lilac City Comicon — and new digs at the Spokane Convention Center coming in 2015. Since its start in 2007, event organizer/founder Nathan O'Brien has noticed Spokane's acceptance and appreciation of all things comic book, sci-fi and pop culture building year after year. While O'Brien's event is more focused on local and regional artists and exhibitors, the success of this past fall's inaugural Pac-Con Spokane is another major indication of a trend that's been growing nationally. Hosting Marvel icon Stan Lee and actor William Shatner (who later returned to Spokane in early December for a separate appearance), Pac-Con drew fans from across the Northwest during its three-day run, many more than willing to drop $80 to $200 for the opportunity to meet the stars for autographs and photos. (CS)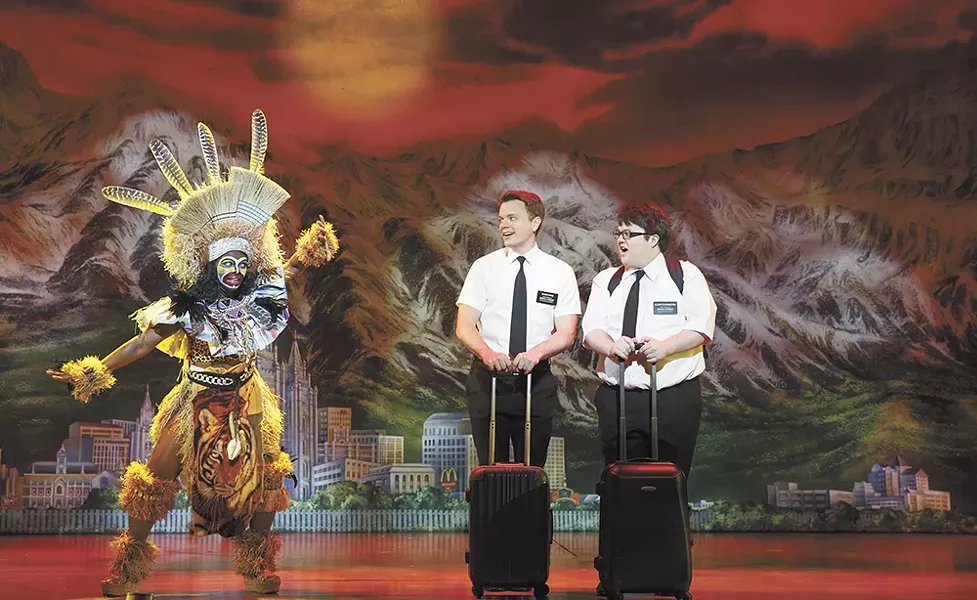 The Book Of Mormon played to a full house during its run at the INB Performing Arts Center.
THE YEAR SPOKANE TOOK MURALS SERIOUSLY
June
It was a good year for public art, especially when it came to breathing some life into downtown Spokane's sometimes drab underpasses. The Spokane Mural Project provided artists with all the supplies and paint (much of which was donated by supporters including Miller Paint), as well as a stipend between $1,500 and $1,700, depending on the location, to create massive pieces of art. The results from artists (and artist teams) including Erin Mielcarek and Ellen Picken, Todd Benson, Eric-Alain Parker and Lisa Soranaka and a youth-driven initiative from the Spokane Urban Mural Artist Collaboration were well-received and led to the possibility of more murals arriving in future years. An unexpected bonus was the opportunity for the public to watch these artists at work over the course of the summer. Also on the mural front, the Spokane Mobile Mural Project arrived in October to surround an eyesore lot at Division Street and Third Avenue downtown with artwork from 17 different artists. (MB)
TERRAIN GETS ITS OWN DIGS
Summer
Perhaps you were among the thousands who stopped by the seventh Terrain in October, partaking in all manner of visual arts, music, comedy, spoken word and cuisine. The move to the Washington Cracker Co. building on West Pacific gave Terrain a massive canvas on which to convey all the Spokane art scene has to offer, and it was a serious upgrade from previous years at the Music City Building, where the smaller space and lack of sprinklers meant attendees often spent the night in line instead of engaging with the artists. If Terrain organizers' new fundraising campaign is successful, the new venue will become a permanent home, one that's open year-round to showcase everything the fall event tries to capture in one night — and then some. "It's a beautiful space and a big space — it'll feel like Terrain, hopefully just year-round," said Terrain co-founder Luke Baumgarten. (DAN NAILEN)
THE INB HAS A BIG YEAR
Throughout
Rarely is there buzz about a show for an entire year before it opens in Spokane, but that was the case with the news that The Book of Mormon would make a stop in the Lilac City this summer. Tickets for the risqué comedy, written by the creators of South Park, sold briskly and made more than a few unsuspecting theater patrons squirm in their seats at some of the edgier moments. But it wasn't just Book of Mormon that kept the INB full. This past year also saw the return of Wizard of Oz spin-off musical Wicked in May; it already been a Spokane blockbuster when it came in 2011. With all the other events — including shows by William Shatner, the Blue Man Group and Cirque du Soleil — it made for a strong showing from the city's opera house. (MB)
INTERPLAYERS AND LAKE CITY PLAYHOUSE MERGE
September
After years struggling to keep their doors open, the board of directors of Interplayers, Spokane's only professional theater, decided to turn over the keys to Lake City Playhouse of Coeur d'Alene. The two organizations merged in the fall, adopting the name The Modern Theater, and managed to make the transition while only canceling a couple of shows. Part of the deal included the Modern assuming about $92,000 of Interplayers' outstanding debt, something George Green, Lake City Playhouse's former director who now oversees The Modern Theater, said was necessary to keep a much-loved stage from going dark in Spokane. "I just want to make sure that both Spokane and Coeur d'Alene understand that this is being done in an effort to create something positive for artists and patrons alike," he said. The Modern Theater Spokane got off to a strong start with a well-received production of The Glass Menagerie. (MB)
SHAWN VESTAL WINS BIG
September
Proving that the literary scene in Spokane continues to boom, Shawn Vestal took home perhaps the most prestigious award ever bestowed on a local author when he was named the winner of the PEN/Robert W. Bingham Prize for Debut Fiction. The longtime Spokesman-Review columnist had already received praise for his gritty and imaginative short story collection Godforsaken Idaho, but the Bingham Prize seemed to announce Vestal's arrival as an up-and-coming literary star. "Shawn Vestal's Godforsaken Idaho ranges not only across time but across genres — historical fiction, fantasy, contemporary realism — all executed with the sure hand of a versatile and gifted writer," the awarding judges said. Vestal received the $25,000 prize at a ceremony in New York City. (MB)
OCTOBER BECOMES SPOKANE ARTS MONTH
October
The Inland Northwest is home to some incredibly creative and passionate people, truly invested in making our region a better place. Recognizing these innovators and their efforts is a big part of what this year's inaugural Spokane arts month, Create Spokane, was all about. Modeled after similar programs in other cities around Spokane's size, October was packed full of special performances, exhibitions, classes and other arts-related events, with the intent to encourage residents of all ages and backgrounds to do or see something creative. Most events were free or low cost, and Create Spokane month's founder, outgoing Spokane Arts director Shannon Halberstadt, said a main goal was to dispel the notion that the arts community is an unaccessible "ivory tower." One of the most visible elements helping celebrate our artistic culture was Spokane Throw, messages from locals about the city that were light-projected onto the sides of downtown buildings at night. Create Spokane is set to continue in 2015, under the direction of newly hired Spokane Arts director Laura Becker. (CS)
THE SPOKANE ARTS AWARDS MAKE THEIR DEBUT
October
Spokane Arts had a big 2014, changing leadership while working to promote the local creative scene. October marked a massive effort by the group, via the month-long Create Spokane celebration of all things artistic in the Lilac City that packed the calendar for 31 days of engaging events. On Oct. 30, it put a bow on Create Spokane with the first-ever Spokane Arts Awards at the Davenport Hotel, an effort to recognize major contributors to the Spokane arts community through nominations by the public in a variety of categories. The inaugural winners were Brenda Nienhouse, executive director of the Spokane Symphony (Leadership Award), the Mobile Murals Project (Collaboration Award), Terrain (Inclusion Award) and artists Todd and Cain Benson and musician Marshall McLean (Imagination Award). (DN) ♦