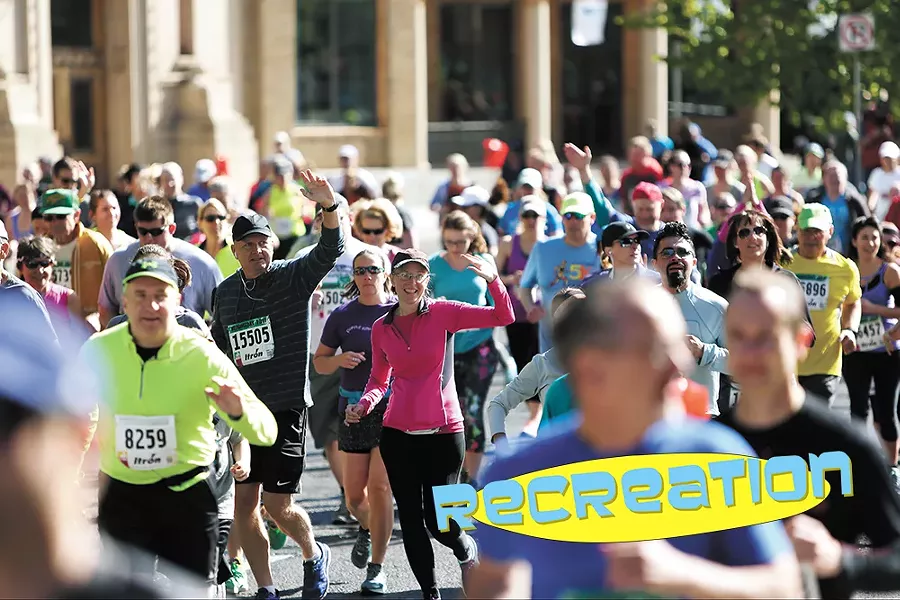 Tens of thousands of runners (and walkers) take to Spokane's streets for Bloomsday.
Best Lake
PRIEST LAKE
Let's be real. Just about any lake is better than no lake. Still, Priest Lake, "Idaho's Crown Jewel" is a favorite destination for Inland Northwesters year-round. Resorts, cabins, boating, camping, fishing, hiking, skiing, snowmobiling — we could go on. They say it's where Mother Nature herself takes a vacation. (MR)
2nd PLACE: Lake Coeur d'Alene
3rd PLACE: Pend Oreille Lake
---
Best Health Club
YMCA
It's getting to the point where we're running out of things to say. The YMCA has been winning Best Health Club since, well, since a while ago. We lost count. With something for toddlers to grandmas, lanky distance runners to beefcake bros and pingpongers to basketballers, it's easy to see why. (MR)
2nd PLACE: MÜV Fitness
3rd PLACE: Planet Fitness
---
Best Dance Studio DONNA'S SCHOOL OF DANCE
In the world of pirouettes and plié, the people have spoken and named the dance studio in Spokane that rules them all. Offering classes like Bollywood, tap and hip-hop, to name a few, Donna's School of Dance delivers fun instruction in a family-friendly atmosphere. Young ones can learn coordination and poise, while bonding with one another over the love of dance. (AD)
2nd PLACE: Spokane Elite Dance Studio
3rd PLACE: Academy of Dance
NORTH IDAHO'S BEST: Expressions School of Performing Arts, Post Falls
---
Best Bike Shop
THE BIKE HUB
With three locations (downtown, Spokane Valley and Perry District), there's no excuse to avoid stopping in to at least chat with the friendly sales and service staff at the Hub. Some bike shops have a reputation for holier-than-thou attitudes, which can be off-putting to anyone less than a Tour de France wannabe (aka "spandex ninjas"). But that vibe isn't here. Particularly if you're into trail or downhill, the Bike Hub crew is a worthwhile way to spend a Saturday (and a few hundred or more dollars). Check out their online calendar for a list of special events and group rides. (SAL)
2nd PLACE: Wheel Sport
3rd PLACE: North Division Bicycle Shop
NORTH IDAHO'S BEST: Coeur d'Alene Bike Co.
---
Best Outdoor Rec Supplies
REI
For a national company — er, co-op — REI does a fantastic job of making you think it's a local operation. True, its mothership is in Seattle, but the Spokane location feels as much a part of the community as any other from the 509. The value of its $20 lifetime membership can't be understated when it comes to discounts, deals and, yes, annual dividends. The used-gear garage sales for members are worth their weight in gold. If for no other reason, standing in the cold at 6 am for a coveted early-admission ticket is the perfect way to spend a weekend. (SAL)
2nd PLACE: Mountain Gear
3rd PLACE: White Elephant
NORTH IDAHO'S BEST: Cabela's, Post Falls
---
Best Yoga Studio
THE UNION
With two locations nestled on Pacific Avenue downtown and further north on Division, the Union team offers far more than yoga classes. Their TRX suspension exercises and cardio classes make a full profile of fitness options for those looking to increase their flexibility and general health. But their lighthearted music-themed spin classes suggest that fun is just as important to them as health and wellness. (TC)
2nd PLACE: Beyoutiful Hot Yoga
3rd PLACE: Spokane Yoga Shala
NORTH IDAHO'S BEST: Garden Street Yoga, Coeur d'Alene
---
Best Running Event
BLOOMSDAY
Even if the "best of" parameters were extended to the entire country, Bloomsday still might win for the best running event. It brings in world-class runners from all over the world, casual locals and even people recovering from a night of drinking. It's one of Spokane's signature events, displaying the beauty of the city and the grit of its people as they run (or walk) up the famed Doomsday Hill. (WC)
2nd PLACE: The Dirty Dash
3rd PLACE: Windermere Marathon and Half Marathon
NORTH IDAHO'S BEST: Coeur d'Alene Marathon, Half & 5k
---
Best Place to Ski
SCHWEITZER
Schweitzer, with its 2,900 skiable acres and 92 trails, retakes this category. No matter what level of experience, everyone in the Inland Northwest and around the country wants to ski at Schweitzer. The chairlifts are luxurious compared to other ski areas — they even named one Stella, and it's Idaho's only six-person, high-speed lift. When you get to the top, you can overlook three mountain ranges and the beautiful Lake Pend Oreille. Doesn't get much better than that. (WC)
2nd PLACE: Mt. Spokane
3rd PLACE: 49° North
---
Best Place to Snowboard
MT. SPOKANE
Easy to get to for people in Spokane, Mt. Spokane offers options for everyone in the family. There are 1,425 acres of terrain and a vertical drop of 2,071 feet, and the mountain keeps adding new runs, and they keep making their lodges more inviting. With nighttime skiing and snowboarding available four nights per week, and 16 lighted runs, it's easy for locals to enjoy the mountain any time of the week. (WC)
2nd PLACE: Schweitzer
3rd PLACE: 49° North
---
Best Ski/Snowboard Shop
SPORTS CREEL
For anyone who has bought skis or a snowboard at Sports Creel, the thought of buying them anywhere else doesn't even feel like an option. When the experience of picking out a pair of skis or a snowboard can feel overwhelming, the people at Sports Creel are there to help like nobody else. They know what they're talking about and you'll end up with gear that fits and will last for a long time. (WC)
2nd PLACE: Alpine Haus
3rd PLACE: Ski Shack, Hayden
---
Best Summer Camp
CAMP REED
As someone who has never been to YMCA's Camp Reed but grew up hearing from everyone else about how great it is, I'm not at all surprised it took this category. Kids who come back from a summer at Camp Reed, on Fan Lake in Pend Oreille County, talk about it like it's a magical experience that can't be described. And there may be nothing more magical than Camp Goodtimes, the summer program at Camp Reed for kids affected by cancer. (WC)
2nd PLACE: Camp Spalding
3rd PLACE: Camp Sweyolakan