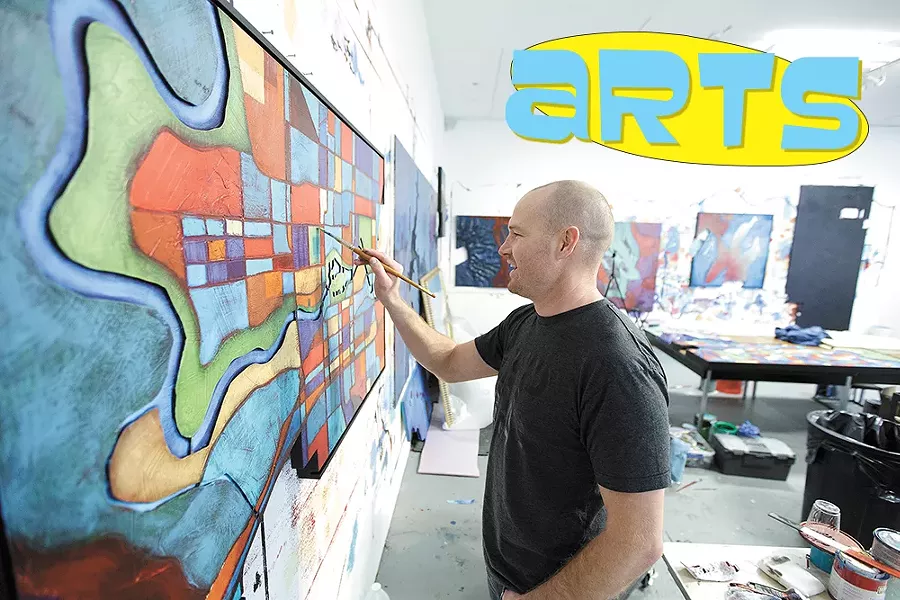 Young Kwak
Ben Joyce creates another work of what he calls "Abstract Topophilia."
Best Arts Festival
ART ON THE GREEN
This annual arts celebration, which takes over North Idaho College's campus the first weekend in August, celebrates its 50th year this summer. Nearly 200 artists working in every medium imaginable will be selling their wares, but it's more than just visual art: Take in live music, hang in the beer and wine gardens and even occupy the kids at various craft tables. (NW)
2ND PLACE: ArtFest; 3RD PLACE: Terrain
---
Best First Friday/Artwalk Venue
BARRISTER WINERY
Barrister is known for its award-winning wines, but they've also embraced their proximity to local art galleries — and relationship with local artists — capitalizing on the joy that is taking in a painting while sipping syrah. Barrister's two downtown tasting rooms — one tucked away and another downtown near the Davenport Grand — are within walking distance of various galleries, and they always have local art on display and often play host to acoustic and symphonic music. (NW)
2ND PLACE: Marmot Art Space; 3RD PLACE: Art Spirit Gallery, Coeur d'Alene
---
Best Local Play or Musical of 2017-18
CHRISTMAS WITH A TWIST
For many local theater fans, spending an evening with actress Ellen Travolta has become a yuletide tradition. Travolta has been staging Christmas variety shows at the Coeur d'Alene Resort for several years now, usually wrangling her sister Margaret and daughter Molly Allen into it. This most recent show, Christmas with a Twist, found Travolta relaying humorous and heartfelt holiday memories, and it also served as a memorial of sorts for her late husband, actor Jack Bannon. (NW)
2ND PLACE: A Christmas Story (Spokane Civic Theatre); 3RD PLACE: Die Hard: The One Man Show (Ryan Dean Tucker at the Bartlett)
---
Young Kwak
Spokane's current poet laureate Mark Anderson.
Best Local Poet
MARK ANDERSON
There aren't many people who can hold a room captive with only their words, but Mark Anderson is one of them. The 29-year-old has long been a staple of the Spokane poetry scene, having represented the city in the World Poetry Slam and founding the Broken Mic open mic night, which has been packing Neato Burrito every Wednesday night since 2011. Anderson is Spokane's current poet laureate, the youngest person yet to hold that position. (NW)
2ND PLACE: Devin Devine; 3RD PLACE: Tod Marshall
---
Best Local Artist
BEN JOYCE
With an increasingly vibrant visual arts scene bubbling throughout the Inland Northwest, Ben Joyce's colorful works of what he calls "Abstract Topophilia" continue to engage art lovers near and far. And while he has some high-profile commissions stretching across the U.S., it's his works looking at Spokane, Coeur d'Alene and the Inland Northwest that resonate with our readers — Joyce's love of place dovetails nicely with our readers' love of the region. (DN)
2nd PLACE: Harold Balazs; 3rd PLACE: Audreana Camm
---
Best Local Instagram
@SPOKANEEATS
"If you have an idea, act on it, pursue it with passion, be genuine and people will feel your authenticity and trust you." So says @spokaneeats to all of us would-be Instagram artists. Voted Spokane's best Instagram page, @spokaneeats boasts more than 15,000 followers and 800 posts. It's mostly food, but curator Chandler Baird (@chanbaird) also frequently posts some cool pics from around town, too. (QW)
2nd PLACE: @spokanedoesntsuck; 3rd PLACE: @thegreatpnw
---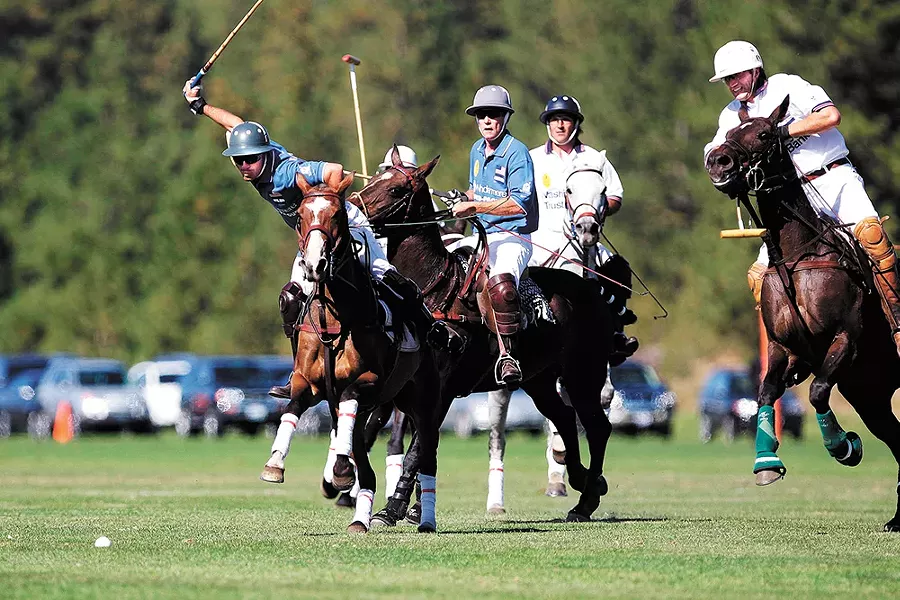 Young Kwak
A great event for a great cause.
Best Charity Event
COBRA POLO CLASSIC, RONALD McDONALD HOUSE CHARITIES
Luckily, the hard work is done by the volunteers behind the scenes, and all that is left is for the Cobra Polo Classic attendees to do is to have fun. With a champagne divot stomp, parade of hats and heart-pounding thunder of horses running at full speed, the fun is built in — all in the name of giving! (BT)
2nd PLACE: Epicurean Delight, Inland NW Blood Center; 3rd PLACE: Beyond Pink; NORTH IDAHO'S BEST: Festival of Trees, Kootenai Health Foundation