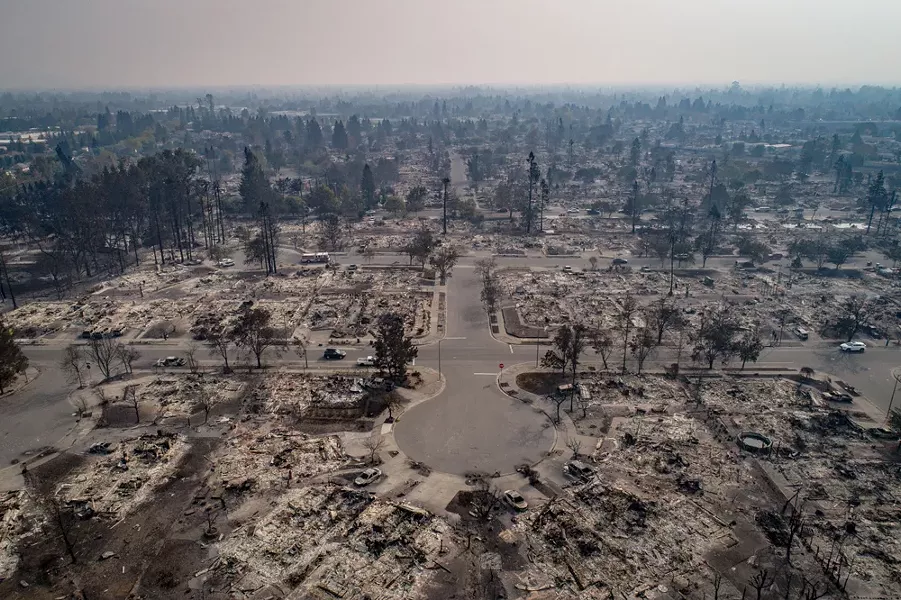 Josh Haner/The New York Times
An aerial view of homes burned by wildfire in the Coffey Park neighborhood of Santa Rosa, Calif., Oct. 10, 2017. Fires which began just two days prior had by Tuesday burned about 115,000 acres over eight counties in California's wine country; at least 15 people are dead and some 2,000 structures are damaged or destroyed.
By THOMAS FULLER, RICHARD PÉREZ-PEÑA and JONAH ENGEL BROMWICH
© 2017 New York Times News Service
NAPA, Calif. — The fires ravaging California's wine country since Sunday night — part of an outbreak of blazes stretching almost the entire length of the state — continued to burn out of control Tuesday, as the toll rose to at least 17 people confirmed dead, hundreds hospitalized, and an estimated 2,000 buildings destroyed or damaged.

The two biggest and most destructive fires consumed more than 52,000 acres in Napa and Sonoma counties, propelled on Sunday night and Monday by 50-mph winds and threatening cities that included Santa Rosa, Napa and Calistoga. The winds died down on Tuesday, but were forecast to pick up again later in the week, and Chief Ken Pimlott of Cal Fire, the state's firefighting agency, described the two fires, and a smaller one nearby, as "zero percent contained."
About 20,000 people heeded evacuation warnings, fleeing on foot and by car as the fires overtook their towns. In Sonoma County alone, 5,000 people took shelter in evacuation centers on Monday night, the county reported, and new evacuation orders were issued on Tuesday.
Survivors told of narrow escapes from walls of flame that seemed to erupt from nowhere on Sunday night and Monday morning, forcing them to run even before text messages and other alerts were sent out by emergency warning systems.
"We always thought the alert system would give us time, but there was no notice, no warning," said Maureen Grinnell, 77, who lived in the hills north of Napa with her husband, Sheldon, 89, who uses a walker. "I was watching a movie with my 19-year-old granddaughter and I smelled smoke, and I looked out the window to see flames approaching."
Across the state, 17 large wildfires were still burning Tuesday, covering 115,000 acres, Pimlott said.
Most of the current California wildfires are in the north, including a large one in Mendocino County and several others in the Sierra Nevada, the north coast and the San Joaquin Valley. But in Southern California, a fire that broke out Monday in the Anaheim Hills burned through thousands of acres and about a dozen homes.
Josh Haner/The New York Times
Nancy Cook sifts through the remains of her home at the Journey's End Mobile Home Park after a wildfire passed through in Santa Rosa, Calif., Oct. 10, 2017.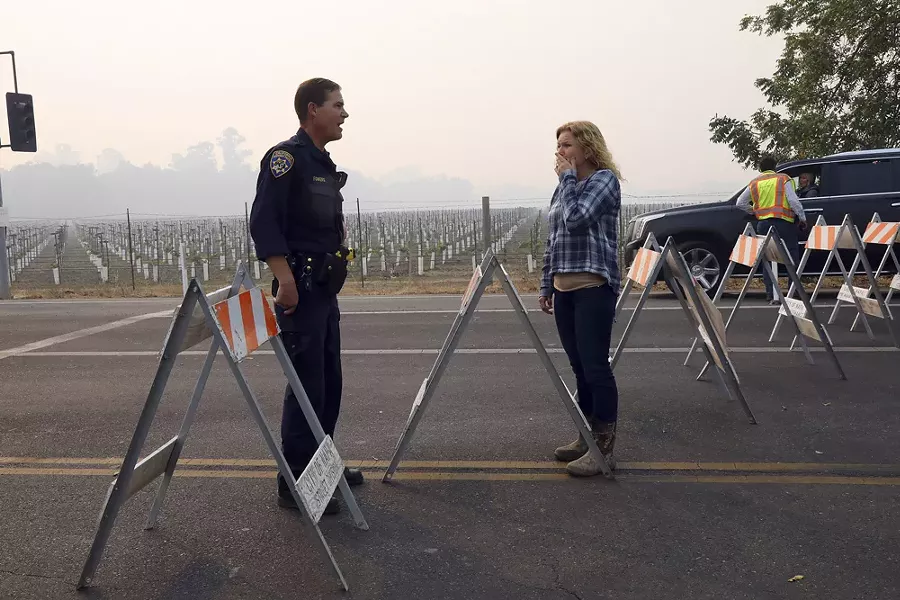 Jim Wilson/The New York Times
A woman pleads with a California Highway Patrol officer to allow her through a roadblock to an area damaged by wildfires in Napa, Calif., Oct. 10, 2017.