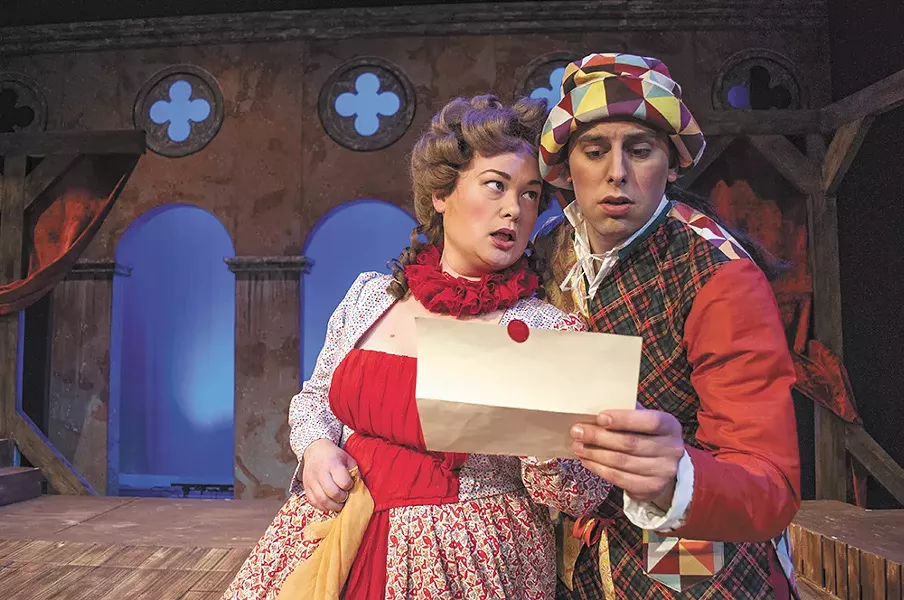 Sarah Wurtz
Mallory Ware as Smeraldina and Preston Loomer as Truffaldino in the Civic's Servant of Two Masters.
It was almost a quarter-century ago that Patrick Treadway last directed a show at the Spokane Civic Theatre. It was the theater's first-ever production of Nunsense; Troy Nickerson, now a veteran director in his own right, was choreographer. Treadway continued to perform there as an actor afterward, but even so, it's been 14 years since he trod the Civic stage. The week the hijacked planes were piloted into the Twin Towers, he was appearing in his final performance, the unfortunately titled My Favorite Year.
For Treadway, who relocated from San Francisco in the late '80s, those early years at the Civic hold special significance because they led to regular professional work in Spokane. For a while he even became the go-to director for local revivals of Nunsense.
"I'm pretty certain it's because of the Civic that I had any kind of professional career here at all," he says.
Like other actors, Treadway drifted from the Civic over the years that followed (though not completely: his elaborate puppets were the yuletide ghosts in 2011's A Christmas Carol), but he noted the recent staff changes, particularly the arrival of artistic director Keith Dixon, with some anticipation. He entertained the thought of returning. Then he got the phone call.
"As I recall, they offered me Nunsense," he laughs. "I said I'd like to direct anything but that one."
He ended up leading The Servant of Two Masters, written by Carlo Goldoni in the mid-18th century. The convolutions of its plot bend around love, rivalry, scheming, deceit and, well, food. It's a classic commedia dell'arte, typified by its masked archetypal characters and improvisational comic routines. These often included Zanni (forebear of the English word zany) — sly or silly servants like the constantly famished Truffaldino of Goldoni's play.
Treadway says he looked to a classic repertory production of Taming of the Shrew directed by Bill Ball at San Francisco's historic Geary Theater for inspiration.
"It was a groundbreaking West Coast production because he incorporated so much commedia in it. So I'm borrowing really heavily from Bill Ball's direction, because he was such a smart guy," he says. "And because some of the gags are so funny, I think the audiences will appreciate what I've brought from that production."
Some modernized versions have transported the play's setting from Venice, Italy to places like Venice Beach, California, but the Civic's version follows a traditional scenario set by Jeff Hatcher and Paolo Landi, the play's adapter and translator. Coincidentally, it was adapted by the same Jeff Hatcher who adapted the Civic's recent production of Dr. Jekyll & Mr. Hyde for the stage and who also modernized the version of Wait Until Dark performed last April at Interplayers. Treadway says the connection is entirely unintentional: "He's just a busy guy, I think."
The production is on the Civic's main stage, not the Firth J. Chew studio theater. To retain some of its intimacy, it will take place on a raked — that is, front-sloping — stage, affording the audience a full view of the action.
"The Zanni drape themselves around the perimeter of that rake, providing sound effects and percussion and heckling. For the most part, nobody ever leaves the stage," says Treadway. He adds that the ensemble nature of Goldoni's play is what allowed him to cast so many untried actors, such as Preston Loomer as Truffaldino.
"They mostly seem to be fresh faces and college students. This is one of the beauties of community theater," he says. "You get to open the door to new talent." Treadway, returning to the theater where he first established himself in Spokane, has a singular appreciation for that. ♦
The Servant of Two Masters • Jan. 16 through Feb. 8: Thu-Sat, 7:30 pm; Sat-Sun, 2 pm • $18-$25 • Spokane Civic Theatre • 1020 N. Howard • 325-2507 • spokanecivictheatre.com