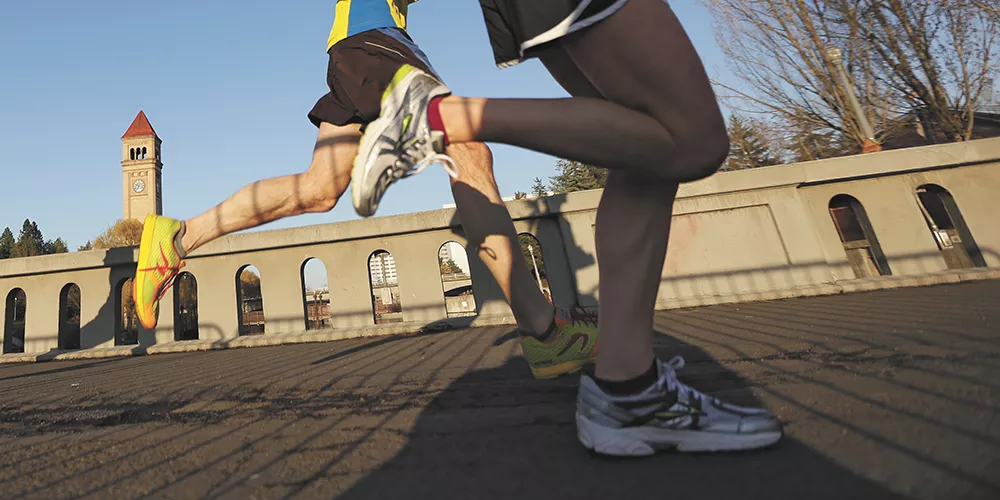 North Central's cross country team broke the record for consecutive state titles.
Even though the North Central boys cross country team has won a record-breaking 10 straight state championships, coach Jon Knight says he would have quit a long time ago if his program was only about winning.
"That's not what makes me tick," he says.
Instead, he has tried to cultivate a program that builds "young men of character."
But after a recruiting violation was uncovered last month, the character of NC's program itself has been called into question. The violation occurred earlier this school year, when assistant coach Len Long gave an elementary school cross country runner a Star Wars-themed DVD promoting North Central's program. It was entitled, Episode X: The North Central Boys Cross Country Legacy Continues, and came with a note encouraging the boy to choose NC. The video was handed out to about 15 other kids and was a clear violation of recruiting rules, says Washington Interscholastic Activities Association District 8 Director Herb Rotchford.
"WIAA is very explicit in that you cannot provide any promotional materials — DVDs, letters or notes — that either markets your program as better than other schools or entices prospective student-athletes to attend their high school," Rotchford says.
Knight acknowledges that handing out the DVDs was a mistake, but insists that it wasn't an attempt to gain an unfair advantage. He says it was based on an honest misunderstanding of the rules.
That may seem like an excuse, but confusion about what constitutes a recruiting violation is common in high school athletics. North Central's recruiting violations are not as egregious as those of Bellevue High School's football program, which was found recently to have coordinated payments for athletes and paid tuition for students to attend an alternative school described as a "diploma mill." Rather, what NC's program did demonstrates how a recruiting violation, as opposed to merely sharing information, can be hard to identify, especially when few people actually know what crosses the line, or even where that line is.
"The reality, more than anything, is that people don't know what the rules are," says Lori Wyborney, Rogers High School principal and a member of the WIAA Executive Board.
Rotchford has been the WIAA District 8 director since 2011. In that time, he says, there have been no other proven recruiting violations in the Greater Spokane League.
"You have rumors. You have innuendos. But nothing of substance," he says. "And that's one of the things that makes the investigation and the finding of illegal recruiting so difficult. In order for that to happen, we have to have a parent come forward and say, 'This is what happened to my kid.'"
As he points out, parents are generally not interested in coming forward and reporting a recruiting violation.
But in North Central's case, the parent of the kid who received the DVD reported what happened. Principal Steve Fisk investigated the allegations and presented his findings to Greater Spokane League activity coordinators, who determined there was a violation of WIAA recruiting rules.
Part of the issue, says Knight, had to do with the open enrollment policy in Spokane Public Schools. A decade ago, the district went to open enrollment, which allows incoming ninth graders to choose any high school, provided there is enough space. Two years ago, the district created an online system that made it more accessible. Rotchford says that because any middle school student can potentially attend any high school, coaches cannot contact middle school students. They can, however, contact elementary school students at any time to provide information.
Coaches, Rotchford says, should be responsible for understanding the difference between providing information and "inducing" a student to attend their high school. That means coaches cannot portray their athletic program as being better than another.
"That can be a very fine line, and makes it even more important that coaches understand the language of the rule and its implications," Rotchford says.
Videos or written material implying that a school's athletic program is better than another is specifically prohibited under WIAA Rule 27.0.0. Yet schools can promote academic programs, like North Central's Institute of Science and Technology. Rotchford notes that private schools like Gonzaga Prep always recruit students for academics.
Knight says Long thought he was operating within the rules when he handed out the DVDs to elementary school kids outside of NC's attendance area, because he thought the open enrollment policy meant those kids were able to be contacted. Knight says the DVDs were simply leftovers from a video played during a convocation at school. The problem is that the content was deemed an enticement, and therefore a recruiting violation.
Other high school coaches in the area, like Lewis and Clark cross country coach Michael Lee, agree that the recruiting rules can be fuzzy. Lee says he's always had his own barometer for what's appropriate. The school hands out flyers and sends out information to prospective students, and notifies them of an upcoming camp. Lee stopped short of discussing the allegations against North Central, but says the incident might help more coaches become aware of the rules.
Knight says he didn't know that Long was handing out the DVDs. Clearly, Knight says, he shouldn't have.
"Len Long is a great man," Knight says. "He pushed it too far at the end, but he did it based on an honest mistake."
When Fisk, NC's principal, reviewed the 58 cross country athletes from NC who competed in state during the program's unprecedented 10-year championship run, 92 percent were from the North Central attendance area. Of the rest, one is Knight's son, and a couple of others were from nearby areas just outside of NC's natural feeder area.
"The accusation that we built this on some recruiting machine is ludicrous," Knight says.
The program is on probation for three years. Knight has been suspended for next year's first cross country event. Long is suspended for the first three events, but Knight says next year would have been his last year coaching anyway, so Long has retired.
More than the sanctions, Knight is hurt by the notion that his program operated unethically. It's the exact opposite of what he tried to do, he says. His plan was to retire after next year, and he hopes to hand the program off to the next coach in the best shape he can. But he says the recruiting violation could have a negative impact.
"It just kind of takes the wind out of your sails," he says. ♦