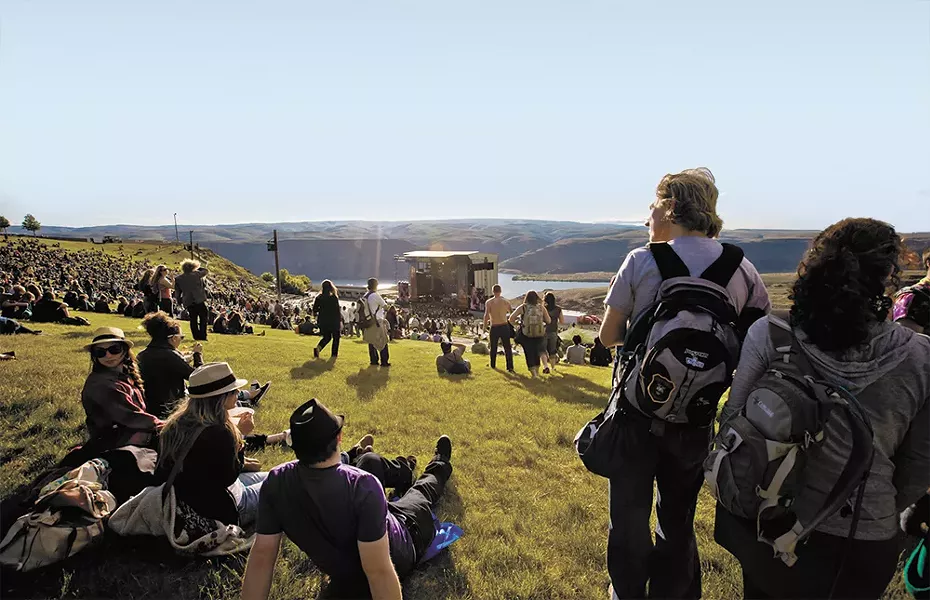 Christopher Nelson
The sold-out Sasquatch! Festival will run only three days this year, Friday through Sunday.
After the 2013 festival set a record by selling out in less than 90 minutes, Sasquatch! founder Adam Zacks attempted to split the Memorial Day weekend concert into two events this year. Ticket sales flailed, and the only thing to do was lop off the intended Fourth of July weekend concert. Even if we miss out on Soundgarden, the second weekend's headliner, the lineup at the Gorge this weekend is still mighty strong. While the three-day event is technically sold out, there are always ways of getting tickets if you want them badly enough. Here are the shows we think you should highly consider hitting up this weekend. (LAURA JOHNSON)
KITHKIN
Seattle's Kithkin fancies itself a Cascadian forest tribe. Its music — wild, kinetic rock with rhythmic complexity and a fair share of animalistic yelps — certainly matches up with this persona. Kithkin's Sasquatch! set acts as the debut for its new album Rituals, Trances & Ecstasies For Humans in Face of the Collapse. If you miss them at Sasquatch! you can see them at Volume the following weekend. Narwhal, 2 pm (SETH SOMMERFELD)
EUGENE MIRMAN
The oddball stand-up comedian and voice of Gene on Bob's Burgers is no stranger to musical environments, having served as the opening act for bands like Modest Mouse, the Shins and Cake. Catch him honing his material before he heads to Seattle to record his new comedy special in early June. El Chupacabra, 4:45 pm (SS)
PRINCESS featuring MAYA RUDOLPH
In the Inlander's recent Best Of poll, Spokanites voted for Prince as the artist they'd most like to see come to town, so we know you'll be all about this band. Princess is Maya Rudolph's Prince cover band. Seriously. The duo, featuring Rudolph's college friend Gretchen Lieberum, debuted two years ago on Late Night with Jimmy Fallon. This could be nothing but hilarious. El Chupacabra, 6 pm (LJ)
PHOSPHORESCENT
Sometimes it just feels good to feel awful. Multi-instrumentalist Matthew Houck, aka Phosphorescent, has produced six albums since 2003, featuring songs so full of lyrical heartache and sadness, it's hard to understand how his music can be upbeat. He makes indie rock with drops of country, electronic and blues; somehow, all of it seems uplifting when you watch him. Bigfoot, 6:35 pm (LJ)
DAMIEN JURADO
Unlike the show Damien Jurado pulled off last week at the Bartlett, this set won't be very intimate. His rolling, haunting bunch of story-songs are meant for contemplation, not screaming or dancing. Hopefully everyone who shows up to his set already knows that. Expect it to be just Jurado and his guitar, but amazing nevertheless. Yeti, 9:15 pm (LJ)
OUTKAST
After eight years apart, Outkast finally reunited at Coachella this year... and promptly flopped. It seemed like hip-hop's greatest duo didn't even want to be on stage. Reviews of subsequent shows have been much more glowing; here's hoping they can still recapture some of that Stankonia magic. Sasquatch, 10:40 pm (SS)
DUDE YORK
Dude York's snotty punk feels like the embodiment of the kid who sat in the back of the class shooting spitballs at the blackboard. Each song revels in bratty bravado, propelled forward by superbly swift drumming, a strong melodic core and plenty of guitar wailing and vocal yelping. Narwhal, 3 pm (SS)
FIRST AID KIT
It's hard to believe that two sisters from Sweden could understand American folk music better than many born here, but Johanna and Klara Söderberg have been making harmonious and haunting country-infused tunes since 2008, continuously proving their songwriting ability. Their new album Stay Gold comes out June 10. Sasquatch, 3:10 pm (LJ)
THE VIOLENT FEMMES
There's no way you haven't had the song "Blister in the Sun" stuck in your head at least once in your life. The Milwaukee-based band has plenty more whiny, catchy alt-rock songs in its arsenal — just nothing new. Started in 1980, the trio has broken up twice, but has been back at it since 2013. Sasquatch, 5:50 pm (LJ)
DEAFHEAVEN
While Deafheaven has a singer, it's easy to almost think of them as an instrumental act (with screams merely adding color). The band's mix of black metal and shoegaze aesthetics is brutally heavy, but done so artfully (with a distant nod to melody) and without traditional shredding that it can feel warmly inviting. Yeti, 6:35 pm (SS)
M.I.A.
Above all else, Sri Lankan superstar M.I.A. is unpredictable. Her enthusiastic, vitriolic rapping style seems equally ready to start a party and start a riot at any moment. The previous time she played Sasquatch!, she invited fans on stage for a chaotic free-for-all dance party, so bring your dancing shoes just in case. Sasquatch, 8:45 pm (SS)
THE NATIONAL
They've been accused of sounding boring, but the National is anything but. Sure, Matt Berninger's melancholic crooning could send someone straight into a coma, but only because his baritone timbre is so smooth and delicate. Don't be fooled: the five-piece knows how to blow the roof off with their live show. Sasquatch, 10:50 pm (LJ)
TACOCAT
Good luck finding a more fun Sasquatch! set than Tacocat's early Sunday offering. Recharge your spiritual battery as the tambourine-bashing quartet of sugary Seattle stoners bust out a gleeful collection of pop-punk ditties about prideful menstruation, trippy birthdays, anarchist roommates, and bus-induced hostility from their killer new album NVM. Yeti, 1 pm (SS)
PINK MOUNTAINTOPS
Canada has brought us some of the best singer-songwriters — Neil Young and Joni Mitchell, just to name two. While the Vancouver, B.C., act Pink Mountaintops is a rock band, its lyrics still tell stories incredibly well. Led by Stephen McBean, the collective, which now resides in L.A. and has featured musicians from a slew of Canadian and American acts, released new album Get Back last month. Yeti, 3:05 pm (LJ)
BOB MOULD
Forget any of the buzzworthy young upstarts; we can all only hope to age a fraction as awesomely as Bob Mould. The 50-something former Hüsker Dü frontman hasn't lost a step, still radiating raw power and rocking twice as hard as youngsters twice his age in the Sasquatch! lineup. Bigfoot, 6:55 pm (SS)
WAXAHATCHEE
Katie Crutchfield (aka Waxahatchee) sings with a fragility few singer-songwriters can dream of. On 2013's near-perfect Cerulean Salt, her voice echoes with a Southern sorrow as her hands delicately hold each distantly strummed chord. It's the ideal music to be breathed in slowly as Sasquatch! nears its end. Yeti, 7:55 pm (SS)
RODRIGUEZ
Within the past two years, Sixto Diaz Rodriguez has finally received the recognition he deserves in this country (he's big in South Africa and Australia). The spotlight was thrust upon him in 2012 when Searching for Sugar Man, a documentary focusing on his lackluster early-'70s American career, was released and won an Oscar. Now the singer-songwriter is seeing a revival. He also played last year's Sasquatch!. Bigfoot, 8:20 pm (LJ)
KID CUDI
Kid Cudi possesses a certain je ne sais quoi that elevates him to another level when playing festivals. He's not the biggest MC in the rap game, but when he takes the stage before a festival throng, he performs with a fun-loving swagger that makes onlookers think he probably should be. Sasquatch, 8:45 pm (SS)
QUEENS OF THE STONE AGE
There's a lot of indie and folk music in this year's Sasquatch! lineup. If you need to get your hard rock fix somewhere, you won't want to skip Queens of the Stone Age. The California band's set closes the main stage Sunday night; you'll be beyond exhausted. Buck up and listen to the band that put out ... Like Clockwork, one of 2013's best records. It's going to get loud. Sasquatch, 11 pm (LJ) ♦