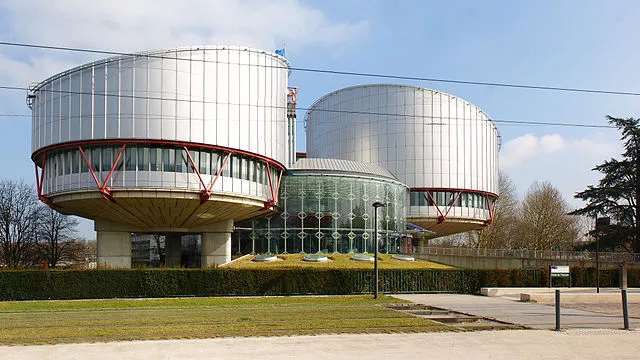 CC BY-SA 3.0
The European Court of Human Rights, based in Strasbourg, France.
By SEWELL CHAN
© 2017 New York Times News Service
It turns out that sex after 50 has value after all. That was the judgment of Europe's top human rights court when it rejected a decision by Portuguese judges that reduced damages to a middle-aged woman who could not have sex after a botched operation

The surgery — which occurred in 1995, when she was 50 — happened at "an age when sex is not as important as in younger years," the judges ruled in 2014. Their decision provoked accusations of sexism and ageism at the time.
The woman, Maria Ivone Carvalho Pinto de Sousa Morais, now 72, challenged the decision, taking the matter to the European Court of Human Rights, based in Strasbourg, France. On Tuesday, that court ruled, 5-2, in her favor.
"The question at issue here is not considerations of age or sex as such, but rather the assumption that sexuality is not as important for a 50-year-old woman and mother of two children as for someone of a younger age," according to the majority's ruling. "That assumption reflects a traditional idea of female sexuality as being essentially linked to childbearing purposes and thus ignores its physical and psychological relevance for the self-fulfillment of women as people."
Morais' lawyer, Vítor Manuel Parente Ribeiro, praised the ruling.
"It is the international recognition of a personal injustice," he said in a telephone interview. "She is a very physically weakened woman, and feels that the injustice she suffered in Portugal has been attenuated."
In October 2013, a court ordered the hospital to pay Morais 80,000 euros (about $93,000) in compensation for her physical and mental suffering, and about 16,000 euros for a maid to help her with daily chores.
In October 2014, Portugal's Supreme Administrative Court reduced the compensation by a third, finding, among other things, that she "probably only needed to take care of her husband," given that her children were grown.
Portugal's government acknowledged an "unfortunate use of terms," but said that the court's ruling should be upheld.
The European court did not agree. It found that the woman's "age and sex appear to have been decisive factors" in the Portuguese decision.