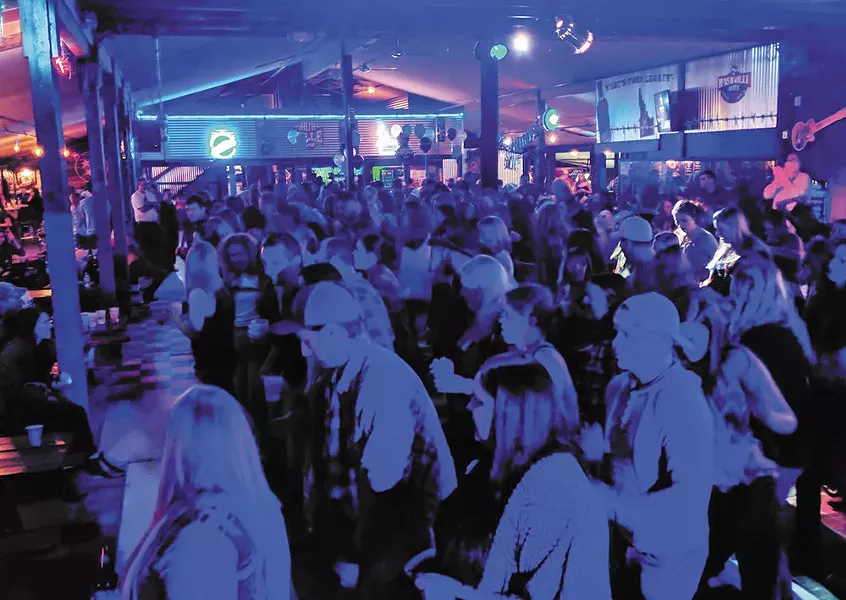 Line dancers pack the floor at Nashville North.
COEUR D'ALENE CASINO
This place is a haven for food, drink, gambling and, of course, live entertainment. Many of the lounges within the casino, including the Nighthawk and Chinook, offer dance-friendly music on most nights of the week. 37914 S. Nukwalqw Rd., Worley, Idaho
NASHVILLE NORTH
Is boot, scoot and boogying more your speed? Dust off your cowboy boots and get your 10-gallon hat out of storage, because this country bar in State Line, Idaho, is one of the premiere destinations for honky-tonk music and line dancing. Friday and Saturdays are ladies' nights, and musician Luke Jaxon and DJ Tom provide music. 6361 W. Seltice Way, State Line
NYNE BAR & BISTRO
The go-to spot for getting your groove on in downtown Spokane, nYne often books live bands on weekends. But the real reasons to shake a tail feather at nYne are the regular in-house DJs, who bring their playlists of Top 40 hits and classic jams and turn the volume up to 11. (They also host karaoke on Wednesday nights.) 232 W. Sprague Ave., Downtown Spokane
RED ROOM LOUNGE
Although it isn't known specifically as a dance club, Red Room has a spacious dance floor and books the kind of bands that'll get your feet shuffling. Hip-hop, R&B, funk or soul? You can hear it here. Local DJ Storme also takes over the place on Tuesday nights. 521 W. Sprague Ave.
ZOLA
A hip night spot with live music every night, Zola is the perfect place for folks who don't just want to sit around and talk over beers. The bar's music roster features bands that perform a wide range of popular covers that will even get the arms-crossed curmudgeons moving on the dance floor. 22 W. Main Ave., Downtown Spokane