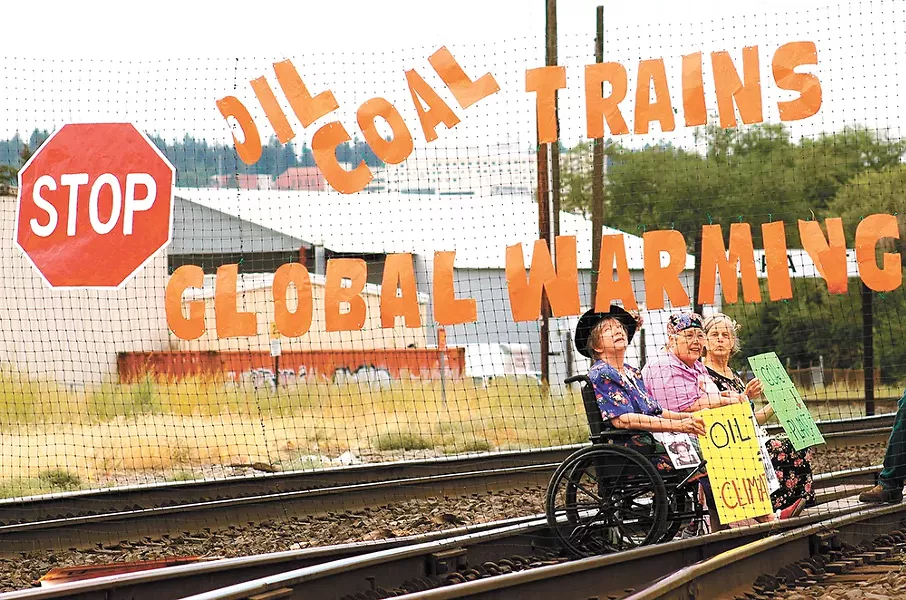 Kai Huschke
Grannies resist!
The Spokane Raging Grannies and Veterans for Peace present a talk on their arrests and subsequent court case over their peaceful blocking of BNSF rail lines in Spokane last fall. A Q&A and potluck will follow; please bring a food item to share. Sponsored by North Idaho Resistance Movement and Wild Idaho Rising Tide. Free, donations welcome. Sat, July 29 from 11 am-1 pm. Gardenia Center, 400 Church St., Sandpoint. (208-627-9084)
Tree Scouts for Hunger Relief
Community members are invited to learn about the role of Tree Scouts in Spokane Edible Tree Project's food recovery and hunger relief program, and find out how to get involved. Tim Kohlhauff, Master Gardener Coordinator for Spokane County, also teaches how to identify fruit trees by bark, leaves, blossoms and fruits. RSVP at tinyurl.com/setp-scouts. Free. Tue, Aug. 1 from 6-8:30 pm. WSU Spokane County Extension, 222 N. Havana. (209-2890)
Dishman Hills Community Picnic
Enjoy food and drink (nonalcoholic), and learn about the nonprofit Dishman Hills Conservancy along with other community members. Please register for planning purposes. Free, donations accepted. Thu, Aug. 3 from 5:30-8 pm. Camp Caro, 625 S. Sargent Rd., Spokane Valley. dishmanhills.org/events
Yappy Hour
The Spokane Humane Society celebrates its 120th anniversary with a special happy hour benefiting the nonprofit and the animals it cares for. See historical photos from throughout the nonprofit's history, and learn more about its legacy. Free admission. Thu, Aug. 10 from 4:30-7:30 pm. The McGinnity Room, 116 W. Pacific. Spokanehumanesociety.org ♦
Tell us about your event or other opportunities to get involved. Submit events at Inlander.com/getlisted or email getlisted@inlander.com.