Frankly, there's too much TV these days. You can't justify watching a mediocre show week after week just in hopes it gets good. Not when there's a full new season of Bojack Horseman to plow through. So listen to us. We're not recommending you watch these shows from the beginning. Instead, keep your eye them, wait to see if you friends start praising them, then leap on the bandwagon.
The Orville (airs Sundays at 8 pm on FOX)
Family Guy creator Seth MacFarlane inspires a lot of emotions, a fair number of eye rolls and the occasional urp of vomit. But there's no denying that however juvenile his sense of humor, the man absolutely loves the source material he's mocking. So I wouldn't immediately discount The Orville, a comedy that sticks MacFarlane at the helm of an Enterprise-like starship. Yes, there's a "women be leaving the toilet seat up" joke in the trailer, but I laughed at a lot of the others. Of course, I laugh at a lot of Family Guy too, so maybe I'm completely tasteless. (DANIEL WALTERS)
The Deuce (airs Sundays at 9 pm on HBO)
Credits for The Deuce suggest that HBO has the latest installment in prestige television. The '70s period piece on New York's then-budding seedy porn and sex industry is helmed and created by producer/writer David Simon (The Wire) and pulp crime novelist George Pelecanos. The show features a cast led by James Franco and Maggie Gyllenhaal, and early results confirm its potential. Franco somehow owns the screen playing the protagonist twin brothers Vincent and Frankie Martino with a Ratso Rizzo panache. The show's characters defy archetype and demand an empathy reminiscent to that of The Wire's setting of Baltimore. (TUCK CLARRY)
The Vietnam War (premieres Sept. 17 at 8 pm on PBS)
Documentary filmmaker Ken Burns takes on a war that doesn't require panning over still photos while a mournful cello plays. The Vietnam War is a war that — like the Civil War — still has its shrapnel lodged in the American psyche. The wounds it left, figurative and literal, remain. The Vietnam War aims to explore what happened and, more important, what it all meant. Burns calls the 10-part documentary the "most ambitious project we've ever undertaken." (DW)
Another Star Trek adventure begins.
Star Trek: Discovery (premieres Sept. 24 at 8:30 pm on CBS)
Here's the good news. A new Star Trek series is premiering. It's positively insane that Star Trek, one of TV's best storytelling vehicles, hasn't been on TV in a dozen years. Here's the bad news: The original showrunner, brilliant Inland Northwest native Bryan Fuller (Hannibal, Pushing Daisies) was unceremoniously booted off the project like he was some kind of common Star Wars director. And subsequent episodes will only air on CBS All Access, a streaming platform that you'll probably have to Google. But if it can manage to marry the roguish action of the J.J. Abrams movies with the chin-stroking of The Next Generation, signing up for yet another Netflix ripoff will be worth it. (DW)
The Opposition (premieres Sept. 25 at 11:30 pm on Comedy Central)
In the era of fake news and alt-media, Comedy Central needed to take a new approach to the late-night "news" format. Former Daily Show correspondent Jordan Klepper and his new show The Opposition will take the reins of a time slot formerly held by The Nightly Show with Larry Wilmore and The Colbert Report. Klepper will attempt a persona that mirrors internet conspiracy theorist Alex Jones, much like Colbert's former flirtations with the ethos of Bill O'Reilly. While it's unclear if Klepper can pull off a nightly look at current events while skewering the media's mainstreaming of views like Jones', it'll be fun to watch him try. (TC)
Ghosted (premieres Oct. 1 at 8:30 pm on FOX)
So this is the new FOX network TV formula, apparently. Take a beloved, long-ago-canceled sci-fi or fantasy TV show — Star Trek for The Orville, the X-Files in this case — and reboot it as a comedy. Adam Scott from Parks and Recreation stars as a true believer in the supernatural, while Craig Robinson from The Office stars as a skeptical cop. Both are recruited into an agency tasked with monitoring the paranormal. The ghosts-with-jokes formulation has been done well before, as in the the CW's Reaper or that one 1980s movie where Bill Murray and Dan Aykroyd were ghost-hunting scientists. Even if the plot fizzles, the cast is stellar. (DW)
The Mayor (premieres Oct. 3 at 9:30 pm on ABC)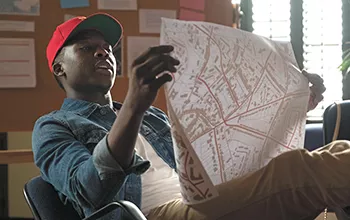 A show with a premise that only seems plausible in 2017, The Mayor follows rapper Courtney Rose (Brandon Micheal Hall) after he unexpectedly wins a mayoral election following a campaign intended solely to boost his profile. The show is created by The Mindy Project writer/producer Jeremy Bronson and executive-produced by Hamilton's Daveed Diggs, whose rap group soundtracks the show. Hall and company offer an infectiously likable cast including Courtney's mother Dina, played by Yvette Nicole Brown (Community), and his classmate-turned-campaign manager Valentina, played by Lea Michele (Glee). (TC)
The Last O.G. (premieres Oct. 24 at 10 pm on TBS)
What's that, you say? Making fun of hipsters is "over?" Sounds like the sort of thing a hipster would say. This premise — an ex-con gets out of prison and returns to his old Brooklyn haunts, horrified to see how much his seedy New York has been replaced by twee gentrifiers — sounds delightful. Now add Tracy Morgan of Tracy Jordan fame as the lead. Now add Jordan Peele, the sketch comic who directed the universally beloved Get Out, as executive producer. (DW) ♦