L
ast Thursday in Los Angeles
the Gonzaga Bulldogs led by just one point at halftime before rallying to pick up a 73-60 win over the Loyola Marymount Lions. On Saturday in San Diego the Zags found themselves tied with the Toreros at the half, but wound up gutting out a 79-67 win. Two wins, both by double-figures, but somehow a reminder that conference play isn't always easy.
Which is something Zag fans might have forgotten.
Before last week's games the Zags were outscoring conference opponents by an average of 31.1 points per game this season. After last week's pair of relatively close games, the Zags' average margin of victory has dropped to just 28 points per game. A step backwards, certainly, but not enough to knock them off their historic pace.
Largest conference scoring margin through 12 games (since '97):
'19 Gonzaga +336
'17 Gonzaga +325
'99 Duke +285
'13 Florida +274
'11 Belmont +271

— Ken Pomeroy (@kenpomeroy) February 17, 2019
The Zags' dominance inside of West Coast Conference play goes back much farther than just the start of this season, though. The Zags have won 26 straight games against WCC opponents, dating back to January of last year when Saint Mary's pulled off a three-point win in Spokane. Outside of Spokane, surprisingly, Gonzaga has been even more dominant. The Zags own the longest active conference road winning streak in all of college basketball, having won 30 such games in a row.
And, when you just look at the level of competition Gonzaga faced over the weekend, it's even more brutal.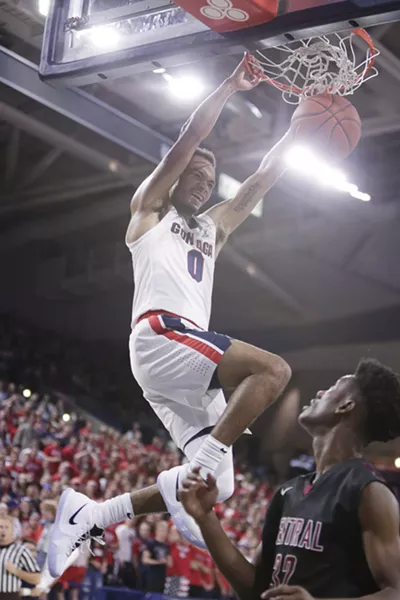 Young Kwak photo
It's all fun and game until someone get's dunked on.
As I mentioned, the Zags' last loss to a conference foe came against Saint Mary's last season. The Gaels spent the vast majority of last season ranked in the AP Top 25 and had spent the entire previous season ranked as well. It was technically an upset, but not all that surprising. You can say the same when Gonzaga has lost to the BYU Cougars. Those are the only two teams in the WCC that are anywhere near Gonzaga's level.
In fact, the Zags haven't lost to any other WCC teams since Feb. 22, 2014, which was 1,822 days ago, for perspective. The team that beat Gonzaga on that day? The same San Diego Toreros that put a real scare into the Zags this past Saturday.
It had been a while since Gonzaga had been challenged like it was last week. The Lions were physical with the Zags in the paint and on the glass. LMU out-rebounded Gonzaga 36-35 in the game. Gonzaga's 32 points at halftime was a season-low for any half… until Saturday, when a skilled and veteran Toreros team held the Zags to just 30 points in the first half.
In the end, in both games, Gonzaga ended up looking like the Gonzaga we're used to seeing. In the second half against Loyola Marymount, the Zags shot 63.6 percent from the field. Against San Diego, the Zags were even hotter and hit 69 percent of their shots in the second half.
For a fanbase that has become so accustomed to watching Gonzaga demolish conference teams by 30 points or more on a nightly basis, last week was nice in a masochistic sort of way.
Gonzaga hosts Pepperdine, which sits three games below .500 in conference play, this Thursday. Since the game isn't on the road, and the Waves aren't very good, it shouldn't be close. But, after being reminded that competitive basketball games are actually fun to watch, I might just end up rooting for the Waves to give us a good game. For the first 30 minutes or so, at least. As thrilling as the last two games were, the outcome at the end is what matters most and Gonzaga got it done in both, as is almost always the case.