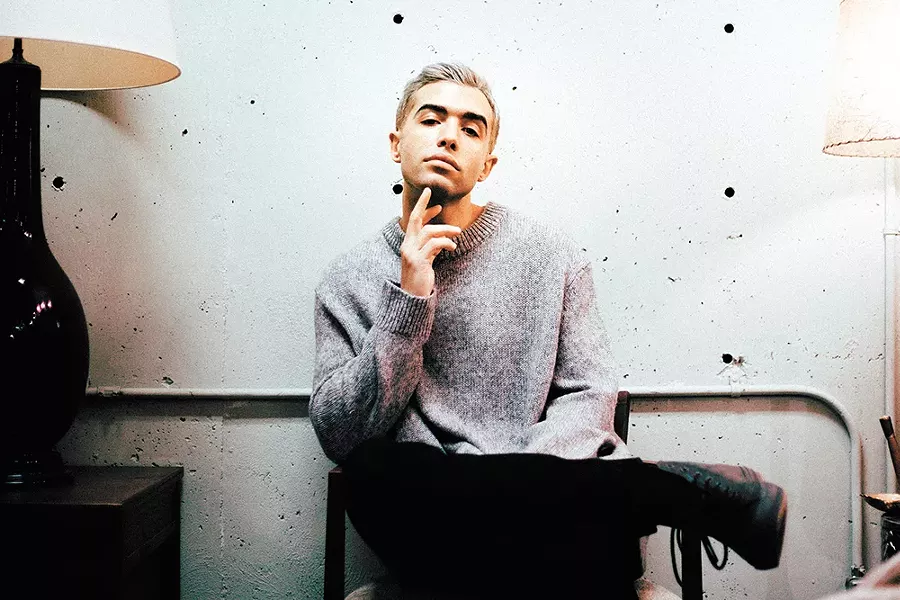 Ryan Caraveo, one of this year's headliners, plays the Washington Cracker Building on Friday, June 1.
Advertisement
Rock This unGoogleable Seattle band is made up of modern punks (including members of Vacant Life, Big Bite and Nasti), but their shaggy sound is decidedly retro. Advertisement's unabashed love for classic '70s rock comes through so clearly, you may find yourself rolling to the gig in head-to-toe denim in an airbrushed windowless van. Far out. Sat, June 2, 7:15 pm, Big Dipper
All Star Opera
Hip-Hop/Soul These six homies out of Seattle make bohemian hip-hop with the attitude that no one member of the group is greater than the whole. Made up of two MCs and a four-piece band, they like to play around with dynamic composition and wrap listeners up in warm soundscapes. Sat, June 2, 11:15 pm, Red Room Lounge
Bad Motivator
Rock Formerly known as the Static Tones, this new band has been reformatted by musician Ian Nelson into a hard-rocking four-piece, and they recently played their first show. Their name might be Star Wars-inspired, but the music isn't: It's heavy riffage with surfy influences, augmented by out-of-the-garage fuzz. Sat, June 2, 11:15 pm, Mootsy's
Bad Yoshi
Hip-Hop This Seattle hip-hop trio has shared stages with Joey Bada$$, Lil Uzi Vert and Gucci Mane, swapping rapid-fire rhymes over hard-hitting beats that lend themselves to explosive live shows. They consider themselves "an intergalactic musical entity, an idea and a lifestyle all in one," but mostly what you need to know is they're a must-see for hip-hop fans. Fri, June 1, 7 pm, Washington Cracker Building
BaLonely
Rock Norman Robbins' songwriting talents continue to progress with this garage-rock ensemble, adding his mom Kristin Robbins on bass and drummer Cody Brooks. His crooning reminds you of vintage art-rock while also offering a stripped-down intimacy that feels like the backing to one of your favorite movies. Friday, June 1, 10:30 pm, Berserk
Bar Talk
Rock Four-piece straightforward rock bands are more rarity than rule anymore, making Bar Talk's approach a retro breath of fresh air. Monster-sized guitar riffs from Jason Overdorff propel the sound alongside a steady rhythm section (Taylor Roff on bass, Matthew Woodworth on drums), while vocalist Kaylee Goins touches on a bluesy howl between joyful pop sing-alongs. Sat, June 2, 12:15 am, Mootsy's
Big Bite
Rock "Big" is right. When it comes to sonics, this side project of Seattle-based musician Matt Berry sounds huger than the band actually is, pulsating, swirling noise-pop that you could argue has something of a psychedelic bent to it. Think the Jesus and Mary Chain or Ride — it's pretty, but it's also got fangs. Sat, June 2, 9:30 pm, the Observatory
Blake Braley
Soul If you've ever seen Blake Braley work the stage during one of his weekly Zola gigs, you'll know a couple of things: Dude's got serious pipes, his backing band is tight, and they make quick work of originals and R&B classics you didn't realize you wanted to hear covered. Fri, June 1, 8:15 pm, Big Dipper
Blues Lawyer
Indie-Rock Oakland's Blues Lawyer is a brand-new quartet that's an outlet for members of some of the city's already-established bands, including Preening and Mall Walk (who played a great set at last year's Volume). Their debut LP Guess Work is jittery power-pop in the vein of the Feelies or the dB's. Fri, June 1, 10 pm, the Observatory
Boys Night
Rock The new project for local stalwart Miles Martin sounds exactly like what its name implies: This garage-rock band is a group of dudes looking to grip it and rip it, man. Be sure to have your chosen tallboy swill in hand when the boys go on stage and let loose. Sat, June 2, 8:15 pm, Big Dipper
BRONCHO
Indie-Pop This quartet from Norman, Oklahoma, the same city that birthed the Flaming Lips, writes the kind of insistent, earworm-y melodies that make every song sound like a hit single. Their tunes have been featured in prominent ad campaigns for Cartoon Network and HBO, and they translated that exposure into a gig opening for Queens of the Stone Age last year. Fri, June 1, 10:15 pm, Red Room Lounge
Brotha Nature
Hip-Hop Eli Dyer is a one-man band meant for this millennium. The MC handles lyrical contortions, beatboxing, trumpets, guitars and other instruments seamlessly, while also crafting a compelling song. The live looping maestro ensnares audiences with his brand of hip-hop and wrangles in some EDM lovers to bob along with his builds. Sat, June 2, 10:15 pm, Red Room Lounge
Buffalo Jones
Rock This long-running Spokane quartet delivers exactly what rock fans are looking for: strong hooks, excellent vocal harmonies, soaring guitar solos and lyrics that lean toward relationships, good and bad. The professionalism of their recordings carries over to the stage, with an added dose of spontaneity and humor. Sat, June 2, 6:15 pm, nYne
Casual Hex
Post-Punk Eleven songs in 21 minutes. That's the run time of Zig Zag Lady Illusion, the new album from rising post-punkers Casual Hex. The Seattle trio expertly walks a tricky line between tightly wound and off the rails, using prickly guitars, rat-tat-tat rhythms, relentless dissonance and snarled vocals. It's somehow unnerving and approachable at the same time. Fri, June 1, 9 pm, the Observatory
Catastrophe
Rock Singer-songwriter Eliza Johnson has played within a quartet with Violet Catastrophe, as a solo artist under the moniker Eliza Catastrophe, and now she's just plain Catastrophe. Having formed a trio with local stalwarts Ben Jennings and Cody Brooks, Johnson's songs remain clever and self-effacing, with interesting melodies beneath those sharp lyrics. Sat, June 2, 6:45 pm, Washington Cracker Building
Cathedral Pearls
Pop-Rock Max Harnishfeger's rock 'n' roll fantasies find an outlet in Cathedral Pearls, his outfit with husband and wife duo Caleb and Karli Ingersoll. Cinematic guitar-scapes, rollicking toms, big sky synth pads — the proof is in the production. This is the sound of a band in a groove. Sat, June 2, 7:15 pm, nYne
Chris Molitor
Folk A welcome transplant from California, Chris Molitor's brand of folk-pop is a welcome addition to an ever-growing subgenre of Pacific Northwest music. His jangly guitar and percussion-fueled Americana offers an authenticity and familiarity, whether it's on a stage or through your speakers on a summer night amongst friends. Sat, June 2, 10:30 pm, the Bartlett
The City Hall
Rock This pop-rock group started in Bellingham and now lives in Seattle, so it's no surprise that their music is distinctly Pacific Northwest. Their early stuff features bendy, chiming guitars and soaring melodies. More recent songs have an overcast sing-song vibe. According to Bandcamp, an album is coming soon. If the preview tracks are any indication, it'll be a charmer. Sat, June 2, 7:30 pm, the Bartlett
Clarko
Punk There's not much about Clarko on the internet. There are some Facebook event pages for shows with some good bands — the Wimps, Bad Boyfriends, the Trashies, Casual Hex — and that's it. They're a punk act, but too punk (or maybe just too new) for a Bandcamp or Facebook page. Embrace the mystery. Fri, June 1, 6:15, Baby Bar
Collate
Punk This three-member punk band out of Portland makes super-catchy, lo-fi punk, and it's a whole lot of fun. Expect simple but dark basslines, scratchy stabs of guitar and a mix of male and female vocals. Fri, June 1, 8 pm, the Observatory
Deer
Instrumental-Rock Listening to the four men in Deer construct their songs via delicate passages that build through guitar-driven crescendos into massive emotional sonic geysers of rock excellence, it reminds one of some Spinal Tap lyrics (odd, considering Deer is an all-instrumental band): "That's the majesty of rock! And the fantasy of roll!" Deer's got both. Fri, June 1, 8:15 pm, Red Room Lounge
DJ C-Mad
DJ One of nYne's resident spinners, DJ C-Mad is a pre-eminent dancefloor filler. He leans heavily toward Top 40 bangers, which will transition seamlessly into the occasional retro-pop jam. Sat, June 2, 11 pm, nYne
DJ Croquet
DJ Awash in synths and driven by insistent beats, DJ Croquet (aka Matt Newkirk) plays dual roles as party starter and pop curator. He mixes snatches of artists you know — Tiga, Beck, Phoenix — with classic club beats. Fri, June 1, and Sat, June 2, 10 pm both nights, Baby Bar
DJ Soul1
DJ Another nYne stalwart, DJ Soul1 is all about classic rap and R&B, his sets brimming with familiar hip-hop samples and the occasional sing-along chorus. Can you kick it? Yes, you can. Fri, June 1, 10:30 pm, nYne; Sat, June 2, 1 am, Red Room Lounge
DJ Unifest
DJ Matt Bogue knows how to get a room moving. The drummer-turned-DJ incorporates everything from old-school hip-hop to electro-fueled dance tunes when he gets ready to rock a crowd. Fri, June 1, and Sat, June 2, 6:30 pm and in between sets both nights, Red Room Lounge
DJX2050
DJ The vinyl maestro also known as DJX2050 got his start in Cheney, and now he's spinning regularly around the Pacific Northwest. "Do what you love, love what you do," proclaims his website, and you'll feel that during his sets. Fri, June 1, 5 pm, Washington Cracker Building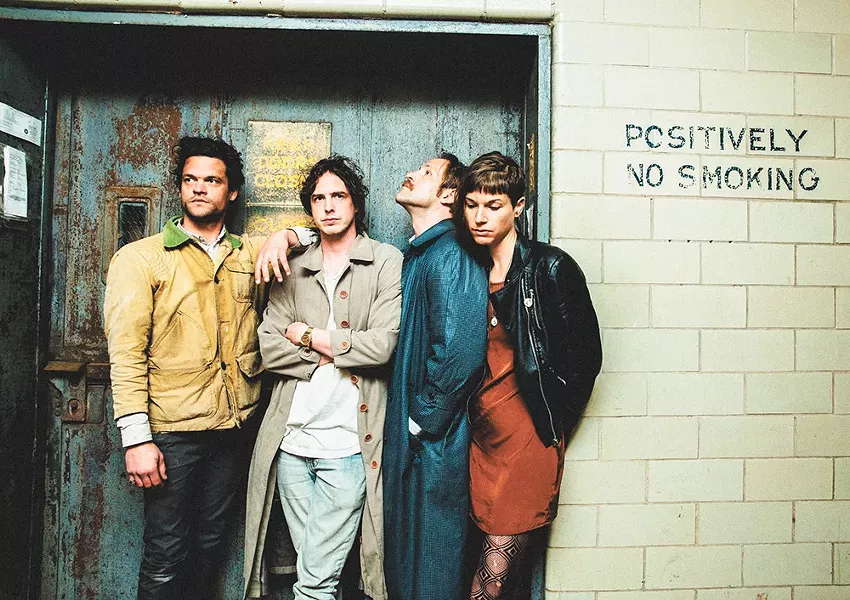 Broncho hails from Norman, Oklahoma, the same city that gave us the Flaming Lips.
Donna Donna
Blues-Rock Donna Donna is a local two-piece with a massive sound, as indebted to the blues-rock clambering of early White Stripes as the frantic punk roarings of Patti Smith. Frontwoman Lindsay Johnston's knack for writing killer hooks keeps every moment blistering, sumptuous and razor sharp. Fri, June 1, 9:15 pm, Red Room Lounge
Drunk on False Enlightenment
Electronic The term "experimental" (in music anyway) has graduated from derogatory to Top 40 to meaningless in a world of micro scenes and subgenres. But if menacing electronic drones, clanging cymbals, bottom-of-the-well sonics and glitchy trance-inducing rhythms are your bag, dare to get Drunk on False Enlightenment. Everybody's doing it. Sat, June 2, 6:30 pm, Baby Bar
ExZac Change & Matisse
Hip-Hop OK, so white rappers based out of Seattle aren't a novelty anymore, but this stoned, laidback, uber-cool hip-hop duo make Macklemore sound like Donny Osmond. They're legit. "We smoke some shit, then write some shit," says a part of their self-imposed "mantra." So light up, and then listen up. Fri, June 1, 6 pm, Washington Cracker Building
Fake News
Rock One of the few good things inspired by the language from the current presidential administration, Fake News' music traffics in irrefutable truths. Dabbling in the prog-rock and psychedelia of yesteryear, this rising Spokane act carves out plenty of space to let audiences belt their hooks along with them, thanks to their contemporary sensibilities. Fri, June 1, 7:15 pm, Baby Bar
Fat Lady
Blues-Rock There's a certain bliss to be found when you're in a shoulder-to-shoulder crowd watching Fat Lady, a group of vetted musicians bringing down the house with intricate musical partnership and blazing solos. The psychedelic and blues-rock ensemble inspires dancing and free-spirited adulation during their sets of originals and covers. Fri, June 1, 6:30 pm, nYne
Feed
Rock Feed is a hyper-mega-super-power trio, and their philosophy is summed up nicely on the Help Yourself Records page: "There's something to be said for subtlety, no doubt. But sometimes subtleties turn to missed opportunities." Translated into sonic terms, that means Feed is all about big hairy guitar riffs, animal-style drums and heavy psychedelic freakouts. Fri, June 1, 9:30 pm, Berserk
Flee the Century
Rock The members of Flee the Century are scattered — one lives in Spokane, one in Philly, another in Portland — but their aggressive, synth-driven sound remains constant. According to their social media, they've been pretty much defunct since their original run from 2003 to 2008, "but we can still play if you'd like?" Yeah. We'd like. Sat, June 2, 10:15 pm, Big Dipper
Gen Pop
Punk A fast, crunchy four-piece band out of Olympia, Gen Pop plays with a feverish energy, makes excellent use of unsettling dissonance and is prone to making startling transitions mid-song. Expect them to raise an almighty ruckus and get plenty weird. Sat, June 2, 8:30 pm, Baby Bar
Great Spiders Rock
Rock
Regardless of the lineup that's backing him, Great Spiders frontman and songwriter Omar Schambacher is a ball of unpredictable energy on stage. You never quite know which direction he'll go, and his songs follow suit: They flirt with singer-songwriter pop, '60s psych-rock and twisty, Built to Spill-style jams. Sat, June 2, 10 pm, Berserk
Gun Outfit
Indie-Rock The L.A.-based Gun Outfit play what they call "Western Expanse," and to listen to their fifth full-length album, Out of Range, is to understand what that means. While lyrics tackle the Orpheus myth, Dutch Renaissance artist Bruegel the Elder and the damages and delights of drugs, the sound veers from hazy, warped cosmic country to ethereal, drone-y alt-rock. Sat, June 2, 10:30 pm, the Observatory
The Helio Sequence
Indie-Rock Benjamin Weikel and Brandon Summers have been playing together as the Helio Sequence since the late '90s, and that time has allowed them to fall into a comfortable groove. Their sound is bigger and more expansive than you'd expect from just two guys, synthy drones that swirl and bounce and tie themselves into knots. There's definitely more than meets the eye. Sat, June 2, 11 pm, Washington Cracker Building
The Holy Broke
Folk Before the Holy Broke sang the "Roadsick Blues," the holy goof — Dean Moriarty in Jack Kerouac's On the Road — lived them. The band's founder Kent Ueland must have, too, if his songs of sweat and sorrow are the measure of experience. What's that sound, you say? It's a lonely motel room in his smoky warble. Sat, June 2, 9:30 pm, the Bartlett
Indian Goat
Rock Garrett Zanol and Travis Tveit, the two dudes behind Indian Goat, have developed a serious fan base in only a short amount of time. When you see them live, you'll understand why: They deliver monster riffs that'll be bouncing around in your head days after you first hear them. Fri, June 1, 11:30 pm, Red Room Lounge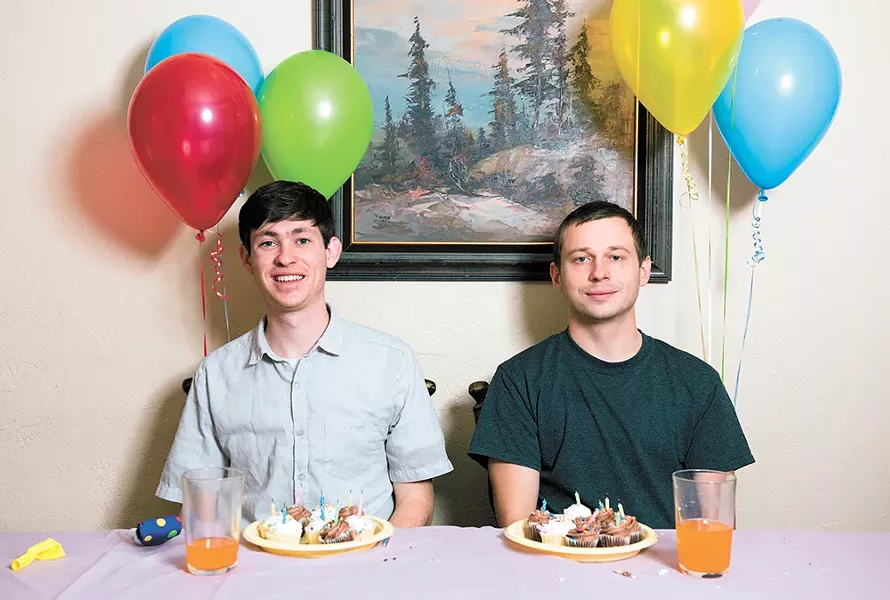 Jenny Don't & the Spurs
Country This Portland quartet is the perfect match for anyone with a love for Hank and Patsy, though they also bring outlaw country and roots-rock vibes. They clearly know the Sun Records catalog. Featuring a couple guys you might know from punk legends Wipers, Jenny Don't & the Spurs were recently nominated for Band of the Year at the 2018 Ameripolitan Awards. Fri, June 1, 8:30 pm, nYne
Karate Chad
Electronic One of the best things about the advancements in music production is the possibility for artists to make the best with what they have. Karate Chad is one of them, a producer who flourishes with his set of tools, combining electronic dream-pop with post-punk and shoegaze guitars and backed by blissful visual projections. Sat, June 2, 9 pm, Berserk
KarmaKnows
Hip-Hop Hailing from the Tri-Cities, rapper KarmaKnows (real name: Kyle Schmoetzer) has opened for the likes of Snoop Dogg, Lil Wayne and Ryan Caraveo, who's also on the Volume lineup. His recent EP Sugar is earthy, confident and slightly druggy, with the occasional reverb-y guitar and ghostly saxophone making an appearance. Fri, June 1, 8:50 pm, Washington Cracker Building
King Skellee
Hip-Hop Born and bred in Spokane, rapper King Skellee (full name: King Skellee the Great; real name: Darian Blakemore) is one of the city's talented young MCs. "Trying to put my city on the map," he says on his SoundCloud profile, and if some of his slick verses take hold, it could happen. Fri, June 1, 8 pm, Washington Cracker Building
Kung Fu Vinyl
Soul The band formerly known as KALAJ now has this kick-ass moniker. The psych-soul ensemble still breaks genre barriers and fills dancefloors with transfixing, psychedelic guitar play. Their jazzy hip-hop infusion is sure to get you moving, and each song's swell will have you blindly — and happily — following the group's cues. Sat, June 2, 12:15 am, Red Room Lounge
Laminates
Rock What's left to say with a Marshall half stack? Enter Laminates. The local trio's single "Black Sheets," released last Christmas, conjures Jet riffs and Jay Reatard's Ramones homages, but still casts its own shadow. "Nothing is the way it was back then," spews singer Chris Pierce in a guttural growl. Can't argue with that. Sat, June 2, 10:15 pm, Mootsy's
The Lavender Flu
Psych-Rock After playing wild-eyed punk with the Hunches and the Hospitals, Chris Gunn started recording at home over many years. The result is the Lavender Flu's mind-bending 2016 album Heavy Air, a 30-track tour through psych-rock, frazzled twang, woozy pop, gnarled noise and beyond. It's more than an album: It's an analog dream state worth getting lost in. Sat, June 2, 12:30 am, the Observatory
Lavoy
Indie-Pop Formed in Alaska in 2007, Lavoy picked up and moved to Spokane about five years ago, bringing along a knack for insistent, synth-driven indie-pop. This year they'll release their second EP, produced by Casey Bates (Portugal. The Man, INXS), and new songs like "Have It All" are sure to pack the dancefloor. Sat, June 2, 8:45 pm, Washington Cracker Building
Maidenhair
Electronic The newest venture of former Hooves and Space Movies bassist Alex Moe is among his most experimental work to date, but it also might be his most hypnotizing and approachable. Sitting at the controls of several pieces of wicked music technology, his fascination with sound manipulation has only gotten deeper and more entrancing. Fri, June 1, 8:30 pm, Berserk
Mala Vida
Punk The acidic blast of Spanish noise punks Mala Vida is potentially Volume's most CBGB-friendly attraction, balancing angular aggression with whip-smart songwriting. With plenty of piss and vinegar to go around, Mala Vida eats tension for breakfast and toys with an entire record's worth of furious sound exploration at a breakneck pace. Fri, June 1, 10:15 pm, Mootsy's
Mama Doll
Folk Spokane loves Mama Doll. Go to any of their shows and you'll encounter just as many die-hards as new converts. The quartet has gone through a few lineup changes since forming in 2013, but former Terrible Buttons member Sarah Berentson has been the driving creative force, producing hauntingly beautiful, delicately-harmonized folk balladry. Sat, June 2, 8:15 pm, Red Room Lounge
Maps & Atlases
Indie-Rock Since forming in the early 2000s, the cultishly adored Chicago math-rock quartet Maps & Atlases has released two full-lengths and a handful of EPs of impeccably structured and ever-shifting songs. It's been eight years since we've been graced with new material; good thing, then, that their next LP Lightlessness Is Nothing New drops the same weekend as their Volume set. Sat, June 2, 9:45 pm, Washington Cracker Building
Marshall McLean & the Holy Rollers
Americana Spokane's very own Marshall McLean lays claim to a genre that's very much a product of the area — Northwest Americana-rock. Striving to write songs without pretension, his new backing band, the Holy Rollers, makes imaginative use of fuzzy filter treatments on acoustic instrumentation and McLean's own distinctive picking style. Sat, June 2, 9:45 pm, nYne
Meat Sweats
Rock Local singer-songwriter Tyler Aker has performed under several monikers over the years, and last year he played a raucous Mootsy's set as his solo project Street Tang. It was funny, catchy and delightfully vulgar. He's back again this year in the newly formed guitar-drum duo Meat Sweats, joined by Josh Jaklich on the skins. We're pretty sure we're gonna like it. Sat, June 2, 9:15 pm, Mootsy's
Mini Murders
Psych-Rock This trio of guitarist Vaughn Wood, synthesizer maestro Tobias Hendrickson and drummer Nick Tibbetts released a lush 2017 EP, Driver, that was huge in every way. Full of epic hooks, the six songs might be labeled "psych-rock" on Mini Murders' SoundCloud page, but fans of pleasing pop and even prog will find plenty to love. Fri, June 1, 9 pm, the Bartlett
Misty Mountain Pony Club
Country Sally Jablonsky and Milo Krims serve as the core of this band dedicated to what one might call "old-timey" tunes, full of tight harmonies and traditional sounds. Drawing on talented guests with various instrumental skills, you never know exactly what you're going to get with Misty Mountain Pony Club, and we mean that in the best way. Sat, June 2, 11 pm, Berserk
Nat Park and the Tunnels of Love
Rock Nat Park and the Tunnels of Love will win points with countless nostalgic Spokanites based on their name alone, but it's their energy that will keep people hooked. Fronted by the ever-dexterous lead howler Ryan Tucker, their traditional '50s-inspired rock 'n' roll is anchored by Gawain Fadeley's virtuosic lead guitar. Sat, June 2, 7:45 pm, Washington Cracker Building
Newman
Dream-Pop Newman might seem a deceiving name for this "goth dream pop duo." It screams Seinfeld. But the band's moody sound is more Twin Peaks Roadhouse than '90s slap bass and sitcom hijinks. The group's debut, an eerie two-and-a-half-minute dose of nostalgic melancholy for Volume 4 of the Bartlett Christmas compilation, speaks volumes. Fri, June 1, 8 pm, the Bartlett
The Paranoyds
Garage-Rock Retro-tinged garage-rock your thing? You need to meet the Paranoyds. And you'll have to do that in person, because the L.A. quartet largely eschews social media. They've built a following the old-fashioned way, delivering scintillating shows fueled by word-of-mouth buzz. Reverb-soaked guitars and echo-y female-led vocals evoke a hazy '60s girl group, albeit one with a distinctly modern edge. Fri, June 1, 8:15 pm, Baby Bar
Pat McHenry
Pop-Rock Longtime Spokanites may remember Pat McHenry, a former local who won the Inlander's Best Band competition in 2010 and 2011. These days, he calls Seattle home, where he's cranking out a highly enjoyable blend of country, pop and rock. McHenry's knack for a hook has landed his music on TV shows (like Cougar Town) and in ad campaigns. Sat, June 2, 6:30 pm, the Bartlett
Peru Resh
Rock Itchy post-punk and hardcore fans rejoice: Peru Resh is here to tickle your Fugazi fancy. They got atonal riffs. They got vaguely violent album art. They got a song about Martha Moxley's murder by golf club one night in 1975. They "got a little secret / nobody knows." Except now you do. Fri, June 1, 11 pm, the Observatory
Rik and the Pigs
Punk The Bandcamp page for this disheveled Olympia punk crew describes 'em as "the laziest delinquent sort of pig slobs ever born." But crank up their new album A Child's Gator and you'll quickly realize the sloppiness is an act. Buzzsaw guitars, propulsive rhythms, a perfectly snotty singer: They're tighter than some lame businessman's buttoned-up collar. Fri, June 1, midnight, the Observatory
Runaway Octopus
Surf-Rock There's no fighting the future, and the boys in Runaway Octopus have embraced the coming automation age by including a machine — specifically a reel-to-reel full of percussive beats — as a third member alongside guitarist Isaac Murcar and bassist Michael Starry. The trio's sound? Surfy garage-rock utterly pleasing to those with a taste for such things. Fri, June 1, 7:15 pm, Big Dipper
Ryan Caraveo
Hip-Hop This Seattle rapper creates emotional, hook-filled tracks and visually arresting videos that have garnered millions of YouTube plays, and his songs have been streamed more than 56 million times across platforms. Caraveo is a vet of shows at Bumbershoot and Sasquatch, and Post Malone and Drake fans will for sure want to hit this like-minded set. Fri, June 1, 10 pm, Washington Cracker Building
Sentient Divide
Metal Sentience. The machines come to life. They can feel things. They discover art and melody, music, study Shostakovich, write symphonies. But reality sets in, and they grow cynical, invent weapons of mass violence and pollute the planet. This all unfolds while a metal record called Desertification by Sentient Divide spins 'round and 'round. Fri, June 1, 12:15 am, Mootsy's
Seven Chains
Metal Seeping across state lines, this shadowy Coeur d'Alene trio sounds how burnt engine oil smells. Their stop-start dirges of moans and distortion are punishingly heavy, yet nimbly evolve across their epic run-times. Fear. A moonless night. Paranoia. Orcs. These things come to mind listening to Seven Chains. Fri, June 1, 9:15 pm, Mootsy's
Silver Treason
Country For anyone who likes twang of the old-school variety, this Spokane four-piece is gonna be right up your alley. Frontman Kevin Cameron, a local music stalwart, pens witty and catchy hootenannies about the classic country staples — you'll be dancing one moment, cryin' tears in your beer the next — assisted by Jamie Frost's wicked pedal steel. Fri, June 1, 9:30 pm, nYne
Soul Man Black
Goth-Pop The death glam stylings of Soul Man Black (aka Dylan Black) are like a welcome gut-punch from a clenched fist full of glitter. He's a tirelessly professional performance artist, resting enduring pop hooks on an immense gothic new wave backdrop, and staging one of the most dedicated live shows you'll see all weekend. Fri, June 1, 6 pm, the Bartlett
Stiff Fish
Punk Strap in when you're in the pit at a Stiff Fish show. The Coeur d'Alene hardcore band functions at a frenetic, breakneck speed. Filled with plenty of sonic crunch and squeals, the instrumental band will at least give your neck a workout as you let loose along with their drums and basslines. Fri, June 1, 8:15 pm, Mootsy's
Stiff Love
Punk These four badass chicks out of Olympia play fast and loose, delivering breathless two-minute garage-punk gems that only get faster and louder as they go on. They also seem to have a sense of humor, based on, you know, their band name. Fri, June 1, 11:15 pm, Mootsy's
Summer in Siberia
Synth-Pop Combining traditional rock with synth-pop, Summer in Siberia represent the link between new wave sensibilities and more contemporary sounds, marrying pulsating synth lines with foot-stomping percussion. A night with Summer in Siberia promises one thing: a sweaty Spokane dance floor. Sat, June 2, 9:15 pm, Big Dipper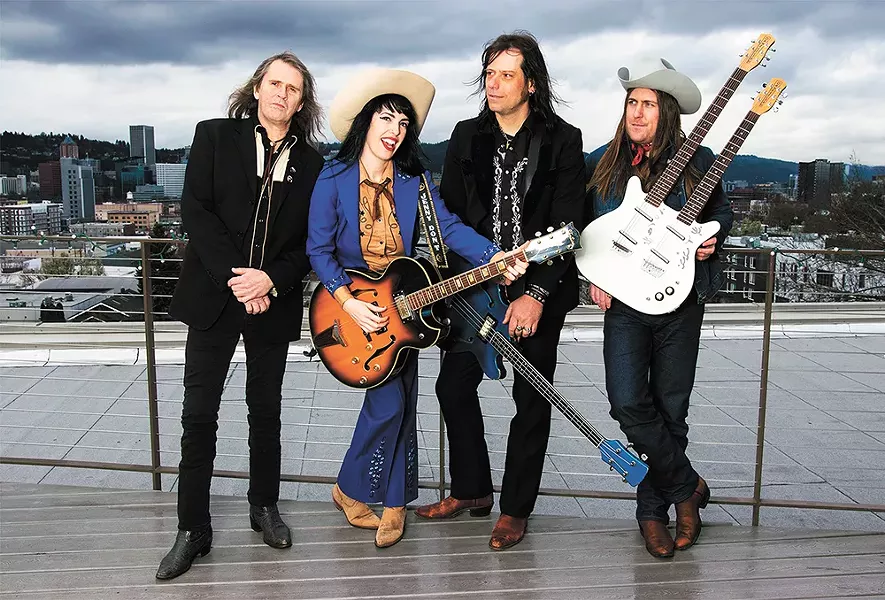 Supercrush
Pop-Rock The man behind this Seattle band, Mark Palm, cut his teeth in punk and metal bands. But somewhere along the line, he must've acquired a serious appreciation for Teenage Fanclub and Swervedriver, because Supercrush delivers more fuzzed-out guitar hooks than a well-stocked tackle box. It's a sugar rush, and it feels so good. Sat, June 2, 7:30 pm, Baby Bar
Super Sparkle
Pop Resistance is futile when it comes to the soulful pop charms of this Spokane supergroup. Loaded with talented songwriters, Super Sparkle shows are like a perfect party, where everyone dances and leaves with a smile on their face after meeting some cool new people. Plus, confetti and backup dancers! Sat, 9:15 pm, Red Room Lounge
SUS
Hip-Hop This five-piece band out of Seattle plays jazz/indie/funk-inspired hip-hop. The lineup features former local Taylor Doran — who used put on a ton of art events in Spokane, including the Terrain-esque Halftone — and their as-yet-unreleased music is silky smooth and groovy. Fri, June 1, 9:15 pm, Big Dipper
Travesura
Folk The Spanish word "travesura" translates as "mischief." So, is this twangy, boot-stomping four-piece band out of Long Beach, California, mischievous? The jury's still out on that, but the band is fronted by pro skateboarder Leo Romero, so maybe he'll totally shred some gnarly rails during his Volume set. Fri, June 1, 7:30 pm, nYne
Trego
Rock If you include the word "folk" in your band name, you really can't be shocked when people assume your band plays folk music. But Folkinception always stretched itself far beyond folk — into tuneful Americana, bluesy rock and rootsy pop — and that's why they decided to rebrand to Trego. Different name? Yeah. But the same rock-solid songs. Sat, June 2, 8:15 pm, nYne
Valen
Dream Pop The cover photo on Valen's Facebook features a cassette tape of the Aimee Mann-fronted '80s pop band 'Til Tuesday, which tells you what you need to know about her aesthetic. The L.A.-based singer-songwriter's recent single "I'll Be Waiting for You" is retro and contemporary at the same time, an aching, Lorde-esque ballad awash in warm synths. Fri, June 1, 7 pm, the Bartlett
Vernita Avenue
Hip-Hop/Soul This new local group features members from Flying Spiders and Fat Lady, and this project blends the distinct sensibilities of both Spokane music scene favorites. You get a little hip-hop, a little rock, some R&B flavor: It's a combination that suggests Vernita Avenue could win over as many fans as their predecessors. Fri, June 1, 10:15 pm, Big Dipper
Water Monster
Electronic Liquid electronics, slinky guitar and skittering beats abound on Water Monster's EP Survive the Night, headphone candy made by Spokane's own Max Harnishfeger. Its follow-up, born from the ashes of a crashed laptop through the generosity of GoFundMe patrons, lurks on the horizon. Fri, June 1, 10 pm, the Bartlett
Wild Ones
Synth Pop In the music video for "Dim the Lights," a 2015 single by Portland's Wild Ones, two young women drive through a sleepy city and end up at a party where everything has a neon tinge. It's the perfect marriage of image and sound — moody '80s synths, far-off guitars and shimmery vocals that recall Chvrches at their dreamiest. Sat, June 2, 8:30 pm, the Bartlett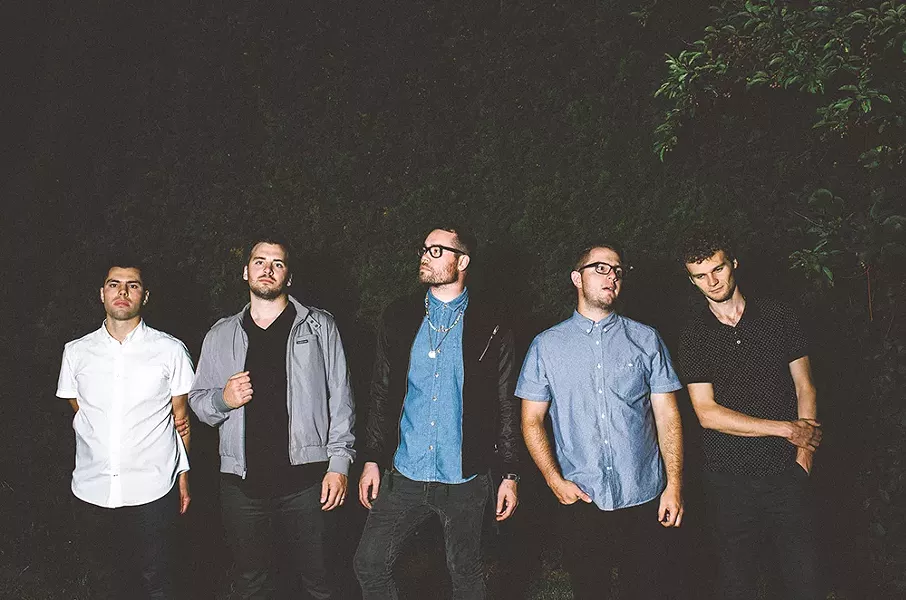 Wind Hotel
Indie-rock You might have thought you'd never see the Spokane crew Wind Hotel again, but they're back and delivering their twisty blend of indie-rock once again for Volume. Their distinct sounds brushes up against arty prog-rock in pleasing ways. Sat, June 2, 11:30 pm, the Observatory
Yung Crown
Hip-Hop Part of the grassroots hip-hop collective Panoramic Dreams, Yung Crown will likely be familiar to Spokane rap fans as the hype man at live shows for local performer T.S the Solution. Crown will be hosting Friday's hip-hop showcase at the Cracker Building, so you can see his crowd work in action. Fri, June 1, 5 pm, Washington Cracker Building ♦
---

SHOUT-OUTS
First off, thank you to the artists, venue owners and sponsors, including No Li Brewhouse, Hotel RL and, particularly, our presenting sponsor, Global Credit Union, who make it all possible. We also want to recognize those who toil mostly behind the scenes, including Program Director Patrick Kendrick and his team: Production Manager Shea Walser, and the talent buyers and consultants who helped to assemble this year's incredible lineup, Jeff Glinski, Ryker Beard, Caleb Ingersoll and Karli Ingersoll. And from the Inlander, the creator and organizer of Volume, it requires a company-wide effort to pull off Spokane's only multi-venue music festival in the heart of downtown.