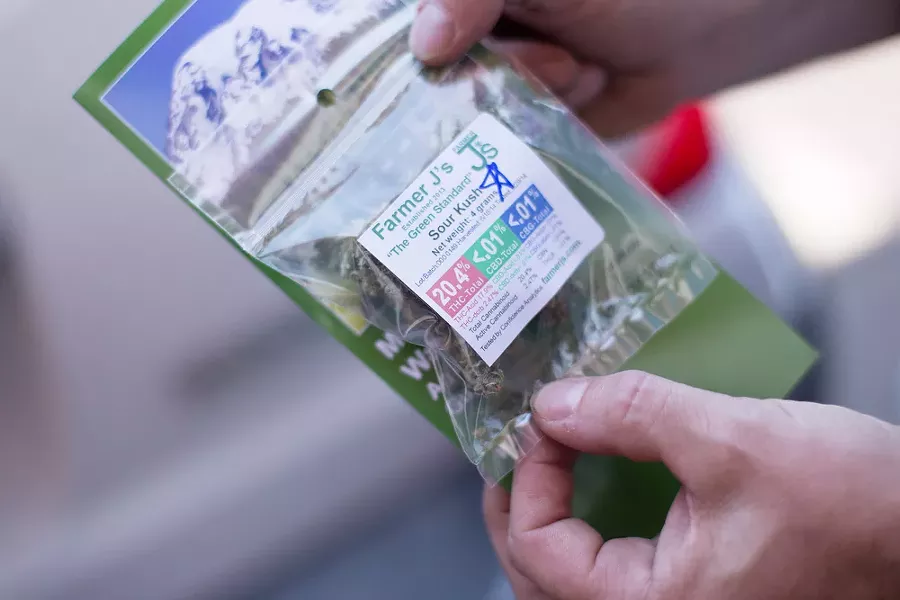 Farmer J's Sour Kush is one of the most popular strains in Spokane's marijuana retail stores.
You people are happy-go-lucky tokers. The Inlander polled 10 Spokane-area recreational dispensaries, looking for the most popular weed strains— all but two were sativas, considered to have more "uplifting" effects, as opposed to indica's more "sedating" trip. Only one strain made the list twice, and most of the crowd pleasers were grown locally (or at least close to it).
Below is a quick user's guide to the 10 most popular strains, and where you can find them.
Alice in Wonderland by CannaSol Farms
The sativa-dominant hybrid descends from the Willy Wonka strain, so it has a chocolatey aroma. The high is uplifting, creative and euphoric, yet heavy-hitting. Employees say customers have experienced "going down the rabbit hole." Cinder • 7011 N. Division • cindersmoke.com • 241-3091
Dutch Treat by Triple T Farms
The sativa-dominant hybrid is sweet to the smell and taste. The high is uplifting, upbeat and happy, with a little bit of overall body stimulation. Satori • 9301 N. Division • satorimj.com • 703-7191
Sensi Star by Cross Fire Genetics
One of only two indica-dominant hybrids to make the list. Smokane Manager Sothy Hul says it smells like the Northwest (pine and grapefruit) and tastes crisp, with fruity undertones. "The indica is very relaxing...," she says. "It's great in the summertime when you're already energetic." Smokane • 17 N. Ralph • smokane502.com • 536-4000
Palouse Peach by Palouse Farms
"This is a strain everyone from 21 to 85 years old can enjoy," says Cinder Manager Craig Carey. The fruity, sativa-dominant hybrid has a soft peach taste. "It creates more of an energetic, uppity head high," Carey says. "People like it because you can smoke it and still be productive throughout the day." Cinder • 1421 N. Mullan, Suite B, Spokane Valley • cindersmoke.com • 241-3726
OG Chem by Phat Panda
Employees say the sativa-dominant hybrid is "couch stoney" and produces both a mellow body high and a strong head high. You probably won't fall asleep, but you're not moving for a while. Green Light • 10309 E. Trent., Spokane Valley • greenlightspokane.com • 309-3193
Sour Kush by Farmer J's
The sativa-dominant hybrid famously smells like Sour Patch Kids candy and tastes almost like sweet pine. "It's such a great daytime smoke," says TreeHouse Club Manager Steven Burks. "It's uplifting, one that you can smoke and clean your garage." TreeHouse Club • 14421 E. Trent, Spokane Valley • treehouseclub.buzz • 413-2169
Palouse Peach by Palouse Farms
The only strain to grace to the top 10 list twice! Employees at 4:20 Friendly say connoisseurs flock to the strain because it's a pleasurable daytime smoke with mid-20s THC levels. It's a smoke-'em-if-you-got-'em situation — this strain sells out almost immediately after it's in stock. 4:20 Friendly • 1515 S. Lewis • twitter.com/a420store • 844-7287
Pineapple Express by The Hunt Company
"You can't buy this anywhere else in the state," says Green Star Owner Sam Calvert, praising THC's version of the popular strain. "People have probably had Pineapple Express, but there's nothing quite like this." The sativa-dominant hybrid smells sweet and tastes fruity, with notes of spice. "This tends to be very powerful," Calvert says. "It's definitely your contemplative, cerebral type of product... it's energy up, go, go, go." Green Star Cannabis • 1403 N. Division, Suite A • greenstarcan.com • 919-3398
Hog by The Naked Emperor
Royal's Manager Perri Davenport says the indica-dominant hybrid hails from Amsterdam via Tennessee and California, with traces back to the Hindu Kush region. The calming bud tastes and smells earthy — almost like lemon — and causes "couchlock" and/or an overall body buzz. Royal's Cannabis • 7115 N. Division, Suite A • Facebook: Royal's Cannabis • 808-2098
NorthWest Fire by Northwest's Finest
The sativa-dominant strain, a hybrid of Blue Dream and Sour Diesel, produces a citrus flavor, nice burn and long-lasting high, says Cannabis & Glass employee Sam Littlehale. "People tend to purchase the higher potency strains," he says. "Sativas sell very well, the more energetic head high seems to appeal to more people." Cannabis & Glass • 6620 N. Market, Suite 100 • facebook.com/CGSpokane • 309-6974 ♦