Young Kwak
Paul Graves with his collection of Sasquatch footprint casts.
TAYLOR SWIFT has everyone shaking it off with 1989. Celebs and ordinary people alike raise money for ALS with the ICE BUCKET CHALLENGE. Riots erupt over the killing of MICHAEL BROWN in Ferguson, Missouri, and leads to #BLACKLIVESMATTER. An outbreak of the EBOLA virus in West Africa spreads a health scare across the U.S. ISIS is on the rise in Iraq and Syria and MALAYSIAN AIRLINES Flight 370 mysteriously disappears.
YOU'RE NOT ALONE
We faced the realities of MENTAL ILLNESS in the Nov. 20 issue with a local guide to mental health resources and gripping accounts from locals and their struggles with mental illnesses. The issue provided guidance on everything from how to identify symptoms of a mental illness to how to help a friend on social media and how to make taking medication easier. Staff-written stories and in-their-own-words testimonies detailed what it's like to experience a panic attack and life after Eastern State Hospital along with other moving tales of suffering, redemption and return.
GOING GREEN
As Washington's pot shops got the literal green light to begin business, we debuted the GREEN ZONE, a weekly recreational marijuana advertising section. Every week since then, finding legal cannabis in Eastern Washington got a little easier along with articles on the marijuana business and edible recipes.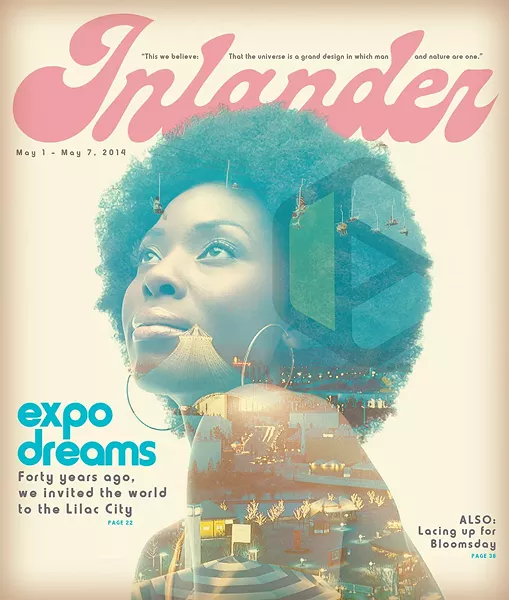 May 1 issue. Cover illustration by Chris Bovey.
ODDS AND ENDS
EXPO '74 turned 40 years old and Spokanites reminisced about the world's fair that changed the landscape of Spokane forever. We tried to find SASQUATCH and explored the world of Bigfoot hunting. (There's more to it than you think.) More furry friends were featured as we dove headfirst into worldwide subcultures, otherwise known as FANDOMS, where people can become animals and gamers are transported to far away lands.
THE PEOPLE WE MET
We got the scoop on local civil rights attorney BREEAN BEGGS and his bid for the Spokane County Prosecutor's Office. AL FRENCH, the sometimes-liked, sometimes-disliked Spokane County commissioner, chatted to us about the powerful nature of the job. We learned more about the founder of Spokane, JAMES GLOVER, and his vision for a city surrounding the falls.