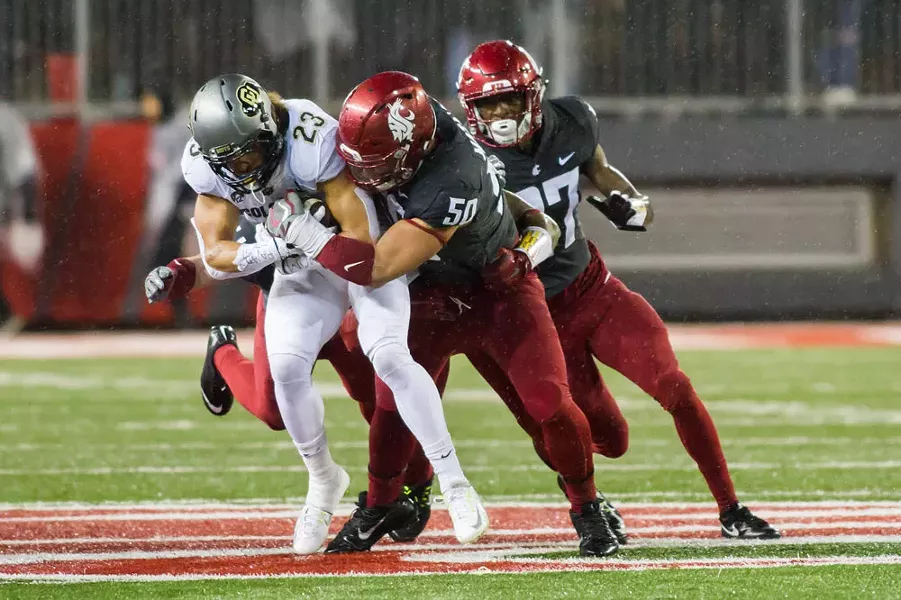 WSU Athletics
Cougar Hercules Mata'afa is an unparalleled force on the defensive side of the ball.
Hard to believe it now, when both Washington State and Washington are Top 20 teams and perennially contending for Pac-12 North supremacy, that the so-called "Crapple Cup" was just nine years ago. That 2008 edition of the almost-annual showdown featured a 1-10 WSU facing off against a winless UW, and the game cruelly went to double overtime before the Cougs claimed victory.
As awful as that game might have been to watch for anyone outside Washington, rivalry games always mean a lot, and this year's Apple Cup could be one for the ages. If Washington State wins, the Cougs head to the Pac-12 championship game against USC. If Washington wins, the Huskies spoil the Cougs' chances, push WSU into third place in the Pac-12 North and send Stanford to the championship game.
Here's how the teams compare heading into Apple Cup 2017:
THE COACHES: The guys leading the Cougs and Huskies couldn't be more different on the surface. WSU's Mike Leach is a pirate-loving quote machine who the media just loves thanks to his predilection for nonsensical non sequiturs and willingness to rip his players when they don't live up to his expectations. His Air Raid offense worked great at Texas Tech, and continues to succeed in Pullman. UW's Chris Petersen isn't nearly as colorful a character, but there's no arguing with his skills. The creativity that helped him turn Boise State into a national power works in Seattle, too, where last year he guided the Huskies to college football's Final Four. Advantage: EVEN
ON OFFENSE: UW has a balanced offense led by 1,000-yard rusher Myles Gaskin, deep threat receiver/returner Dante Pettis and solid quarterback Jake Browning, who isn't getting nearly the hype this year as he did as a sophomore, when he chucked for 43 touchdowns; so far this year, he only has 18. Washington State counters with a passing attack led by senior quarterback Luke Falk that's far more potent, but a rushing attack that pales next to their westside foes. While both teams can be explosive, they both also have to contend with seriously stout defenses. With the Pac-12's new career touchdown leader at the helm, the Cougs have to feel good about their chances. Advantage: WSU
UW Athletics
Husky receiver and punt returner Dante Pettis is a serious weapon for UW.
ON DEFENSE: In the last two Apple Cups, the Huskies scored 45 points and blew out the Cougs. Don't expect that to happen in 2017, as these are the two best defenses in the Pac-12. The Huskies are better top to bottom, giving up the least points per game in the conference, but they've had injury issues in the secondary and have given up 30 points in each of their last two games, so there's some turmoil. WSU is more adept at forcing turnovers — a key aspect to their success this season. The Cougs also have arguably the most dynamic defensive player in the game in the aptly named Hercules Mata'afa, who leads the conference in both sacks and tackles for loss as of this writing. Advantage: EVEN
SPECIAL TEAMS: Neither teams' kicking games are going to set the world on fire, although WSU will feel better if the game comes down to a clinching kick by Erik Powell than the Huskies will if they have to rely on Tristan Vizcaino. In Dante Pettis, though, UW has the biggest special-teams weapon in the game; he's college football's career leader in returning punts for touchdowns. Advantage: UW
OUR PREDICTION: WSU Accuse us of Eastern Washington bias if you like. Las Vegas sports books have UW as a 10-point favorite, and recent history isn't on the Cougs' side (the Huskies have won seven of the last 10 Apple Cups, and four of the last five), but we think this year WSU will break through and win the Pac-12 North to set up a Dec. 1 rematch with USC for the conference title. ♦
---
HOW THEY GOT HERE
Washington State (9-2, ranked No. 14 nationally)
beat Montana St. 31-0
beat Boise St. 47-44
beat Oregon St. 52-23
beat Nevada 45-7
beat USC 30-27
beat Oregon 33-10
lost to California 37-3
beat Colorado 28-0
lost to Arizona 58-37
beat Stanford 24-21
beat Utah 33-25
Washington (9-2, ranked No. 18 nationally)
beat Rutgers 30-14
beat Montana 63-7
beat Fresno St. 48-16
beat Colorado 37-10
beat Oregon St. 42-7
beat California 38-7
lost to Arizona St. 13-7
beat UCLA 44-23
beat Oregon 38-3
lost to Stanford 30-22
beat Utah 33-30