CdA Resort
Holiday lights cruises run daily at the Coeur d'Alene Resort.
Through Jan. 1
JOURNEY TO THE NORTH POLE + HOLIDAY LIGHTS SHOW
The changing autumn leaves have given way to winter's twinkling lights, which can be viewed in all their grandeur during one of the Coeur d'Alene Resort's daily holiday lights cruises, a time-honored local tradition. Set sail on a 40-minute outing across Lake Coeur d'Alene and be mesmerized by more than 1.5 million magnificent sparkling lights along the shore and over the water. Follow up this memorable, magical spectacle with a visit to the waterfront toy shop, where children can greet the merry man in red and all his helpers. The Coeur d'Alene Resort, $22.50/adults; $21.50/seniors; $7.50/ages 6-12 (6 and under free), departs daily at 5:30, 6:30 and 7:30 pm. cdaresort.com (JS)
---
Nov. 24-Dec. 23
GREENBLUFF CHRISTMAS EXPERIENCE
Take a sleigh ride together with loved ones and make some new holiday memories during an immersive and scenic holiday experience in the idyllic hills of Green Bluff just north of town. High Country Orchard once again hosts sleigh rides across the bluff for groups of friends and family to scour a nearby tree farm for the perfect tree (U-cut style) as everyone sips hot cocoa to stay warm. Head back to the orchard for a hearty bread-bowl soup lunch, and make sure to stop and check out the gift shop. Stick around for photos with Santa, and before you head back to the city, consider another stop for wine tasting at event co-host Townshend Cellars. High Country Orchard, packages from $65/person to $75/two (see site for pricing details and to book), Fri-Sun from 10 am-3 pm. highcountryorchard.com/sleigh-ride (CS)
---
Dec. 8
RIVERFRONT PARK ICE RIBBON OPENS
After months of construction in the southwest corner of Riverfront Park, the newest feature to be completed as part of the park's multi-year redevelopment plan is ready to make its big debut. Replacing the former Ice Palace rink beneath the cables of the Expo '74 Pavilion, the new 700-foot long ice ribbon, winding past the Bloomsday runner sculptures and around the SkyRide gondola hub, opens just in time for the holidays and winter season. Following a ribbon cutting at 5 pm, visitors can lace up their skates for some laps around the 16-foot-wide ice ribbon, featuring scenic landscaping and overhead bistro-style lights along its twisting path. In addition to the ribbon itself, there's an attached 3,500-square-foot pond area. The new attraction's debut evening also includes hot cocoa stations, fire pits, an ice lounge, live DJ, face painting and local food trucks on site. After this grand reveal, the Ice Ribbon is open Sunday-Thursday from 11 am-9 pm and Friday-Saturday from 11 am-10 pm (closed on Dec. 25). If you plan to visit often, consider an unlimited access pass ($25/kids, $30/adults). Riverfront Park, $6.50/adults; $4.50/ages 2-12; $4.50/skate rental, 5-10 pm. spokaneriverfrontpark.com (CS)
---
Dec. 9-17
GAISER CONSERVATORY HOLIDAY LIGHTS
Over more than a decade, this annual holiday event has grown to become a popular family tradition. As they step inside from the frigid winter temperatures, visitors to the historic Manito Park conservatory are greeted not only by the greenhouse's welcoming humid, tropically scented air, but the sight of thousands of twinkling lights adorning every tree trunk, branch, pathway and pot. Don't miss the chance to see this beautiful Spokane locale all decked out for the season. Manito Park, open daily from 8 am-7:30 pm, Free; donations accepted. thefriendsofmanito.org (CS)
---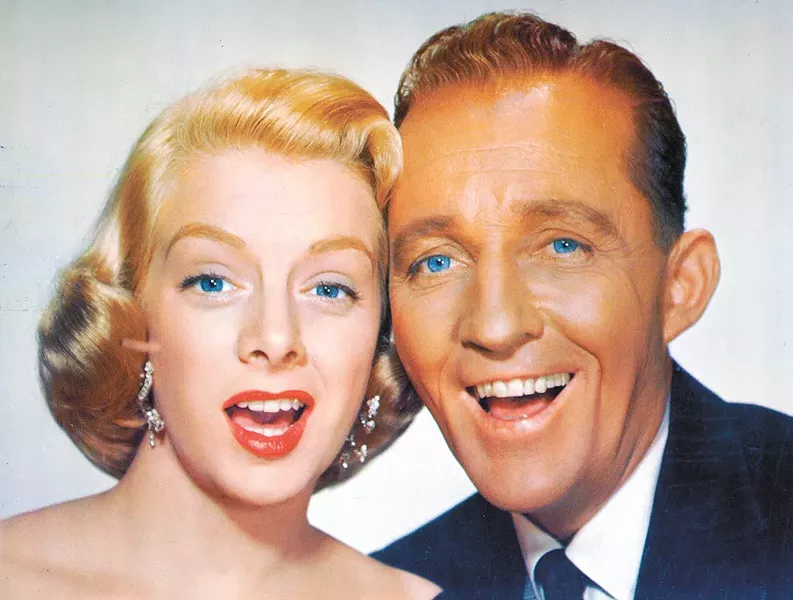 Be sure to get your annual Bing Crosby film fix on Dec. 9.
Dec. 9
BING CROSBY HOLIDAY FILM FEST
Christmas is built right into the legacy of Spokane's own Bing Crosby, and locals can watch that legacy during the 12th annual Bing Crosby Holiday Film Fest. Showings of some of Bing's holiday cinema classics, including White Christmas and Holiday Inn, will take place throughout the day-long event. At 6 pm, guests can enjoy a musical performance by singer Howard Crosby, Bing's nephew. A comfy day in the theater awaits those dreaming of a white Christmas. Bing Crosby Theater, $10, 10:30 am-8 pm. bingcrosbytheater.org (JS)
---
Dec. 10
GINGERBREAD BUILD-OFF
Get nearly knee-deep in gumdrops and show off your cookie decorating skills during this locally beloved confection competition. Amatuer gingerbread engineers will stand side by side with some of the area's most talented bakery artists as they build their own delectable designs. All visitors have an opportunity to vote for their favorite piece of edible architecture as made by teams of professional sugar contractors. To put the icing on the, uh, house, get your photo taken with the gingerbread man. All of these sweet activities support the programs of local nonprofit Christ Clinic/Christ Kitchen. Davenport Grand Hotel, Free to watch; $7 for a gingerbread kit, 10 am-4 pm. christkitchen.org (JS)
---
Dec. 14
WINTER BLESSING
This cultural tradition of the Coeur d'Alene Tribe is open to all seeking a moment of reflection on the past year, as well as a brief respite from the holiday season's frenetic pace. Historically, the Coeur d'Alene gathered together yearly in a lodge to tell ancestral and moral stories, as well as tales of ancient tricksters for laughs and entertainment. This valuable cultural tradition emphasizes the importance of family, friendship and togetherness — the genuine spirit of the holidays. The Coeur d'Alene Tribe opens their doors to all guests to engage in this annual custom, as well as an offering of complimentary fry bread and local huckleberry jam. A blessed evening of storytelling, traditional dance, and drumming provides guests with the warmth and reflections to guide all into the New Year. Coeur d'Alene Casino, Free, 6 pm. cdacasino.com (JS)
LEFT: Winter Blessing features storytelling, dance, drumming and reflection. RIGHT: Ring in the New Year with Spokane's First Night.
Dec. 31
FIRST NIGHT SPOKANE
Ring in the New Year right with all the bells and whistles Spokane's annual tradition has to offer. The biggest and brightest wintertime visual and performing arts festival around will have you entering 2018 like a knight in shining armor, thanks to this year's Renaissance-themed blowout. Sing and dance until the clock strikes midnight at the all-ages, alcohol-free event featuring both a big band and country swing dance contest, as well as a singing competition and a viewing of the top three films from the Rise Up Film Festival. Venues across downtown Spokane, $15/advance; $18/day of, 7 pm-midnight. firstnightspokane.org (JS) ♦