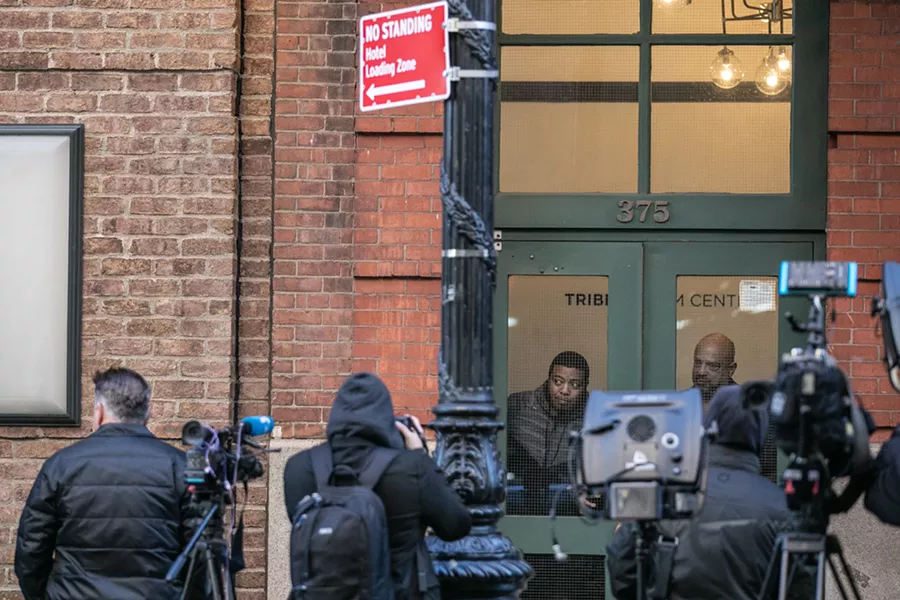 Jeenah Moon/The New York Times
Reporters gathered outside the Tribeca Film Center building, where a suspicious package addressed to actor Robert De Niro was discovered to have contained a pipe bomb and removed by a police bomb squad, in New York, Oct. 25, 2018. Two additional pipe bombs, one addressed to former Vice President Joe Biden and the other, De Niro, were found in Delaware and New York, law enforcement officials said Thursday.
By Mark Landler and Katie Rogers
New York Times News Service
W
ASHINGTON —
President Donald Trump vowed Friday that the culprit or culprits responsible for a series of explosive devices sent to several prominent Democrats and other critics of the president would be brought to "swift and certain justice."
Speaking to an audience of young African-American conservatives at the White House, hours after police in Florida arrested a male suspect in the bombing plot, Trump said, "I've instructed the authorities to spare no resource or expense to finding those responsible and bringing them to swift and certain justice."
"We will prosecute them, him, her — whoever it may be — to the fullest extent of the law," Trump said. "We must never allow political violence to take root in America. We cannot let it happen. And I am committed to doing everything in my power as president to stop it — and to stop it now."
"These terrorizing acts are despicable and have no place in our country," the president said, speaking from prepared remarks.
The explosive devices was still being discovered Friday, with packages found addressed to Sen. Cory Booker of New Jersey and to James R. Clapper Jr., the former director of national intelligence.
In a morning Twitter post before his update on the case, the president characterized the crimes as an obstacle blocking Republican voters before the midterms.
In a tweet directed to his base in the midst of a bomb scare affecting prominent Democrats, celebrities and news organizations, Trump also suggested that the problem was not real or exaggerated, putting the word "bomb" in quotes.
"Republicans are doing so well in early voting, and at the polls, and now this "Bomb" stuff happens and the momentum greatly slows - news not talking politics," Trump said. "Very unfortunate, what is going on. Republicans, go out and vote!"