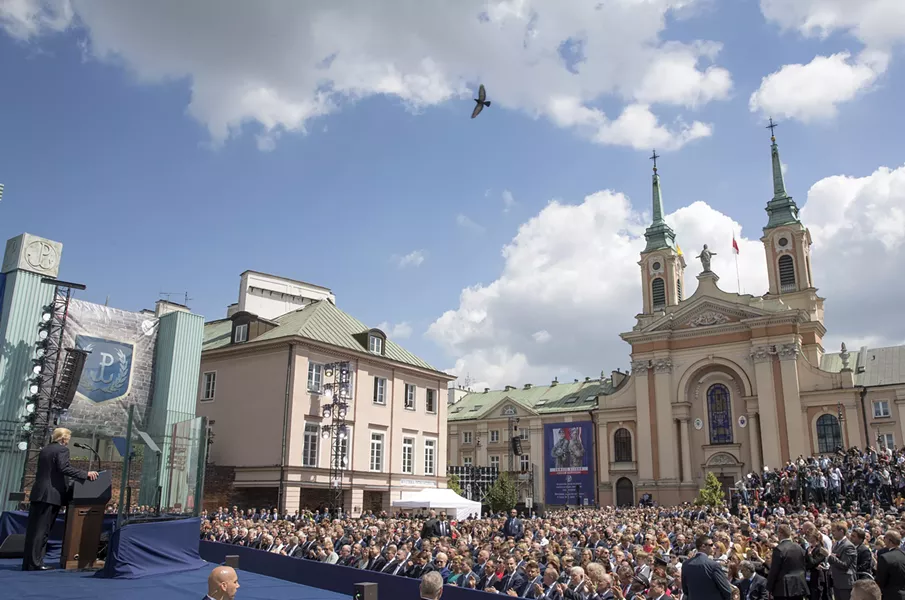 Stephen Crowley/The New York Times
President Donald Trump delivering remarks at Krasinski Square in Warsaw, Poland, July 6, 2017. Trump is visiting Poland ahead of the G-20 meeting in Germany.
By GLENN THRUSH and JULIE HIRSCHFELD DAVIS
© 2017 New York Times News Service
WARSAW — President Donald Trump cast himself as a defender of Western values in a clash of civilizations during a dark and confrontational speech in Warsaw on Thursday, rebuking the news media, U.S. intelligence agencies and Barack Obama during his visit to the European capital most hospitable to his right-wing nationalist message.

Once again breaking with tradition by attacking U.S. leaders and institutions while abroad, Trump told a friendly Polish crowd, including loyalists the governing party had bused in from the more-conservative countryside, that "radical Islamic terrorism" threatened "our civilization and our way of life."

In Warsaw, a city rebuilt after it was razed by the Germans in World War II, the president declared rhetorical war on a broad array of foreign and domestic forces that he said were aligned against him, even criticizing President Vladimir Putin of Russia in his strongest terms to date, before their first face-to face meeting, in Hamburg, Germany, on Friday.
But the blunt force of his words
were
not matched by new specifics. Pressed about Russian interference in the U.S. election, he said that "nobody really knows" if other countries might have been involved. He also vowed a "very severe" response if North Korea escalated its military threat, but he did not go into detail.
Stephen Crowley/The New York Times
From left: President Donald Trump, Poland's President Andrzej Duda and Croatia's President Kolinda Grabar-Kitarović during a summit of the Three Seas Initiative, at the Royal Castle in Warsaw, Poland, July 6, 2017. Trump, delivering a stark message to a friendly Polish crowd before a two-day G-20 summit, cast the West's battle against "radical Islamic terrorism" as a way to protect "our civilization and our way of life."
And although he spoke in Krasinski Square, where a monument commemorates the 1944 Warsaw uprising against the Nazis, he skipped a visit to a museum devoted to a 1943 uprising by Jews who had been forced into a ghetto. His daughter Ivanka went there Thursday instead.
Trump praised Poland, a NATO ally, "as an example for others who seek freedom, and who wish to summon the courage and the will to defend our civilization."
He went on to employ the same life-or-death language as in his inauguration speech, which promised a war against the "American
carnage
" of urban crime.
"The fundamental question of our time is whether the West has the will to survive," he said. "Do we have the confidence in our values to defend them at any cost? Do we have enough respect for our citizens to protect our borders? Do we have the desire and the courage to preserve our civilization in the face of those who would subvert and destroy it?"