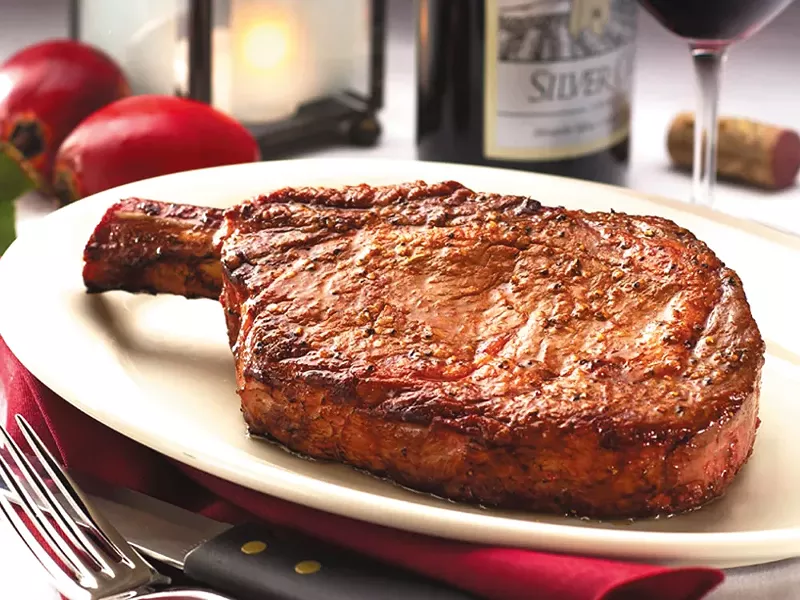 Spencer\'s bone-in ribeye, one of many steaks on the menu.
If you're not a vegetarian, and enjoy indulging from time to time in a juicy, perfectly aged, hand-cut steak or chop, Spencer's is one place in downtown Spokane where you'll find just that and more (including vegetarian options). Tucked off the street behind the Doubletree Hotel and the Spokane Convention Center, Spencer's has been serving up prime views of Riverfront Park and the Spokane River for the past 15 years, along with its menu that runs the gamut when it comes to steakhouse food.
Spencer's meat entrées — ribeyes, filets, pork chops and more — are all prepared in the restaurant's 1,600-degree infrared broiler to ensure the prime-cut meats stay juicy and tender. A variety of crisp salads and savory sides pair well with any protein of choice. The restaurant's fresh seafood offerings are just as diverse, from parmesan-crusted halibut to plank-grilled Columbia River steelhead. Make sure to save room for a decadent dessert, or finish off your meal with a boozy treat from the lounge.