JUNE 30-July 1
HORSE AROUND AT THE PALOUSE EMPIRE "FISTFUL OF SILVER" APPALOOSA SHOW
Some people will never understand the appeal of horses. Others spent much of junior high constantly drawing the majestic creatures in the margins of their English notebook.
A show like this, with Appaloosa horses (the sort that have leopard-like spot patterns across their coats) is for the latter. At the Spokane fairgrounds, owners of these horses — stallions, geldings, mares — will be shown, seen and judged. The most colorful horse wins the big prize. Visit www.peaclub.com/shows.
July 1
GREEN BLUFF STRAWBERRY CELEBRATION
There isn't a fruit more symbolic of summertime than the strawberry. And while Green Bluff's cherry festival may be the more iconic event, the strawberry fields of Green Bluff are unparalleled. While the strawberry festival may not have a Strawberry Pit Spit, it does mark the official launch of strawberry season, with live music, sweets, wine tasting and, yes, strawberry pie. It all takes place across nine different farms, through July 8. Visit greenbluffgrowers.com.
July 2
PLAY VIDEOGAMES INDOORS
For the extroverted, outdoorsy types, summer's about lake parties and bike rides and jet skis.
But for us paler, lazier, more introverted types, summer is full of opportunities to stay indoors, fire up the computer, and put in some good long stretches of videogame marathons. In the days leading up to the Fourth of July, Seattle-based Valve puts on an insane digital download sale, hawking last year's priciest games for less than a meal at Arby's. Get Call of Duty: Modern Warfare 3 at Call of Duty: Modern Warfare 2 prices!
Sure, people may criticize you, nagging that you're missing out on another gorgeous Spokane summer, but you won't hear them over the sound of laser blasts and carjackings.
July 4
FIREWORKS AT RIVERFRONT
You'd think the firework — that burst of light and fire shrieking across the sky — wouldn't seem so wistful. But of course, with the Fourth of July's upswell of patriotic history and New Year's focused on the year behind and the year ahead, it's no wonder that fireworks often recall the past.
So maybe you've been to Riverfront Park to see their firework display before. This time, though, things are a little different. This year, the display begins on July 3 with a salute to local heroes, says co-producer of the show Duane Hille. There's a swing band, a jazz band and one of the last performances of the local Air National Guard Band, followed by a brief fireworks show.
The big fireworks show, of course, happens on the Fourth. You can bring your lawn chair, sit there, lean back and begin to reminisce about fireworks past: lighting cherry bombs in the streets of north Spokane, back when fireworks were legal and plentiful ... Slipping your hand under the blanket, as the firecrackers started, to hold the hand of the girl you started dating ... The hot dogs and the salmon up at the lake place in Coeur d'Alene.
Then, as the bomb-bursting grand finale brings you back to the present, you can add yet another Fourth of July to your memories.
"It will be the Inland Northwest's greatest firework show," Hille promises.
July 5
DANCE IN THE PARK WITHOUT GETTING ARRESTED
You got a belly full of hot dogs and a head full of patriotism. Your ears are ringing from all the fireworks. You can practically still smell the sulfur (and depending on how you celebrate, you might be legitimately hung over, too). So once you get your head right from the Fourth of July celebration the day before, head over to Coeur d'Alene Park in Browne's Addition at 6 pm for the first show of the neighborhood's summer concert series. Country and rock band Sidetrack will be heading up this night's show, followed the next week by Six Foot Swing. (Hint: That band's genre is in its name.)
July 6
SEE THE SHINE OF SPOKANE
The Spokane Shine wants revenge.
Earlier this month, the Eugene Metro FC handed the Shine, Spokane's women's soccer team, a 2-0 loss in their first game of the season.
"It was one of those situations where they had already played two meaningful league games and we had played zero and we were nine hours from home," says Head Coach Jason Quintero. But the next night, in Bend, Ore., the Shine beat that city's team 5-2.
Quintero says his team is looking to get even. And that may happen tonight at Joe Albi Stadium when Eugene Metro shows up for a rematch.
"The girls, they know that that wasn't their best stuff, they know they're better than what they put out in the field," Quintero says. "Any competitive athlete wants to prove that."
The Shine is an assortment of talented soccer players from around the country and internationally, Quintero says. There are players from as far afield as Taiwan and Scotland, as well as locals. Many of the players are students who play collegiate during the school year.
While the Shine may be going strong, the sport itself has gone through some ups and downs. Another national soccer league folded recently, as did another local franchise here in Spokane.
Though the state of the sport's league is a far cry from where it was when the U.S. team won the women's World Cup in 1999, Quintero says the playing itself has improved.
"Right now, our American team looks way better than we did [in 1999]," Quintero says. "The only difference is we haven't won [the World Cup.]"
There's one more member of the team, Quintero says. Their mascot, Sunny.
"It's a giant sunshine outfit with a potbelly. The kids absolutely love it. They terrorize it and/or are terrorized by it," he says.
Their game against Eugene starts at 7 pm.
July 7
ALL YOU CAN EAT
Gluttony may be considered a sin, but at least it is a pleasurable sin. And let us take a day to appreciate the many ways the Inland Northwest offers to feed the beast. Consider the fare of Golden Corral (motto: "Help Yourself to Happiness") up at 7117 N. Division Street. That place seduces the hungry with promises of chicken bistro melts and hand breaded and fried mushrooms. But if you'd prefer an adventure, head down to Rockford and the Harvest Moon restaurant with their monster burger, which comes with — drum roll, please — bottomless French fries. 20 South 1st Street in Rockford, you glutton.
July 7
BLOODSPORT IN WALLACE
If you haven't seen one before, a criterium bicycle race is kind of like a combination between a NASCAR race and a demolition derby. You come to see the racers go around in circles, with one lucky guy outsmarting and outpedaling everyone and crossing the finish line first. But you stay for the possibility that two or three or four or 20 riders will cross wheels, lock bars, and slide their skin at high velocity across the pavement of Wallace, Idaho. Carnage is the cherry on the bike-racing sundae. Don't miss out on the Silver Spokes bike race, which concludes its three-event omnium with what is often a blood-soaked contest.
July 8
GET ALL SOCIAL AT AN ICE CREAM SOCIAL
Dead heat of early July in Eastern Washington, chilling under a tree, chowing down on some ice cream and getting all neighborly with your neighbors? The town of Palouse has you covered with its ice cream social. Even if you don't live there, you still like ice cream, right? Find something more pleasant. I dare you. Noon to 5 pm in Palouse City Park.
July 9
SEE A MOVIE OR THREE
Summer. Boiling. Dude. Movie theater? Yes. Though Spokane is not Portland, this city, to its credit, has an ample supply of good theaters. You've got the Magic Lantern, the Garland, hell, even coffee joint the Shop is showing movies. On this fine day, the Garland Theater is dropping two flicks: creep-fest Poltergeist and the giggly animated laugh riot Kung Fu Panda. Not to be outdone, Magic Lantern's showing Barbershop Punk, the tale of a barbershop quartet baritone and his fight over file-sharing.
July 10
TOUR A SILVER MINE
Silver mining is serious business — so serious that unless you want to sign up for a job at local mine, you probably won't be able to get into one and poke around. And while going into silver mining isn't a bad idea (jobs there can pay some serious cash), a tour of the Crystal Gold Mine outside of Kellogg will give you a little bit of the experience without the commitment. There's no mine shaft here, just a smooth, sloping floor that takes you about 550 feet into the mine, past stalactites and veins of gold and silver. Visit goldmine-idaho.com.
July 10
LAUNCH A ROCKET
Yeah sure, Sputnik might not be flying above Earth's atmosphere, and Idaho's silver mining industry isn't as depressing as West Virginia's coal mining. But it's Wednesday and nothing else is going on. So you should probably take this opportunity to launch a model rocket. First, get on over to HobbyTown USA (9324 North Division St.) to pick up a model rocket and some engines. Then build that baby up (but don't get too complicated, unless you want to wait for tons of glue to dry, making this a multi-day event). Now, find a place to launch it. That dry stand of trees near your house? Not such a good idea. You want this thing to soar free. Get yourself into a big old clear field (maybe your friendly local Palouse farmer will help you out?), load up that rocket, step back so your face doesn't get burned off, and fire it. Maybe you can knock the International Space Station off its orbit.
July 12
THROW A LOCALLY SOURCED PARTY FOR EVERYONE YOU KNOW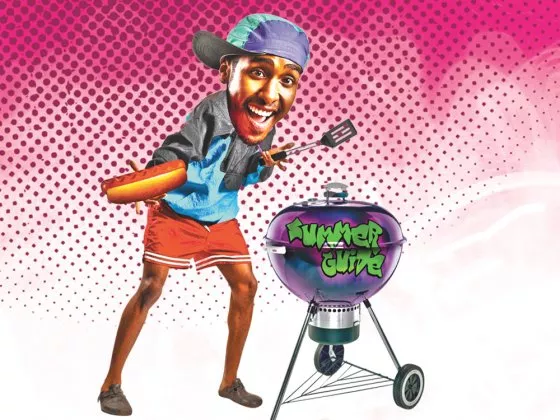 Look past your standby of a few packs of Costco burgers and buns and that PBR Pounder Pack. It's summertime in a town that's surrounded by farms, steeped in good local music and a growing microbrewery scene. Take advantage!
For light summer drinking, try a keg of Steam Plant's Blonde Ale ($99), No-Li's Amber Ale ($130) or C.I. Shenanigan's Big Red IPA ($140). Smaller crowd? Party pigs are 2-1/4 gallons of beer. Spokane's Budge Brothers and the Post Fallsbased Bi-Plane Brewing sell them.
Find Olsen Farms grass-fed, free-range beef at the Spokane Farmers Market, or hit Main Market Co-Op for steaks or ground beef from a handful of local farms. Ground beef runs $5 a pound at the co-op.
Mid-July can seem like a tricky time for some local produce. Tomatoes and corn won't be quite ready, but that doesn't mean you won't find vegetables for grilling, says Megan White, Main Market Co-Op's produce buyer. Summer squash and basil are in season, so she suggests marinating the squash with some balsamic, basil, olive oil, honey, salt and pepper for grilling. With basil in full swing, you've got plenty of pesto pasta salad options. All the lettuce varieties, plus broccoli, carrots, beets and cauliflower, will be ready too, so get your salad on.
For dessert, it's the month of berries and cherries, so go for pies and cobblers. Or, make an easy cherry martini with gin (Dry Fly, if you want to stick with this whole local thing), a handful of cherries (stoned and sliced) and sugar syrup.
If it's time to get people dancing, don't overlook hometown music. It's hard not to move to the sounds of Summer in Siberia (from Spokane) or Moscow-based Romper. Sweet, new-to-the-scene band Franklin is good for an indie crowd.
There's a bunch of other stuff you can find in town if this thing gets out of hand: block party permits from the city are $35; Sun Rental offers grills, tables and food prep equipment. And something called Funflicks rents giant outdoor movie screens. You choose the DVD. They do everything else.
July 13
RINGO STARR AND HIS ALL STARR BAND
Ringo, of Beatles super-fame, is doing his own thing now — singing, songwriting, drumming, even some acting — and you can check it out at Northern Quest on this Friday as part of the casino's outdoor summer concert series. Tickets run $45-85 for Ringo's show. The rest of the summer lineup is Gorge-worthy big! There's Earth, Wind and Fire, Kelly Clarkson with the Fray, Journey with Pat Benatar and Loverboy, Darius Rucker, Sugarland, ZZ Top and Heart. Visit northernquest.com for tickets.
July 13
LEARN TO PAINT WHILE DRINKING
Local artists' group Van Gogh and Merlot hosts events to teach you to paint a classic piece of art while sipping local wine. You can book your own event, or find them at the Luxe Coffee House downtown from 6:30 to 9:30 on the first and third Fridays of every month. You'll usually be attempting a classic work, but sign up for the right class and you might get something more exciting. Adult sessions include painting live scenes or live models, some nude. The classes range from $30 to $50 (some include drinks, some don't). Visit vangoghandmerlot.com.
July 13
LEARN TO COOK OUTSIDE
REI offers a free class on the basics of camp cooking. Show up at 7 on July 12 and these Patagonia-wearing gurus promise you'll learn easy, fun meals to make at camp. They'll share recipes, and give you tips on what to bring so you're not that guy who didn't bring anything because you thought you were going to "live off the land, man." The class is limited to 50 people, so register online at rei.com/learn ahead of time to guarantee your spot. And if there's some other outdoor skill you're looking to sharpen, it's likely REI has a class for that. Just check online.
July 14
GREEN BLUFF CHERRY FESTIVAL
Green Bluff has tons of festivals — strawberries, peaches, apples, flowers, the fall harvest — but this one spans two weekends and offers a bunch of extras. It all starts July 14 with ripe cherries you can pick yourself, music and food vendors. (As you might guess, there are a lot of cherry recipes. Always look for pie.) As long as the fruit is ripe, picking is available throughout the week, so come back as much as you can. Before you turn ahead to next weekend, know that this festival continues and gets even more delicious. On July 19, there's a hamburger and hot dog dinner and a cherry pit spit. Apparently, even after all that, some people will still feel like running. There's a 5K run through the orchards. (Walkers are welcome.)
July 14
5K FOAM FEST
Spokane's installment of this national craze will bring all the same foamy weirdness of cities like Portland and Austin to town on July 14. From what we can deduce, the creators of Foam Fest basically took a mud run — already a mess of racing, crawling, climbing and a lot of dirt — and threw in foam, huge inflatable obstacles, a moon walk and something called the "body washer." The whole thing happens at Mt. Spokane State Park. It's $50 to register, which also gets you some race swag and an invitation to the party afterward, where there'll be more adventure-race-ish stuff, like a foam pit, pull-up bar, greased pole and limbo.
July 14
NORTHWEST RENAISSANCE FESTIVAL
There aren't many places to hear the clash of arms and armor in real life within 20 minutes of Spokane. So, if that's your thing, you've got a month this summer to soak it in. The Northwest Renaissance Festival puts you in the Village of Pleasance, England in 1522 A.D. as villagers celebrate Henry the VIII's visit. We're talking jousting, battle chess, gypsies, belly dancing and authentic food, music and goods for sale. The festival runs every weekend from June 25 to July 22 in Nine Mile Falls.
July 16
TAKE AN ADVENTURE
Whether you're long overdue for a get-the-hell-out-of-town adventure or you're just looking to spice up your annual family vacation, ROW Adventures will get you there. The homegrown guide company has been named one of the "Best adventure travel companies on Earth" by National Geographic Adventure magazine and leads trips around the region and the world. They offer kayaking, whitewater rafting, canoeing, fly fishing, hiking, horseback riding and multi-sport trips if one isn't enough. They're headquartered in Coeur d'Alene, but now have ROW Adventure Center in downtown Spokane as the home base for all their local trips. And that's an important distinction — their destinations away from home range from British Columbia and Alaska to Peru, Ecuador, Patagonia, Algeria and Antarctica.
July 18
BBQ BY THE LAKE
Sherman Park in downtown Coeur d'Alene has plenty of grills and picnic tables, and it's right on the lake. The weekend crowd is manageable, but for your best shot at snagging a spot and avoiding a family feud, try for a weeknight.
July 19
DRIVE TO CANADA
Given the preponderance of blizzards, snowfall and ice, you're not going to drive to Canada in the winter. So let's face it, now is the time to reach out and say hello to our northern neighbor.
Stock your car with gas and cheese puffs. You'll want to stop in Ione or Metaline Falls to relieve yourself and get a soothing glimpse of the Pend Oreille River.
Before you reach the border, check and make sure you're not transporting any drugs or sex slaves. The crossing officers are going to ask you lots of questions real quick. Think of it like a fun game show, except that if you lose, you'll be detained.
Finally, you're here! Not far from the border and a little over three hours from Spokane is Nelson, B.C., a town nestled in the Selkirk Mountains. The Province of British Columbia describes Nelson as "an eclectic mix of old Nelson families, urban refugees, Vietnam draft dodgers and hippies," who inhabit a Victorian town that "boasts hundreds of well-preserved heritage buildings, a crazy number of good restaurants, bustling coffee shops and sidewalk cafes."
Soak up the ambience. Feeling better? Good. Now it's time to get looking for some grizzly bears. Head an hour north up near Kaslo. There, you can take a bear watching tour at Grizzly Bear Ranch, or visit the Kicking Horse Mountain Resort and its grizzly bear refuge. On your way back down to Nelson, stop and soak in natural hot springs at the nearby Ainsworth Hot Springs Resort.
July 20
COEUR D'ALENE TRIBE POWWOW
Know how your drunken uncle always talks about how we need to deport all the immigrants? Well, remember, friend, most of us are the immigrants. By the time the white man showed up in the mid-1800s, several indigenous tribes — the Spokane, the Coeur d'Alene, the Palouse, the Nez Perce — already called the region home. In fact, the Coeur d'Alene tribe's own summer powwow, Julyamsh, means "Those Who Are Found Here" or "The Discovered People."
And what better way to celebrate the people who were actually here first — and dig some otherworldly music and dance — than to head over to the Julyamsh powwow? Held at Greyhound Park in Post Falls, the summer celebration boasts three days of food and entertainment.
Powwows start with a grand entry (approximately 7 pm). The entry symbolizes the return of warriors to the camps of yore, where a special dance would be held to welcome them. Before the grand entries, the days start off with various activities like face painting and a memorial horse ride. There is also a slew of contests, from a horse parade to dancing and traditional drum music. Anyone is welcome.
What's that you say? You'd like this powwow to have ultrapeachy special guests? You're in luck. From 4 pm to 5 pm, R.J. and Jay Paul Molinere of the TV series Swamp People will host a Q&A, and do autographs and photos afterward. So much awesomeness your pretty little head will explode.
July 21
GO SEE SOME REGGAE
With sensual backline grooves and gorgeous harmonies, the music of spiritual liberation and political revolution also happens to be perfect for summer. Head out to the Walla Walla Fairgrounds today to see Ziggy Marley, son of world superstar Bob Marley and namesake of Ziggy and the Melody Makers. The show is in support of his fourth solo album, Wild and Free, which gets back to exploring the traditional textures of reggae music. The show is all-ages; tickets start at $25.
July 23
STAY INSIDE
Stew this around in your noggin, sailor: Summer's not really all it's cracked up to be. You're hot and sweaty, the little ankle-biters demanding to go to the lake to dig for worms, and your teacher friends are all rafting down the Amazon River or wherever for like three months.
Plus, it's deadly. You know what happens by going outside? You put yourself at risk for the deadly skin cancer known as melanoma. Or macular degeneration, which can cause blindness. Or mosquito bites, which can bring annoyance.
So we recommend you forget whatever you thought you were going to do outside. Instead, curl up in the bath and read The Decline and Fall of the Roman Empire.
If you start volume one today, you'll be halfway finished by autumn, the only season of the year really worth its salt. And you'll be a certified killer in bar trivia.
July 24
BUY AN UMBRELLA
OK, you don't want to take our fantastic advice and stay inside. If you insist on certain death and disease in your future, we can at least try to mitigate it. Put on lots of suntan lotion. But also buy an umbrella. You always see people in those boiling countries next to the equator shading themselves with umbrellas, at least in movies. So why not? And don't go monochrome: Make a fashion statement. Flashy prints of lobsters or beach scenes will keep everyone in a good mood as the sun metes out a steady, irrevocable lashing of deadly UV rays.
July 25
GO ARM WRESTLING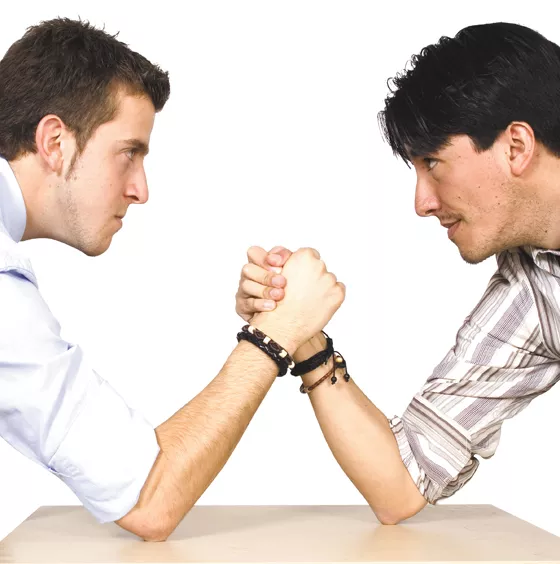 Remember how you once went to a big fancy city and were impressed by all those scraggly-looking dudes playing chess outside in a park? Well, Spokane doesn't play chess. At least not outside.
So find yourself a picnic table, a bridge railing in Riverfront Park, a neighborhood stoop or a car hood anywhere downtown. Because it's time to get arm wrestling.* Oh, you'll need a neighbor, friend or nemesis, too, with whom to lock limbs.
Since it's a competitive sport, you just became an athlete. That makes it count as exercise. Right?
* DISCLAIMER: Arm-wrestling is a dangerous sport and one can injure oneself, both in body and pride, while engaging in arm-wrestling contests. So on second thought, it might be better if you just pretend to arm wrestle. Or hang out somewhere where no one will question you when you announce aloud that you're an arm wrestler.
July 28
SPAMALOT
The Coeur d'Alene Summer Theatre is one of the places to be this week, because they'll be presenting Spamalot, a musical based on the comedic movie masterpiece, Monty Python and the Holy Grail. Eric Idle, the brains behind the best bits on the Flying Circus, wrote the book, lyrics, and much of the score for this musical. The show isn't for kids, but when they've reached an appropriate age, let them see the genius that will always be the Pythons. Tickets aren't cheap: $40 for adults, $36 for seniors, and $26 for children, whom, as the website indicates, you shouldn't bring with you in the first place. Visit cdasummertheatre.com.
July 28
EAT AL FRESCO FOR A DAY
This week take the time to eat al fresco, out in the open, enjoying sun, grub and suds. For so many of us, breakfast gets ignored. If the same goes for you, then try out the Cottage Café in Spokane Valley for lunch in the open air. This quaint looking restaurant offers up some of the freshest breakfast and lunch fare in the area, with both served all day every day, Mon-Sat 6:30 am-2 pm, Sunday 7:00 am-2 pm. Think of the Cottage Café, which is a bit hidden on Appleway Boulevard right off the Sprague exit on I-90, as an affordable place to head to for "brunch" on a workday. Try out the BTA Omelet, a fluffy three-egg omelet filled with crisp bacon, tomato, and Swiss cheese, topped with ripe avocado, served with toast, and cottage fries or hashbrowns ($9).
Take some of the money you saved and treat yourself to dinner at Clinkerdagger. Yes, it isn't a cheap place to eat, but the food and view are divine. To avoid breaking the bank, try sharing appetizers with your guests. You absolutely cannot go wrong with the country-fried calamari with a mustard-garlic aioli ($13), or the warm Brie with a macadamia nut crust, with sliced apple, balsamic reduction, fruit compote, and honey ($13). You might also try sharing one of two tasting samplers ($30 and $39), which both include crab and artichoke dip, prawn scampi, and grilled teriyaki tenderloins. Outdoor seating is really what sells this place in the middle of summer. They offer up to 24 tables on their decks, which are right along the Spokane River and have some of the best scenic views in the entire city.
For those who prefer drinking calories rather than eating dessert, then the Elk is the place to be as July comes to a close. Located in Browne's Addition, the Elk's outdoor seating stays open until midnight, and with 18 beers on tap and a full bar, there's bound to be a beverage for everyone.
July 28
JOURNEY WITH PAT BENATAR AND LOVERBOY
The headlining act helped end The Sopranos in a way that will be the talk of TV lore for quite a time to come. The openers, a Canadian outfit, have toured the world with some of the biggest names in classic rock history. Their July 29 show at Northern Quest is already sold out, but you have a chance the day before to catch the act at the Gorge. General admission is $58.50.
July 29
SPOKANE INDIANS VS. YAKIMA BEARS
Take the whole family out to Avista Stadium for a ballgame between our own Spokane Indians and the Yakima Bears. As a special promotion, the Indians players will hold a free pre-game baseball clinic for kids 12 and under with a ticket. A chance for autographs follows. Then you'll be treated to the mixture of relaxation and excitement that a ballgame brings. The hotdogs are amazing, too. After the game, stick around with your kids and they'll have a chance to round the bases.
July 29
THE "ORIGINAL" BARE BUNS FUN RUN
To spice up the final few days of July, drive up Highway 395 to Loon Lake and the Kaniksu Ranch Family Nudist Park, where you can tackle the "Original" Bare Buns Fun Run, a 5K run/ walk with clothing best described as "optional." Going au naturel sounds wonderful sometimes, especially as the highest temperatures of summer make even the coolest of us sweat. The race has taken place every year since 1984 and bills itself as a family event, with 14 age groups from 5 and under, to 70 and over. There's an $18 registration fee if you sign up before July 4. I'm not sure if they mean to be ironic, but the fee earns you a T-shirt. After Independence Day, participants have to shell out $28 to register. The race starts at 9:30 am, so wake up early and forget to put on your clothes.
July 30
UNCOMMON GIFTS EXHIBITION AT THE MAC
Art and air-conditioning — two great things that go great together when the mercury rises — can both be yours if you take a trip to Browne's Addition and visit the Northwest Museum of Art and Culture (MAC). Of special interest is Uncommon Gifts, an exhibit by seven internationally known artists linked with the Inland Northwest, including Jacob Lawrence, Fay Jones and Barbara Thomas. While you're there, you can check out some of the other exhibits, including Two to Tango: Artist and Viewer, Lasting Heritage and the bizarre and fascinating Dig It! The Secrets of Soil. There's a $7 admission fee for adults, $5 for students and seniors, and kids under 5 enter free. Uncommon Gifts runs June 9 through Aug.18.