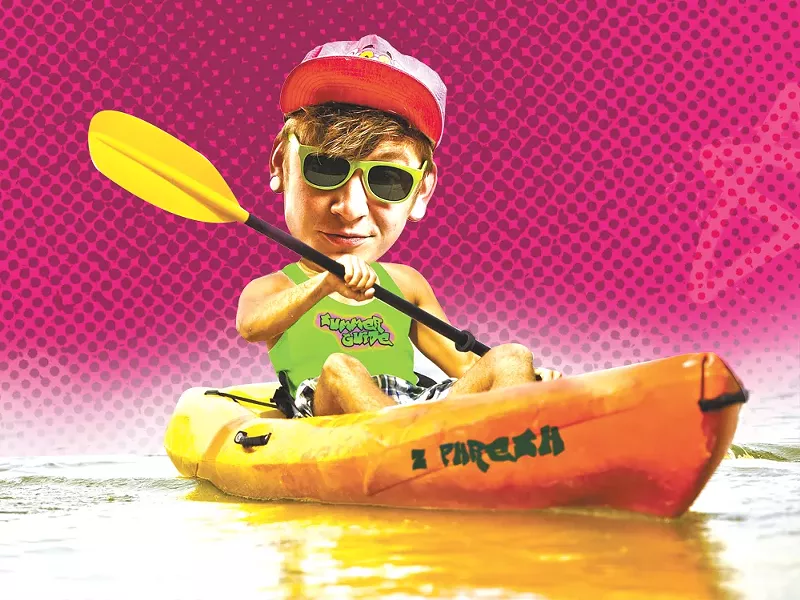 June 14
LEARNING TO CAMP
Any time one Inland Northwesterner — in a moment of guilt and shame — turns to another and admits, "I've never been camping," a baby angel dies. Literally drops dead.
Not camping when God himself has slapped this much good camping land in our backyards is like a slap in His big anthropomorphic face. It's smite-worthy.
People have a lot of excuses for never having gone camping, and they're all lame. "Oh, I'm scared of bears." "I'm agoraphobic." "I'm worried my knickers will get huckleberry stains." "My grandpappy was in the Donner party." That all rings hollow, friend.
Probably the most reasonable excuse is the argument from ignorance. "I ain't never did no campin' on account of havin' never did no campin' afore."
Fine. Camping requires special skill sets that can be daunting, but the generous outdoorsists at REI are here to educate (and sell you things). Starting at 7 pm sharp on June 14, the staff at our august outdoors co-op will offer free training in Camping Basics: how to dress, what to pack, what to do, and even where to go for a great introductory camping experience.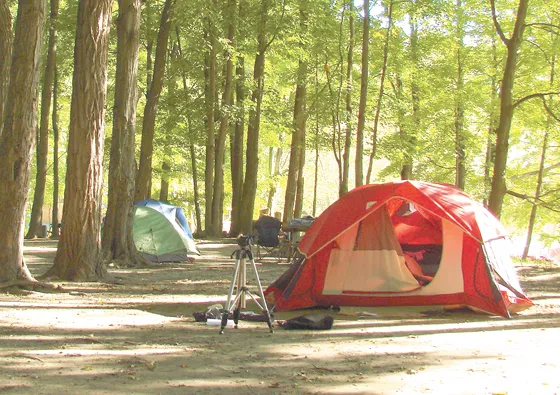 By next year at this time, you'll be an old pro, complaining about how the camping spots REI suggested have been overrun by noobs and Californians. Call 328-9900.
June 15
LAST DAY OF SCHOOL DRAG RACE
The last day of classes (June 15, for Spokane schools anyway) is also the next installment of Spokane County Raceway's Rockstar High School Drags? Are you kidding us? That sounds like a movie.
American Graffitti 2: Dragfitti, or maybe 2 Fast Spofurious.
Drag racing teens? Real cash prizes? And all your car's gotta have are "working headlights & taillights" and a "secured battery?" That's a cinch! We got a buddy whose stepdad said he'd totally hook us up with headlights!
And all you gotta wear are "long pants (no nylon)" — presumably because it would fuse to your skin in a fire — and an "approved helmet?" How are those even requirements? No one wears nylon anymore!
You and your mom's Camry should come race us. It's only $15 to enter — which is less than our buddy's stepdad charges to go on a High Life run for us — and dragging is a way bigger rush!
Scared of our blinding speed? Fine. Bring $5 then. That'll get you into the stands, where you, your unsecured battery and your nylon pants can watch us lay rubber. Call 244-3333.
June 16
ART HOUSE FRENCH FILMS
Look, this is the first week of summer. If you spend every day, in the sun, playing hacky-sack and bro-ing down, you're going to wear yourself out. Pace yourself, kid. Find a dark place to spend a few hours in artistic repose, contemplating the larger questions in life — preferably questions posed in French with English subtitles.
But, you ask, "Where might I find such a place?" We answer: "The Magic Lantern, you silly thing." On Friday, June 15, the theater opens Monsieur Lazhar, an Oscar-nommed French-Canadian film about a rundown public school and the Algerian refugee teacher who changes kids' lives even as their parents squirm at his traditionalist methods. Looks to be a nuanced portrait of childhood, opportunity and middle-class prejudice. Imagine Dead Poets Society at a Quebecois elementary school. Cool right? See magiclanternspokane.com.
June 16
PRIMUS AT THE FOX (?!)
Speaking of our buddy's stepdad, he turned us on to this super-weird '80s/'90s band called Primus that self-describes as "psychedelic polka," cites Zappa as an influence and once released an album called Pork Soda. Anyway, on June 16, for a mere $36 to $46, you can see them at the Fox — easily the least-Zappa venue in town. If you like cognitive dissonance, this is your show.
June 16
BOBFEST
For all of you high school band nerds who aren't into racing cars, the Chase Youth Commission's 15th annual BOBFest battle of the bands in Riverfront Park is probably your only chance to know anything close to the thrill of winning a semicompetitive amateur drag race. Unfortunately, the deadline for entering your band has passed, but it's free to attend, sit on the clocktower lawn from noon to 6 pm on June 16, and plan how you're going to conquer the thing next year. We suggest a band built around zydeco-infused trip-hop. Call us crazy, but we're big Clifton Chenier fans and think Nelly Furtado is way overdue for a comeback. Details at chaseyouth.org or 999-9325.
June 17
THE KAYAK IS A LONELY HUNTER
The kayak is the bicycle of the water. Don't try to argue with us, we've thought this metaphor through.
Where a pontoon boat is the party bus and a speedboat is the Corvette and a wakeboarding rig is the lifted Toyota Tacoma with Metal Mulisha decals obscuring the rear window — a kayak is the bicycle.
It provides light, human-powered locomotion on water in the same physically economical, environmentally friendly way a bike does on land. It can carry enough gear for a person on the go, yet is lithe and responsive and can get you into (and out of) places other modes of transport can't.
Deliverance wouldn't have happened if Burt Reynolds and Ned Beatty had brought kayaks instead of canoes. Sorry, it just wouldn't have. Ronny Cox would be alive today if he'd had a kayak.
Thankfully, you can learn from this lapse in judgment, and there's no better time than right now. The third week in June (and just before and after) is lousy with lessons for the kayaker of all levels.
On June 17, if you're an absolute beginner or out for a day with the family, there's a $39 kayak paddle and luau that doesn't really require any previous knowledge or skill.
The next three days, June 18-20, is a $73 intermediate flat water class teaching all those recoveries, exits and re-entries you'll need if you flip your boat (which probably won't happen, because you're an American bad-ass, but being prepared isn't just for Boy Scouts).
If whitewater is more your speed, there's a $63 whitewater kayak intro class on Monday, Wednesday and Friday June 18, 20 and 22 with an advanced class on the Tuesday and Thursday in between.
Finally, there's an advanced flat water class the next week. After that, you're pretty much set to take the ol' waterbike out any damn time you feel like being awesome and self-sufficient on our area's myriad scenic waterways. Visit spokaneparks.org.
June 20
SUMMER PARKWAYS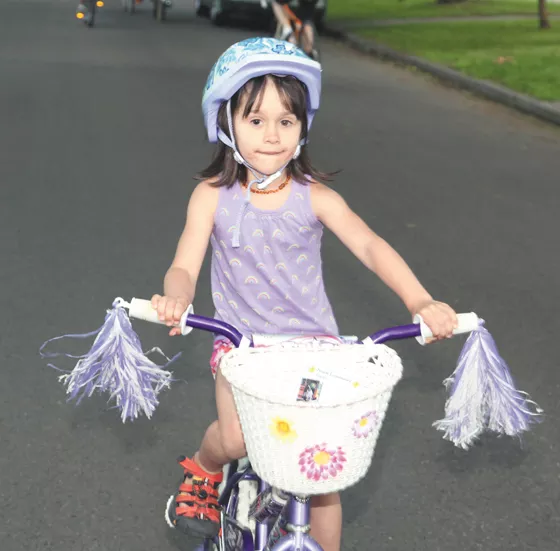 Speaking of bikes! June 20, from 6 to 9 pm: Mark the calendars in your smartphones, folks. Summer Parkways is coming to the Cliff/ Cannon/Comstock/Manito neighborhood(s). Roads will be closed to car traffic. They will be opened to foot traffic. For three hours, bike/ peds will reign!
The route heads south on Manito Boulevard, where a canopy of maples and oaks shades a gorgeous promenade flanked by picturesque craftsman homes. It then takes a hard right past that historic school that's about to be torn down (take a picture now, kids!), before bobbing and weaving around south Spokane's winding split-level subdevelopments. "This is when sidewalks died!" you can tell your children. "The '60s and '70s killed them!" The route returns, by and by, to pristine Manito Park.
In all seriousness, the mark of a city is how it treats its pedestrians, and Summer Parkways is a walking tour of 70 years of pedestrian civics. Visit summerparkways.com.
June 21
HELLO, DOLLY!
My first exposure to Hello, Dolly! was in the form of a bunch of drag queens dressed in frilly Victorian skirts, giant feathered hats and bright red lipstick. And despite possessing the wrong plumbing, they were pretty right on with their over-the-top performance of the beloved longtime musical. Coeur d'Alene Summer Theatre kicked off its much more traditional version of the play in early June, starring beloved North Idahoans Ellen Travolta (yes, that Travolta family) and her husband Jack Bannon. The CDA Theatre production wraps up its run on June 21-23. Visit cdasummertheatre.com.
June 21
PICKWICK
Pickwick is the perfect example of a touring band that comes through Spokane on a fluke, realizes how rabid our music scene is here, and — tour after tour — keeps coming back here. The Seattle band has been heavily showcasing around the new, fresh sound they've cooked up in the last year or so. The formerly indie-folk outfit burned down everything they'd built before when they felt they weren't playing the music they truly wanted to be playing — only to reemerge from the existential crisis as a soul outfit. It's going over well: The band has been playing to sold-out crowds and, of course, packed houses here in the 'Kan. Catch them at A Club (416 E. Sprague Ave.) for just $10 with locals Cathedral Pearls, Branden Cate and Horse Thieves.
June 21
THE MEN, BBBBANDITS
It's not that the Men don't have vocals — it's just that there's a lot for their instruments to say before they open their mouths. This Brooklyn post-rock band is sure to be a new Spokane favorite: driving guitars, furious drumming, music that travels at the speed of punk but that acts like classic rock. And when they do sing alongside danceable garage-y guitars, the vocals come out grimy and pissed in a youthful way. The band is a New York favorite, having been praised by the Village Voice, and will play Spokane at Mootsy's (406 W. Sprague Ave.) with one of this year's Inlander Bands to Watch, BBBBandits.
June 21
NORTHWEST THUNDERFEST
Why did baseball become the great American summer sport? Apparently the guys who decided that never went to a drag race. There are all the same hot dogs and cold beers and screaming fans, but instead of a few sparse moments of action, a drag race has crazy drivers willingly driving more than 200 miles per hour, with only parachutes shooting out the back-end of their car to slow them down. It's hot and loud and totally exciting. Northwest Thunderfest features dragsters and funny cars (more fast than they are funny, honestly), and will feature an appearance by Ed "The Outlaw" Jones, who actually races a stagecoach down the track. Visit spokanecountyraceway.com.
June 22
STEM & STEIN
When it comes to benefits, it's always nice to get a little something for whatever you're giving, right? And when it comes to Stem & Stein, you get some of the best local beers and wines at your disposal for tasting for just one $45 ticket. This year, the Spokane AIDS Network benefit will showcase a little of everything: liquor by Dry Fly Distilling, wines by Townshend, Overbluff Cellars, Cougar Crest, beers by Golden Hills, 12 String Brewing, No-Li — seriously, that's not even everyone. Get dolled up and enjoy a night out for a great cause. Visit san-nw.org.
June 24
IRONMAN
If it isn't impressive enough to watch Ironman competitors swim 2.4 miles, cycle 112 miles and then run 26.2 miles, check out all the people lining the raceway, cheering on competitors and crying at the finish line as these unbelievable athletes finish the race of a lifetime. General entry for the race — in case you were thinking of giving it a whirl — is sold out, but it's free to watch. These people are the closest things we've got to superheroes.
June 24
NICKELBACK, BUSH, SEETHER, MY DARKEST DAYS
For some, the most controversial local event of the year was Desmond Tutu's speech at Gonzaga University's commencement ceremony. For many others, it is the June 24 show with Nickelback, who will play in the same spot Tutu stood at the Spokane Arena. You could argue that the Canadian rock outfit's nearly 20-year career has been defined by two things: generating No. 1 hits and unadulterated, purely distilled hatred. It's something the band has been facing for years, but that piqued last year when 55,000 Detroit Lions fans signed a petition to get the band removed from the Thanksgiving game's halftime show. But is it worth it? Is Nickelback worth all the vitriol? The Spokane Arena, which is selling tickets for up to $80, doesn't think so. Visit spokanearena.com.
June 24
PUCKER UP TO RHUBARB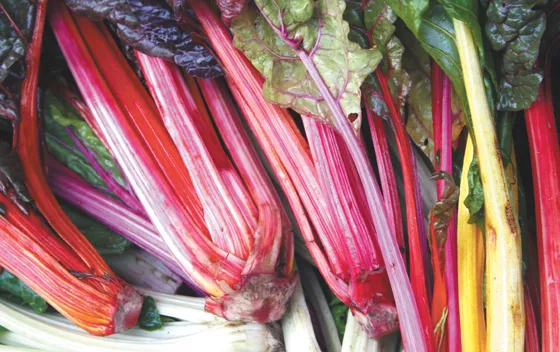 As Washingtonians, we're proud of our apples and our lentils and our Cougars and whatnot. But perhaps we should be just as proud of something that grows freely and easily in our state: rhubarb. Washington and Oregon rhubarb, unlike most other states, can be harvested in both spring and mid-summer. And that's earned places like Sumner, Wash. (a town near Puyallup) the title of "Rhubarb Pie Capital of the World." Who knew?
The sour-and-sweet bright pink stalk — a fruit, in fact — isn't for everyone on first bite. But, if you doctor it up with enough sweetness, rhubarb has a variety of culinary uses that are perfect for the patio this summer.
Like in everyone's favorite way: a cocktail. A friend recently sent me a recipe that has me kicking myself for not making rhubarb syrup all these years. It's easy: boil rhubarb slices, sugar and water together, and when the mixture is thick enough, strain out the chunks and mix in vodka, lime juice and ginger ale. Instant summertime refreshment.
Because it's so tart, rhubarb lends itself best to sweet treats: pies, crumbles, sorbets, ice creams, jams. But if you're not really feeling up to heating up your oven this summer, ride with the windows down up to Newport, Wash., where the annual Rhubarb Festival takes place on June 24. There you can indulge your salivary glands on rhubarb pie (and other baked goods) until they've run dry, and see how you can use the poisonous leaves to construct a rhubarb leaf birdbath. Take pride this summer in the mighty rhubarb plant.
June 29
ROCK OUT TO A ROCK 'N' ROLL MIDSUMMER'S NIGHT DREAM
Shakespeare has been performed with every treatment and in every setting imaginable. So here's another one, being performed at the Pend Oreille Playhouse from June 16 through July 1: A Midsummer's Night's Dream, set during a 1950s prom in Athens, Georgia. That may seem pretty typical, but the show is tweaked further by interspersing doo-wop classics like "Rock Around the Clock" between love-potion hijinks and donkey transformations. Just like Shakespeare intended. Visit pendoreilleplayers.org.
June 29
CAPTURE THE FLAG BEHIND HOLMBERG PARK
By now, with the summer sun setting beneath Five Mile Prairie, the game is nearly lost. You and Carter are the last ones standing, everyone has been tagged, thrown in the "jail" beside the old water tower.
Decades of conventional capture-the-flag strategy tell you to play carefully, tightly circle the flag, waiting for the enemy to get overconfident and then pick them off. Rationality tells you that no matter what you do, you'll lose.
You have other plans.
A quick glance to Carter, a few back-and-forth hand gestures, and you both know what to do. Carter sprints all-out into enemy territory, charging, whooping a suicidal war cry. He guns toward the jail, slides past two enemies and beneath a tree branch, slaps the hands of your imprisoned team members. Jailbreak.
Chaos erupts. In all the screaming and chasing, the enemy doesn't notice you. You crawl 25 yards on your belly through the underbrush, grab the flag. You blitz back with their flag, just as the enemy grabs yours. But you, leaping over logs and rocks, have always been faster.
You grin. Because this game isn't tied to a camp or a summer program. All it takes is a band of friends and a bike ride to Holmberg Park (or wherever you like). And tomorrow, surely, they'll be a rematch.
June 30
TAKE THE KIDS TO THE MOBIUS CHILDREN'S MUSEUM
There's something kids truly crave, and it's not sugary cereals or videogames. It's discovery, and that's the simple principle that the people at Mobius, the children's museum in River Park Square, understand. Put your kids in control of the "Big Digger," let them explore a makeshift Filipino village, watch them dress up and perform their own amateur theater. Or sign them up for one of the "Lego- Land" competitions. The wide eyes will be worth it. Visit mobiusspokane.org.
June 30
GO HOOP AT HOOPFEST
This 3-on-3 street basketball tournament — the biggest of its kind on the planet, with 7,000 teams — offers a lot more fun for spectators than just watching the Bloomsday horde run past. Near Riverfront Park, there are dozens of food vendors, shoot-offs, slam dunk contests, inflatable games and scores of paraphernalia. Come prepared for heat, choose your favorite team name to root for and, of course, take in the adorable spectacle of out-of-shape middleaged men getting extremely angry about fouls. Visit SpokaneHoopfest.net.
June 30-JULY 1
HORSE AROUND AT THE PALOUSE EMPIRE "FISTFUL OF SILVER" APPALOOSA SHOW
Some people will never understand the appeal of horses. Others spent much of junior high constantly drawing the majestic creatures in the margins of their English notebook.
A show like this, with Appaloosa horses (the sort that have leopard-like spot patterns across their coats) is for the latter. At the Spokane fairgrounds, owners of these horses — stallions, geldings, mares — will be shown, seen and judged. The most colorful horse wins the big prize. Visit www.peaclub.com/shows.