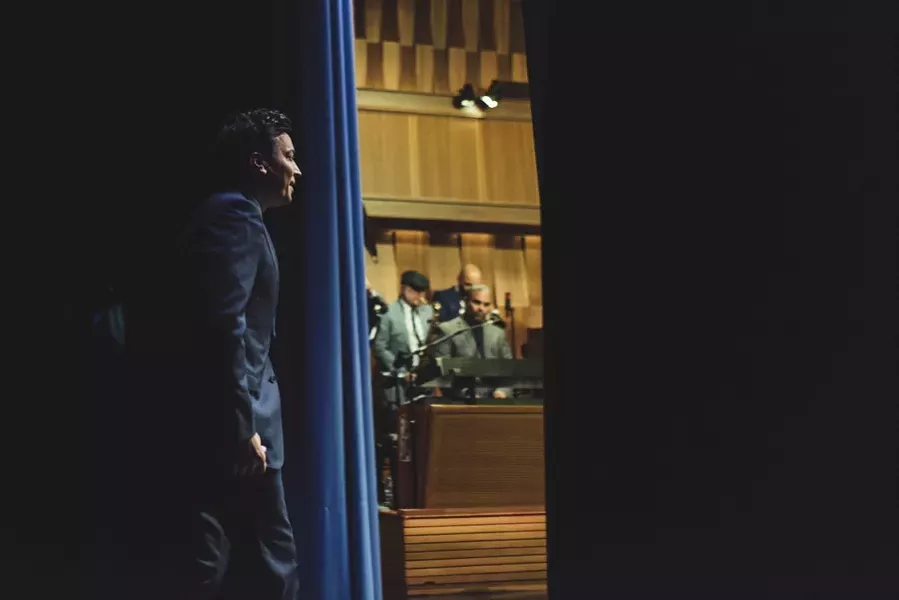 Bryan Derballa/The New York Times
immy Fallon before a taping of his "Tonight Show" on NBC, in New York, May 11, 2017. The latest ratings show that viewers are tuning out NBC's fun-and-games approach and flocking to the politically engaged Stephen Colbert and Jimmy Kimmel.
By JOHN KOBLIN
© 2017 New York Times News Service
Ten months after Inauguration Day, the trend is holding: For late-night hosts, being sharply critical of President Donald Trump is a winning strategy. And that is bad news for "The Tonight Show."

Stephen Colbert, who has made Trump a nightly target, assumed the top position in the ratings race in February and has only increased his lead since then. His program, "The Late Show" on CBS, has taken viewers away from Jimmy Fallon, the cheerful host of NBC's storied franchise, who has lost 21 percent of his audience year over year since the fall season began on Sept. 25. At the same time, Jimmy Kimmel has made ratings gains in the 11:35 p.m. slot on ABC.
Ever since Colbert leapfrogged Fallon in total viewers, NBC executives have emphasized that "The Tonight Show" is still the No.1 choice of viewers in the 18-to-49-year-old group prized by advertisers.
Now even that lead is shrinking.
In the November sweeps period, which ended last Wednesday, Colbert cut into Fallon's lead among younger viewers, finishing 57,000 behind him, according to Nielsen data. That's the closest the CBS host has come to Fallon among 18- to 49-year-olds in the 27 months the two have competed head to head.
A year ago, Colbert trailed Fallon in that demographic by roughly 364,000 viewers. In the November 2015 sweeps period — which coincided with Colbert's shaky start as a network host — Fallon's lead was nearly 500,000.
The size of Colbert's entire audience has spiked along with his gains among younger viewers. During the sweeps period, he averaged 3.7 million total viewers a night — a 23 percent increase from a year ago.
Since the fall season began, Fallon's audience in the 18-to-49 group has plunged by 26 percent, even though he is, at 43, the youngest of the late-night network hosts.
Still, Fallon does maintain a lead in that demographic, outperforming Colbert, 53, by 90,000 a night, on average, for the season. He also averages nearly 200,000 more than Kimmel, the 50-year-old host of "Jimmy Kimmel Live!" on ABC.
A year ago, a battle between Fallon and Kimmel was almost unimaginable, given the venerable NBC franchise's lead of 1 million total viewers over ABC's late-night offering.