The Pacific Northwest Inlander
1227 W. Summit Parkway
Spokane, WA 99201
Phone: (509) 325-0634
Fax: (509) 626-5875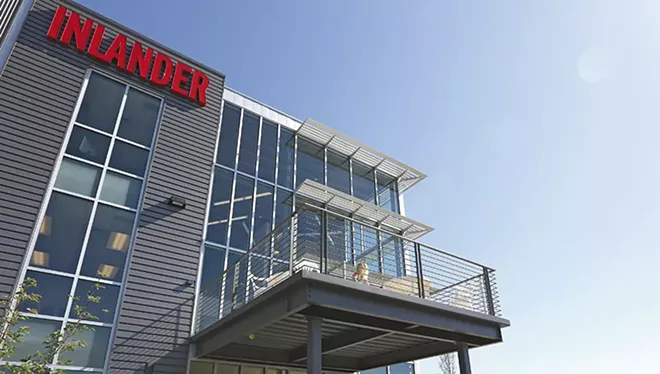 Inquiries?
Submit a Letter to the Editor: editor@inlander.com
Add Calendar Event or Music Listing: (x225) or submit online here
Submit Cheers/Jeers/I Saw Yous online here
Advertising & Marketing Information:
Place A Display Ad: (x215)
Marketing Promotions Info: (x223)
Human Resources: (x211)
Questions About Billing: (x210)
Subscriptions: (x200)
Distribution Requests: (x226)
Inlander staff Information by department:
Executive Officers
Ted S. McGregor, Jr. (x229) Publisher
J. Jeremy McGregor (x224) General Manager
Editorial Staff
Jacob H. Fries (x261) Editor
Dan Nailen (x239) Managing Editor /Arts & Culture Editor
Chey Scott (x225) Food & Listings Editor
Nathan Weinbender (x250) Film & Music Editor
Derek Harrison (x248) Art Director
Josh Kelety (x237) Staff Writer
Daniel Walters (x263) Staff Writer
Wilson Criscione (x282) Staff Writer
Samantha Wohlfeil (x234) Staff Writer

Advertising
Kristi Gotzian (x215) Advertising Director
Kristina Smith (x223) Director of Marketing
Carolyn Padgham-Walker (x214) Senior Account Executive
Emily Walden (x260) Senior Account Executive
Autumn Adrian (x251) Account Executive
Mary Bookey (x216) Account Executive
Jeanne Inman (x235) Account Executive
Claire Price (x217) Account Executive
Wanda Tashoff (x222) Account Executive
Andrea Tobar (x242) Advertising Support
Camille Awbrey (x212) Advertising Support

Operations
DeeAnn Cook (x211) Business Manager
Kristin Wagner (x210) Accounts Receivable
Justin Hynes (x226) Distribution Manager

Production
Wayne Hunt (x232) Production Manager
Alissia Blackwood Mead (x228) Creative Lead
Derrick King (x238) Senior Graphic Designer
Tom Stover (x265) Senior Graphic Designer
Subscriptions
You can have the Inlander mailed to you weekly for $50 per year. Call weekdays between the hours of 8:30 am and 5 pm PST for information at (509) 325-0634 x200. All prices are in U.S. dollars.
The Inlander is published every Thursday and is available free at more than 1,000 locations throughout the Inland Northwest.